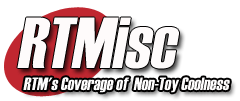 Marvel Universe Doctor Doom
Normally any coverage of statuary is completed by the staff at RTM, but sometimes you get the chance for a guest review that you can't turn down. That and you get commanded to run it, so without any further ado here's a guest feature on the Marvel Universe Dr. Doom Mini-bust from 'Victor' who hails from Latveria in Central Europe.
Allow me to introduce myself, you may call me Victor (do not truncate my name to 'Vic', cretin) and I'm a long-time reader, first-time writer for this site. I had the recent pleasure in receiving one of the new mini-busts based on that well-known leader and adventurer Dr. Doom, and I was inspired enough to write about it. But before I get into details for this exemplary piece I feel it's important to know the man behind the mask as it were, and so a short retrospective on his life is in order.
Von Doom had humble beginnings, after an uncaring world deprived him of his loving parents. Even with the world against him, young von Doom would use his matchless intellect to learn the ways of science. He also began to delve into the mystic arts, a legacy from his caring mother. Doom was able to not only master magic, but his reputation in the sciences grew enough to attract the attention of the Dean of State University in America.
While the Dean had enough sense to recognize the genius of Doom, he was too shortsighted to realize the dangers of also allowing Reed Richards to attend the university. Richards used his time to ridicule and sabotage the ground-breaking work done by von Doom, and his meddling resulted in a horrific disfigurement of young von Doom. The sadness of his injuries combined with the poor hand dealt by life would have destroyed any other man, but Doom turned this tragedy into a chance for self-discovery.

Doom left America and traveled to Tibet to reconcile his life and gain wisdom that was available nowhere else. Doom happened upon a group of monks who proved pliable to his will (as all men are), and he learned their secrets of sorcery and eventually moved from student to master, just as cream always rises. The monks were useful is building a suit of armor to Doom's specifications, and he took on the name of Doctor Doom, as he is known to this day.

Having achieved the summits of knowledge and armed with superior technology, Doom then used his power to claim leadership of the Balkan nation of Latveria. The corrupt monarchy in place was quickly replaced with the firm yet fair hand of Doom, and as the supreme authority for Latveria, Doom was able to bring peace and prosperity to its people. Some may question Doom's sole leadership versus that of a democracy, but what man is better fit to decide the greater good than Doom? No man or group of men can match his clearness of vision to make the correct decisions, and so Doom's leadership is not muddled by committees of lesser men.

Some of you in less enlightened nations reading may question Doom's decisions, and this is no doubt due to a bias from the media curs against Doom that portray him as arrogant, evil, or villainous. These reports are wholly untrue and can be understand by even the simplest child once logic is applied. Arrogance is acting as if one believes or assumes they are superior, however if one is truly superior they cannot be arrogant. Doom's superiority is unquestionable, and hence arrogance is a trait that better describes the sniveling Richards. To call Doom evil is to misunderstand his moral right to rule because of his superiority. And to feel that Doom is villainous, is to interpret his actions as criminal which is not possible since the only law that applies to Doom is his own.

Doom has chosen an effective pose for delivery to the masses, showing not only Doom's power but also his links to the common man. Doom wears armor of his own device along with a green cloak, symbolizing power and because geniuses always choose green (not blue like that half-wit Richards). Doom's hand is outstretched showing strength and holding a rag used for dusting, as any common man might clean his home. The symbol of the accursed Fantastic Four is emblazoned upon it, showing not only the contempt that Doom has for them, but also that Doom recognizes the absorbing power of unstable molecular cloth. Doom never wastes things for trivial reasons.

Doom's bust has been painstakingly scaled to create the maximum awe from display, as only a simulacrum of Doom can. This still pales when compared with the true presence of Doom. The bust uses a similar scale to the Rogue's Gallery line from Diamond Select and the same scale as the Marvel Universe line from the same source. This means that Doom may be displayed with lesser beings simply to enhance their own appearance and they won't feel too out of proportion to Doom's image.

While Doom was created by Werner and Cynthia von Doom, he has also allowed his life to be chronicled by writers and artists in a unique art form known as the comic book. In introducing himself to the world he chose two men, Jack Kirby and Stan Lee - who were the best in that medium at the time, and so were fitting to portray Doom's life even though they tended to misinterpret Doom's actions as villainous when they were in accord with the natural order of things.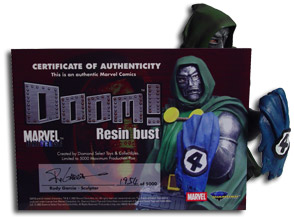 Doom has taken great care in choosing a sculptor to interpret his presence into a portable form in three dimensions, and has settled on Rudy Garcia. Garcia's work on the Ultimate Storm bust was a factor, along with his work on the line of Silver Age X-Men statues (Cyclops, Beast, Angel, Marvel Girl, Iceman and Magneto). Doom was even gracious enough to allow this artisan the chance to place his signature along with Doom's name on full-color certificates of authenticity included with each mini-bust. And further, Lord Doom's charity extends to include the reproduction of his likeness 5000 times by Diamond Select Toys, to satisfy his followers yet leave some wanting, as this will strengthen their souls. Only Doom could care so much for his people to do this for them!
And now, you shall go forth and buy a mini-bust from one of these retailers. Doom commands it thus!
More Pictures of Doctor Doom
Where to buy the Doctor Doom Mini Bust: This bust retails in the $45 USD price range. It is available at your local comics shop, as well as various online toy and collectible retailers.

One such online store is RTM sponsor The Outer Reaches. (Be sure to check the other RTM sponsors, listed on the Shop Center.)