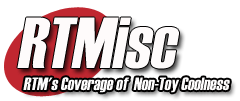 Modern Era Psylocke Statue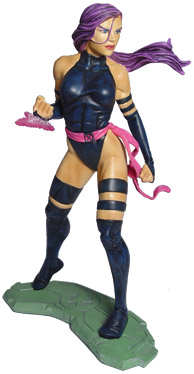 Change is at the very heart of evolution. Evolution is at the very heart of mutation. Mutation is at the very heart of the X-Men. And a molten core is at the very heart of the earth, but I digress. To get back on track, change is the only constant for the X-Men's resident psychic Psylocke, and she's been through so many you might want to get your scorecard (or at least the detective sheet from Clue) as we go along.
Betsy Braddock just plain sounds British, and that's because not only is she a daughter of England, but her brother is Captain Britain. And she really started out as just another English girl, with telepathic powers and all that. However, while helping out her brother and taking on the mantle of Captain Britain, she was beaten and blinded. Being able to read minds could probably help, but she still couldn't see.
All that changed once her travel agent booked her on a trip to the Mojoverse courtesy of Mojo himself. While he was up to no good, he did fit her out with some new peepers so at this point things weren't too hard to follow. However, this is where it gets a little confusing.
Enter the mind-swap. Betsy ended up swapping her mind with an assassin named Kwannon, or to be more accurate - their minds swapped bodies. So the mild mannered English Schoolgirl now looked and fought like Michelle Yeoh, needless to say she would have to get that driver's license picture taken again.

So now you have two people who sort of think they are Betsy Braddock - Kwannon's body with Betsy's mind, and Betsy's body with Kwannon's mind. As confusing as that is, it was easily cleared up when Betsy's original body was killed by the Legacy Virus (it only kills mutants) and so now, there is only one body (Kwannon) and one mind (Betsy's). We've skipped a few things, but read the last 150 or so issues of X-Men and you'll be all caught up!

The inspiration for this statue of Psylocke is the sexy, Kwannon body version with Betsy's mind. This was a definite improvement in terms of exotic looks and skimpy outfits, and who can argue with that? Her psychic knife is in her right arm, ready to beat any stray thought (or sentient being) into submission. Mmmm, submission...

The concept behind the Modern Era X-Men series from Diamond Select Toys is essentially the same as that behind the Silver Age X-Men statue series - to create a group of statues of a particular era of the X-Men, and have them scaled the same and designed to be displayed either individually or as a group. It's innovative and somewhat risky, but it's working as we can see with the second X-Men statue line.

For the Modern Era, the artistic influence is Jim Lee, whose style is distinctive and well-liked by comics readers. Jim was one of the founders of Image Comics, and he eventually sold his Wildstorm line to DC Comics, where he still works today redefining the look of Batman.

The second statue in the line (following the ubiquitous Wolverine) is Psylocke, and following will be the blue-furred Beast and Sabretooth, acting as a nemesis. To give the figures a modern look, the bases are designed to have a 'Danger Room' look about them, so that once the group is assembled they'll look like they're working out against the latest battle programs. All the statues are scheduled for 3000 piece runs and contain full-color certificates of authenticity, which can be stored wherever such certificates are normally stored.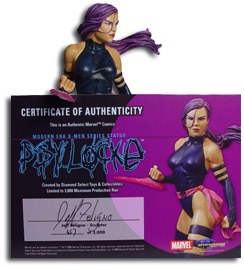 Rudy Garcia did the honors for the Silver Age X-Men, and now Jeff Feligno has been tapped to create the Modern Era X-Men. Jeff's previous work has included the Ultimate Doctor Octopus mini-bust, the Ultimate Nightcrawler mini-bust and the Marvel Universe Daredevil mini-bust.
More Pictures of Psylocke
Where to buy the Modern Era Psylocke Statue: This statue is a limited edition of 3,000, and it retails in the $75 USD price range. It is available at comic book stores, as well as at various online toy and collectible retailers.