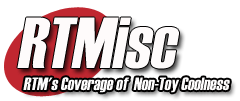 Marvel Universe Daredevil Bust
Two alliterated action heroes could call Hell's Kitchen home, Sylvester Stallone and Matthew Murdock. Sly is known best for some of his alter-egos like Rocky and Rambo while Matt hangs out in the city as the vigilante Daredevil. Both may have spent the early years of their lives in Hell's Kitchen in central Manhattan, but they managed to rise above the meager beginnings to find success in their respective fields.
In a parallel to Rocky, Matt Murdock's dad was a boxer who wanted his son to have a life beyond boxing. Matt studied and was picked on as a weakling and called 'daredevil' (this was before the term 'nerd' was coined), so he secretly trained himself athletically. See what happens when you read comics and see the Charles Atlas ads in the back?
Sometime later, his kind heart would cost him his sight as he saved a blind man from being hit by a truck. The truck happened to be carrying canisters of radioactive waste and after hitting Matt the truck's cargo spilled and bombarded Matt with radiation. This illustrates one of the differences between reality and the Marvel Universe, with extremely lax standards for containers carrying radioactive waste. Another big difference is that doses of radiation are usually harmful, but in the Marvel Universe they seem to be helpful. For Matt it was a trade-off - he lost his sight but gained a radar sense and his other senses were superhumanly heightened.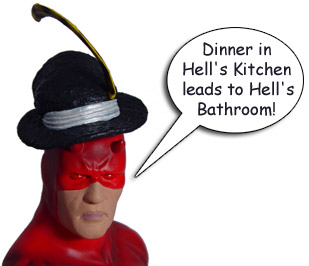 Just having gifts doesn't mean you can use them without some training, and luckily there are blind martial artists to teach blind guys with extra senses. The master who trained Matt was Stick (parodied by Splinter in Teenage Mutant Ninja Turtles), who with his friend Stone will break your bones. In addition to some hand-to-hand combat, Matt went to Columbia University where he met his future partner Foggy Nelson (law partner that is) and met Elektra, who became another kind of partner. He also got a law degree, but we'll stick to the important stuff.

Before finishing school, Matt's father was killed after failing to take a dive in a fight. This served as motivation for Matt to bring the killers to justice through legal means. When legal means proved ineffective, Matt turned into a vigilante with the name the kids would tease him with, Daredevil. He was able to bring some justice to his father's killers and walked a tightrope both as attorney Matt Murdock and vigilante Daredevil.

Eventually he would meet his greatest foe, the Kingpin who was initially one of Spider-Man's enemies. Kingpin learned Daredevil's true identity and ruined his life, in addition to contributing to the death of Elektra. But payback is a bitch, and Daredevil eventually gets back on his feet and resumes his life on the streets.

When Daredevil was created by Bill Everett and Stan Lee in the early 60's the environs of Hell's Kitchen were a lower class neighborhood considered the armpit of New York. Since then, Daredevil and Hell's Kitchen have seen their stock rise, one with a multi-million dollar movie and the other with multi-million dollar condos. The path to the movie for Daredevil lead through memorable runs by Frank Miller re-establishing the character and a forgettable appearance in 'The Trial of the Incredible Hulk' tv movie.

Diamond Select Toys has made Daredevil a part of the Marvel Universe line of mini-busts, joining Blade, Symbiote Spider-Man, and the Punisher. There is a variant version of Daredevil with his mask off available from Blister Japanese. Future additions to the Marvel Universe bust line include Elektra, Black Widow 2, New X-Men Wolverine, Dr. Doom, the Hulk and Jean Grey.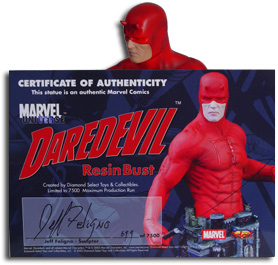 Jeff Feligno is the sculptor for Daredevil, mounting the red crime fighter on a base designed like tenements and other brick buildings from New York's skyline. The good people of China have managed to make 7500 of these puppies, all complete with colorful packaging, Styrofoam and even full-color certificates of authenticity signed by the sculptor! To top it off, the certificates are numbered, just so they don't lose count and actually make 7502!
More Pictures of Daredevil
Where to buy the Daredevil Bust: This piece is limited to a run of 7500, and retails for between $35 and $45 USD. You can find it at your local comics shop, TowerRecords.com
, and various online retailers.

One such online store is RTM sponsor The Outer Reaches. (Be sure to check the other RTM sponsors, listed on the Shop Center.)