25% Off Sale at Big Bad Toy Store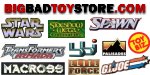 May 15, 2007 - (Sponsor Announcement) - Online retailer BigBadToyStore.com has several new items of interest to collectors:

USPS PRIORITY MAIL SHIPPING REMOVED: The USPS has raised the rates for Priority Mail shipments so high that we can no longer offer this service. For boxes over 1 cubic foot (which is the majority of what we ship) prices increased 200% to 300% on average. We have removed the Priority Mail shipping option and replaced it with USPS Parcel Post. Parcel Post has a 7 - 10 day delivery time, we suggest looking into UPS Ground shipping as an alternative.

25% OFF & 40 BONUS ITEM SALE!: From now until Wednesday May 16th, you can save 25% on everything except 'new' and 'preorder / backorder' items! Thousands of items are on sale including many vintage department items. To sweeten the deal we've also added 40 bonus items to the list, many of them have never been on sale before. There are some great values in the list below and be sure to browse through your favorite menus to take advantage of the 25% Off sale.

--------------
NEW PREORDERS:
--------------

FINAL FANTASY - ADVENT CHILDREN 2: Square Enix rolls out the second wave of Advent Children figures with a new set of three including: Yuffie, Kisaragi, Reno, and Kadaj. These 8" figures feature 20 points of articulation and the full set is priced $15 below MRP at $59.99

MCDONALDLAND ACTION FIGURES: Huckleberry Toys has done a great job capturing the retro feeling of these cool bastions of Saturday Morning advertising. The set includes Ronald, Grimace, Hamburglar, Mayor McCheese, and Captain Crook. The figures all stand around 6" to 8" tall and come with packaging reminiscent of the old days. Sets of 5 are $69.99 and singles are priced at $14.99 each.

MEZCO'S CINEMA OF FEAR: A great new batch of figures from Mezco has just been listed. They have expanded the Cinema of Fear line to include 4 action figures, 3 'Screen Grab' scene dioramas, and 3 large scale Plush figures. All these lines feature Freddy, Jason & Leatherface. We have sets and singles listed below MSRP.

FINAL FANTASY 1/4 SCALE SEPHIROTH: The second huge 1/4 scale figure from Square Enix. You can reserve both Sephiroth and Cloud Strife at $329.99 each ($70 below MSRP).

ART OF SHUNYA YAMASHITA - SHOKO-SAN: Another beautiful new release from Kotobukiya. The new Shoko-san figure is perched on small pillow with a small amount of night-time wear. This 1/7 scale figure is up for preorder $5 under MSRP at $54.99

PIRATES OF THE CARIBBEAN PROP REPLICAS: Master Replicas has introduced a new round of cool new prop replicas, collectibles, and scene replicas. Items include The Dead Man's Chest - a large treasure chest that can be used for storing various goodies. Hector Barbossa's Sword is priced $70 under MSRP at $179.99, and we also have 3 cool scene replica statues featuring main characters from the movies.

HASBRO'S SUPERHERO SQUAD MEGA FIGURES: Hasbro bumps up the scale of its popular Superhero Squad figures with the new Mega packs that include Sentinel and Galactus. Also up for preorder is the Collector's boxed 8-pack. We have new images of all listed.

AN AMERICAN WEREWOLF IN LONDON: Sota Toys has created a very cool boxed set featuring Jack in both man and beast form. This is a part of their 'Now Playing' figures and up for preorder at $23.99

SAINT SEIYA PVC FIGURES: MegaHouse is releasing a new line of Saint Seiya figures priced at $44.99. Figures include Athena, Dragon Shiryu, and Pegasus Seiya.

NEW SIMPSONS BY FUNKO: A huge new 24" Krusty the Clown bank is up for preorder at $89.99. Series 3 Wacky Wobblers and Simpsons Movie Mini-Wobblers have also just been listed.

ROCKY MINIMATES - SERIES 2: Diamond Select brings us four more figures including Rocky in street gear, Apollo & Rocky - both Battle Damaged and Paulie. This set and series 1 are up for preorder at $13.99

HOT TOYS MILITARY - FIREARMS SET: A cool boxed set that includes 9 different authentic 1/6 scale fire arms. There are 12 total weapons included in the case, but at least one of each is guaranted for $99.99

THE GOONIES - MEZCO: We don't have images yet, but preorders have been listed for the new Goonies set of 5 figures including: Chunk, Data, Mikey, Mouth, and the larger Sloth figure standing 7.5" tall.

ATTAKUS 'NOODLES' STATUES: We've just listed a 5 Statue Noodles set at $129.99 ($25 below MSRP) This set features five main characters from the animation and they will be arriving in the next month or two.

IKKI TOUSEN: KANU GOTHIC LOLITA: Another great looking figure, this version of Kanu features a white & black trimmed outfit with flowing skirt. Preorders are now up at $64.99

BigBadToyStore.com