Vampire: The Masquerade Action Figures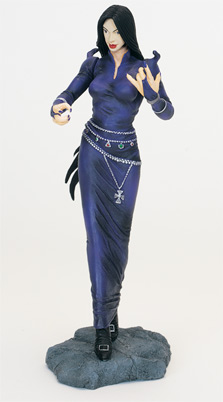 Lucita
Click image for larger version.
TIMONIUM, MD (November 30, 2001) - Diamond Select Toys is releasing a series of action figures based on the popular Vampire: The Masquerade role-playing game from White Wolf Publishing. Theo Bell, Beckett, and Lucita - three fan-favorites from the RPG are articulated, in 5-inch scale, and each comes with accessories appropriate to the character. Gabriel Marquez of Gwin Sculpture Works sculpted the pieces for Diamond Select.

"Vampires are such wonderful characters to render because they can have the appearance of angels or demons," said Marquez. "With Vampire: The Masquerade, I wanted to capture a sense of style and monstrosity in the sculpts. I wanted them to look as if they were striking a fashion pose right before they ripped your throat out."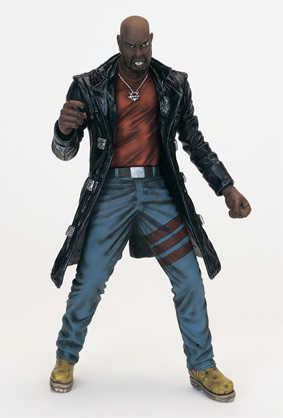 Theo Bell
Click image for larger version.
Set to ship in March 2002, these action figures mark the latest in a long line of offshoots to come out of this White Wolf property. A television series, video game, collectible card game, and comic book have all been inspired by, and taken characters from, Vampire: The Masquerade.

"We're excited to have a partner like Diamond [Select] shepherding our action figure line," said Mike Tinney, Vice-President of Licensing for White Wolf. "Their knowledge of the toy business, coupled with their distribution to specialty markets makes them an ideal partner to launch our figures."

Though manufactured in conjunction with White Wolf's game, these action figures are expected to find audience outside of the gaming world as well.

Beckett
Click image for larger version.
Vampires have been a cult phenomenon for generations and have experienced a huge resurgence in the mainstream thanks in part to being featured in several hit movies and television shows.

Vampire action figures are being given away as prizes in a Diamond Select sponsored contest with industry leader GameTrade magazine. Please consult the January issue of GameTrade for more details.

Action figures based on White Wolf's Werewolf: The Apocalypse are scheduled to ship summer 2002. These figures will be roughly 7-inches, but in scale with the Vampire figures.

ABOUT WHITE WOLF PUBLISHING

White Wolf Publishing, a company dedicated to redefining the art of storytelling since its birth in 1991, has consistently stretched the boundaries of familiar modes of artistic entertainment, introducing new realms to the horror, science fiction and fantasy genres. The journey began with its now highly popular role-playing lines and then ventured into the realm of mass-market fiction publishing. Now, White Wolf is involved in the electronic entertainment and television industries, the Internet, and plans to expand even further... wherever imagination goes.

White Wolf is a growing company that supports a community of individuals dedicated to promoting understanding, creativity and integrity through the creation of entertaining, innovative art and its profitable distribution in the global marketplace.

For more information, go to www.white-wolf.com.

ABOUT DIAMOND SELECT

Diamond Select Toys and Collectibles, LLC was founded in 1999 by sister company Diamond Comic Distributors, Inc. Envisioned to create unique and exciting collectibles for children and adults alike, the company has licensed a variety of pop culture properties to be turned into merchandise.

With partners such as Marvel Enterprises, Linsner.com, Goodtimes Entertainment, White Wolf Publishing, and Pioneer Video, Diamond Select produces a large range of products based on a wide variety of properties. Setting a new standard for toy companies, Diamond Select began guaranteeing ship dates and marketing dates for all products in 2001, and has since delivered all products on time without fail. Diamond Select Toys is headquartered in Timonium, Md. For more information, visit www.diamondselecttoys.com.