Mass Effect, ThunderCats, Smurfs, Kratos, Hobbit Jewelry at Big Bad Toy Store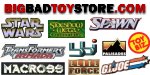 January 11, 2012 - (Sponsor Announcement) - Online retailer BigBadToyStore.com has several new items of interest to collectors:

Hi - Here is a quick update from http://www.bigbadtoystore.com about some great new arrivals and many more cool new preorders:

-------------
NEW PREORDERS
-------------

MASS EFFECT FIGURES - SERIES 01, 02 - SETS, SINGLES The Mass Effect figures are once again up for pre-order, with Big Fish taking over where DC Direct left off. Both Series 01 and Series 02 are available again, with the sets of four going for $67.99 each ($12 off MSRP), and singles of all eight figures listed at $17.99 each. The upcoming shipment will also include bonuses - each character includes updated photos, character bio, storyline, and logo, and is packaged with Mass Effect 3 branding. Each has a pack-in card and bonus downloadable in-game content, which is exclusive and different for each character.

GOD OF WAR III PLAY ARTS KAI KRATOS The hero of the God of War video game series is now up for pre-order as a part of the Play Arts Kai line. This series is known for its larger-sized figures that are full of articulation and Kratos appears to continue this tradition; we have it listed at $94.99, although this price may decrease once a domestic supply is found.

VANQUISH PLAY ARTS KAI - SAM GIDEON, BOGEY The Play Arts Kai line also sees the addition of two characters from the video game Vanquish. Sam Gideon and Bogey are each listed at $104.99, although these prices may drop as well once a domestic supply is found.

STAR WARS 2011 PROOF SILVER COIN SETS - DARK SIDE, REBEL ALLIANCE The New Zealand Mint is producing set of four $2 silver coin proofs with Star Wars art, and we are proud to have them up for pre-order. The Dark Side set includes Darth Vader, A Stormtrooper, the Emperor and the Death Star and the coins come in a Darth Vader Mask case that has Darth's voice when opened; the Rebel Alliance set has a Luke & Leia coin, a Han and Chewie coin, an Obi-Wan and Yoda coin and an R2-D2 and C-3P0 coin, and they come in a Millennium Falcon case that has Yoda's voice when opened. Each set is listed at $479.99.

IMPOSSIBLE TOYS - NEW FIGURES Impossible Toys has three new figures out to join your 1986 TF Movie collection. Arblis and Kranix will be coming out soon, along with Alpha Trion; each figure is listed at $39.99.

NEW IMPORT BANDAI, EXCLUSIVES We have just listed a number of new import figures, both regular and exclusive. This list includes Super Robot Chogokin Big Volfogg, PBM! Shinken Red Exclusive figure, Robot Damashii Nu Gundam, SH Figuarts Wild Tiger and Barnaby Brooks Jr., One Piece Figuarts Zero figures, Ikki Tousen Xtreme Xecutor Kanu Unchou Kotobukiya Racing version and more. Be sure to check this link for all of these new items.

THE HOBBIT - BADALI JEWELRY ITEMS We have started listing items from a new vendor. Badali Jewelry does rings, necklaces, money clips and more from a variety of license such as the Lord of the Rings, the Hobbit, "Thor", Zombies, the Wheel of Time and Cthulhu; take a look at the menus under the link to check out these great new items, which are priced from $28.99 to $107.99 each.

JUDGE DREDD REPLICAS & ITEMS With the upcoming "Judge Dredd" movie close on the horizon, Diamond will be importing a number of replicas and items from "across the pond." We have listings for 1:1 scale replicas of the Badge at $139.99, the Helmet at $624.99 and the Lawgiver Gun at $399.99. In addition, we have keychains with the 2000AD logo at $13.99 and the Judge Dredd Shield at $18.99.

RESIDENT EVIL AFTERLIFE NINJA ALICE 1/6 SCALE STATUE This new piece shows Alice in a black bodysuit with twin swords crossed behind her neck. It stands on an Umbrella Corporation base and measures about 13" tall. This piece is limited to 750 pieces worldwide and is priced at $179.99.

MAGIK 14" COMIQUETTE Magik is the little sister of Colossus of the X-Men, former New Mutant and a current X-Man herself, and now she's available to join your collection in statue form. She stands 14" tall from base of grasping demon claws to Soulsword tip and is priced at $264.99, saving you $15 off the MSRP.

STAR WARS 3" HELMET SPEAKERS Funko has announced a new line of Star Wars 3" Speaker Helmets. The first assortment includes Darth Vader, a Stormtrooper and Boba Fett, and these can be used with an iPod, MP3 Player or USB port. We have these pieces listed at $27.99 each.

THUNDERCATS 2011 4" SERIES 02 - CASE, SET, SINGLES We have the second assortment of 4" Thundercats figures up for pre-order. The case includes three of Lion-O Version 02, two each of Tygra, Mumm-Ra Transformed and Panthro Version 02 and one each of Cheetara, Wily Kit and Claudus, and is listed at $89.99. We also have the set of six (one each of all but Tygra) priced at $69.99. Finally, we have singles listed of Tygra, Lion-O Version 02, Mumm-Ra Transformed and Panthro Version 02 listed, priced at $4.80 - $12.99 each.

FANTASY CREATURE REPLICAS We have listed some new figures from Safari's line of fantasy creatures. We now have the Cloud Dragon, Dragon Hatchlings, Swamp Dragon and Hydra, priced at $4.99 - $22.99 each

PREHISTORIC REPLICAS FIGURES Safari has also announced some new dinosaur figures. The Ceratosaurus, Dracorex, Vagaceratops and Acrocanthosaurus are available for pre-order, priced at $9.99 - $10.99 each. In addition, Schleich has announced an wide variety of new dinosaur figures such as the Gigantosaurus, Spinosaurus, Tyrannosaurus Rex and more, so be sure to check them out as well.

HISTORICAL REPLICAS FIGURES Schleich has new Historical figures on the way. Some of the new listings includes Crossbowman, Knight with Lance on Horse, Tournament Knights, Prince on Reared-Up Horse and more, all available at the link.

THE SMURFS FIGURES Schleich also has the license to do Smurfs figurines, and we have 20 different ones now listed for pre-order. from Javelin Thrower and Gymnast Smurfs to Smurf in Bed and Smurf Houses and Cottages, this assortment should include something for every Smurf fan.

NEW DOCTOR WHO CLASSIC SETS - PERI & ROGUE CYBERMAN, DAVROS & DESTROYED EMPEROR DALEK Two new Doctor Who Classics figure sets are now up for pre-order. The Peri & Rogue Cyberman Set comes from "Attack of the Cybermen" and is listed at $39.99; The "Remembrance of the Daleks" set includes Dalek Emperor Davros and a Destroyed Imperial Dalek and is listed at $46.99.

TRANSFORMERS PRIME DVD, BLU-RAY The complete firsts season of the new series will soon be released. We have the DVD set listed at $29.99, and the Blu-Ray set (which is also to include an exclusive 96-page graphic novel) is listed at $64.99.

NEW LEGO ITEMS We have listed a few new items from LEGO. We have the DC Super Heroes Dynamic Duo Funhouse Escape, LEGO City Police Off Road Command Center and Robber's Hideout at $59.99 each, with the Ninjago Kendo Jay Booster Pack at $9.99, the Dino Ocean Interceptor at $52.99, the Recycling Truck at $44.99 and the Fire Transporter at $74.99.

YUGI YAMI 1/7 SCALE ANI-STATUE Kotobukiya has announced a new statue of the hero of Yu-Gi-Oh. This 9.5" tall piece shows him ready to duel and comes with removable accessories; we have it currently listed at $114.99.

UGLYDOLL BLOX Funko's line of Blox characters has a new assortment for pre-order - the Uglydoll characters. We have listings for Big Toe, Ox, Ugly Charlie, Ninja Batty Shogun, Ice-Bat and Wage, each listed at $18.99.

BUDDHA DAINICHI NYORAI STATUE This new Resin statue of the Dainichi version of Buddha is created by A-Plus and Kogei Process. He is sitting cross-legged with eyes nearly closed, and is priced at $259.99.

------------
NEW ARRIVALS
------------

MOVIE MASTERPIECE DX-06 CAPTAIN JACK SPARROW 1/6 SCALE COLLECTIBLE FIGURE Captain Jack Sparrow from the "Pirates of the Caribbean" movies has now been released in the form of a Movie Masterpiece 1/6 scale figure. He is the latest figure to us the PERS eyeball system and also comes with multiple hands, weapons, telescopes and other accessories. We have this figure listed at $219.99, saving you $20 off the MSRP.

MOVIE MASTERPIECE CAPTAIN AMERICA 1/6 SCALE COLLECTIBLE FIGURE Hot Toys' Captain America 1/6 scale figure has also arrived. This figure comes with his shield as well as guns, multiple hands and more, and is listed at $159.99, saving you $10 off the MSRP.

BTS-05 SERIES A - MINIONS SET OF TREMOR & FREQUENZY BTS' first assortment of cassette minions has arrived. Tremor and Frequenzy can fit in the deck of Soundwave or the more recent Sonicron, and the 'batteries' that they come with can convert to piledriver arms for their robot modes. We have the set listed at $27.99 – be sure to grab yours before they disappear.

MOVIE MASTERPIECE WAR MACHINE SPECIAL VERSION 1/6 SCALE COLLECTIBLE FIGURE The third Hot Toys figure to arrive this week is the new special version of the War Machine figure. This version has a matte battle-damaged paintjob, but otherwise includes loads of attachable weapons and other accessories; this figure is listed at $239.99.

REAL MASTERPIECE SCARFACE - THE WAR VERSION 1/6 SCALE FIGURE Our shipment of this figure has just arrived. it shows Tony Montana as he appears in the famous scene with his "little friend", and also includes multiple hands, a suitcase with (fake) bags of an illegal substance, jewelry and more. We have this figure listed at $234.99, and he is ready to join your collection today.

501ST LEGION: VADER'S FIST CLONE TROOPER 1:1 SCALE BUST This life-sized version of one of the clone trooper's from Vader's legion measures 26" tall by 27" wide, and has their signature blue and white paintjob, slightly marred by battle-wear. This piece is listed at $569.99, $30 off the MSRP for the piece.

1/4 SCALE PREMIUM FORMAT STORMTROOPER The next Star Wars release from Sideshow is this Stormtrooper statue. It stands 19.5" tall and includes a fabric bodysuit and hand-cast armor. He is ready for battle with gun in hand and is priced at $284.99, $15 off the MSRP.

STALKER PREDATOR MASK PROP REPLICA This mask is the next in the "Predators" line of replicas. It has blue eyepieces and includes a light-up trio of blue lasers from the forehead; we have it listed at $314.99, saving you $15 off the MSRP.

FEMME FATALES MINIMATES SERIES 02 BOX SET This second assortment in the line includes pirate Anne Bonny and Medusa as well as fairy tale characters Little Red and Alice. They comes with extra parts and/or accessories, and the set is listed at $15.99, $2 off the MSRP.

MINIMATES KNIGHT RIDER KITT VEHICLE This Previews exclusive not only includes KITT (and Michael Knight, judging from the pictures given) but also parts to change KITT into Super Pursuit Mode. This popular set is priced at $13.99.

MINIMATES SERIES 03 VEHICLES - SET SINGLES This assortment includes KARR with garth Knight from Knight Rider, and APC with Driver from the MAX line and a new red and black Jolly Roger Pirate Ship with crew member. We have them listed as a set of three for $37.99, saving you $7 off the MSRP; we also have the Jolly Roger listed singly, priced at $13.99.

RED SONJA STATUE - J. SCOTT CAMPBELL VERSION This 8" statue was created from the artwork of J. Scott Campbell and shows the heroine with sword in hand. It is priced at $179.99, $10 off the MSRP.

SYCO MORTAL KOMBAT STATUES We have received the first three Mortal Kombat statues from Syco Collectibles. We have 10" statues of Sub-Zero and Scorpion priced at $154.99 each ($10 off the MSRP) as well as an 18" Premium Format statue of Sub-Zero at $279.99, saving you $20 off the MSRP.

ICUP ITEMS We have recently received a small shipment from Icup. it includes Pint Glasses, Shot Glasses, Ice Cube Trays and more from licenses such as Marvel, DC, the Simpsons, Halo and more - check out the new items at the link.

NEW FUNKO ITEMS Funko has also sent us a shipment of new and restock items. We have the "V for Vendetta" Wacky Wobbler, a number of new and returning POP! Heroes, POP! Uglydolls and more. These items are available at the link - take a peek and find your favorites.

THE GOLDEN GUN LIMITED EDITION PROP REPLICA This James Bond replica is life-sized and plated in 18k gold. Limited to 1000 pieces worldwide, it can be disassembled and reassembled, and includes a display stand with clear acrylic cover as well as a Certificate of Authenticity, a numbered plaque and a booklet. We have this piece listed at $399.99, saving you $49 off of the MSRP for the piece.

BigBadToyStore.com