2012 GI Joe 4, Hot Toys Samurai Predator, Gamera, LEGO Star Wars at Big Bad Toy Store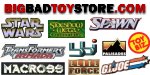 November 30, 2011 - (Sponsor Announcement) - Online retailer BigBadToyStore.com has several new item of interest to collectors:

-------------
NEW PREORDERS
-------------

GI JOE SERIES 04 2012 - CASE, SET, SINGLES A new assortment of GI Joe figures has just been announced. It includes Sci-Fi, Lifeline, Zombie Viper, Airtight and Law & Order (the last two from Renegades), and we have them listed as a set of 5 for $49.99. We also have the case assortment, which includes an additional Zombie Viper as well as returning figures Techno Viper, Steel Brigade and Renegades versions of Scarlett, Cobra Trooper, Ripcord and Tunnel Rat, and that is priced at $84.99. In addition, we have singles listed of all figures, priced at $9.99 - $11.99 each.

HERCULES - NECK BREAKER, MAD BLENDER The last two robots that make up TFC Toys' Hercules gestalt are up for pre-order. Neck Breaker is a earth mover and Mad Blender is a cement mixer, and they form the left arm and left leg (respectively) of Hercules. We have each figure listed at $99.99, and they are set for a First Quarter 2012 release.

HOT TOYS ARTIST COLLECTION 14" SAMURAI PREDATOR The first figure in this new Hot Toys line combines the deadly nature of the Predators with the style and skill of the Samurai. It includes a whole set of armor, multiple weapons (some with articulation) and even a defeated Alien on the display base. We have this figure listed at $329.99, saving you $30 off of the MSRP.

UNCHARTED 3 NATHAN DRAKE PLAY ARTS KAI ACTION FIGURE Square Enix' line of larger action figures continues with the hero of the Uncharted video game series. He comes with alternate hands, weapons and more, and is priced at $54.99.

NEW POWER TEAM ELITE 1/18 SCALE MILITARY FIGURES, VEHICLES, PLAYSETS Another round of Power Team Elite World Peace Keepers items has gone up for pre-order. We have the FA-18 Jet at $44.99, the Military Howitzer at $28.99, the Battle Command Post at $59.99, the Ground Patrol Unit at $26.99, the J-10 Jet at $39.99, the Military Gift Set at $41.99, the Expeditionary Unit at $42.99 and the Battlefield Set at $59.99.

BTS-05 MINIONS SERIES A - TREMOR & FREQUENZY These transforming cassettes may look familiar to Transformers fans. Each will include "batteries" that transform into piledriver arms for the robot modes, and you can get the set of two for $27.99.

SOUL OF CHOGOKIN GX-61 DAI OUJA This robot is comprised of three individual robots, and also comes with a number of weapons including a bow, a couple of swords, an axe and more. We have him listed at $279.99, $15 off the MSRP.

S.H. MONSTERARTS SPACE GODZILLA The third item in Bandai's S.H. Monsterarts line is Space Godzilla. This figure will include good articulation and is priced at $79.99, including Corona Beam and other accessories.

BANDAI APRIL 2012 LISTINGS In addition to Space Godzilla, Metal Build Freedom Gundam and GX-61 Dai Ouja, we also have new listings for other Bandai items for April. Robot Damashii Buster Gundam, Chibi Arts Dragon Kid & Perona, S.I.C. Kamen Rider ZX, Figure Arts Zero Keimi, Blue Exorcist Halfage Characters series 02 and reissues of Saint Cloth Myth Cygnus Hyoga God Cloth and Hypnos are all ready for pre-orders.

STAR WARS LUKE SKYWALKER "A NEW HOPE" X-WING PILOT HELMET REPLICA This new collectible from eFX is a follow-up to the "Empire Strikes Back" helmet issued at Star Wars Celebration V. The piece is limited to 750 pieces worldwide and is loaded with detail; we have it listed at $578.99.

METAL BUILD FREEDOM GUNDAM The latest in the line of Metal Build Gundams is Kira Yamato's Freedom Gundam. This 1/100 scale figure includes die-cast content, and we have it listed at $184.99

DR. WU'S FACE OFF UPGRADE SET This two-pack of additional faces works with the Protector Armor upgrade for Hot Rod & Hot Rodimus. One of the new faces has regular eyes, while the other one has a visor-style eyepiece, and the set of two is listed at $17.99.

SCI-FI REVOLTECH G2 GAMERA The star of "Gamera 2: Attack of Legion" now joins Legion in our Sci-Fi Revoltech Pre-Orders. Gamera also comes with Legion Soldiers, a fireball effect and more, and is priced at $54.99.

SILVER CENTURION IRON MAN STATUE Bowen Designs has announced a new Iron Man statue. This one wears the Silver Centurion armor and stands 16" tall. We have this one listed at $224.99.

DECEMBER IMPORT EXCLUSIVES Bandai Japan and others have announced their latest exclusives, such as the Armor Plus Suiko No Shin from Ronin Warriors/Samurai Troopers. We've also got listings for 3 Volks figures from Strike Witches 2, a reissue of the Ieyasu Tokugawa Musha Gundam Mark II, One Piece 1/144 World Scale OOO and more - you can see all of the new figures at the link.

DOCTOR WHO CLASSIC "THE KEEPER OF TRAKEN" COLLECTOR SET The newest Doctor Who Collector Set is from the classic episode "The Keeper of Traken". It includes the Fourth Doctor in waistcoat, the decayed Master, the Melkur Statue, the Master's TARDIS as a Grandfather Clock and a Source Manipulator Sphere accessory. This box set is priced at $49.99.

SIDESHOW NEW AND RETURNING ITEMS Sideshow has announced that a number of older items will be coming back into stock, along with a couple of newer ones. We have the new Iceman 18" Comiquette priced at $269.99, and the Holiday Yopa 12" Scale Figure at $74.99. In addition to these, we have the T-800 Endoskeleton Battle Version Life-Sized Bust, the Iron Man Battle Damaged Life-Sized Bust, the Iron Man Mark III 1:2 Scale Maquette, the Boba Fett 1:1 Scale Bust and male and female versions of the Art S. Buck Grey Artist Model figures all coming back into stock in the first two quarters of next year. Finally, there is also a new NBX Pumpkin King 9.75" Mini Bust coming soon, priced at $79.99.

NEW LEGO STAR WARS ITEMS A number of new LEGO Star Wars accessories are up for pre-order. We have LEGO Star Wars Alarm Clocks featuring Darth Vader, Boba Fett or a Stormtrooper, and each is listed at $29.99. We also have a LEGO Star Wars Minifigure Pen 12-Piece Assortment listed, priced at $53.99. Finally, We have LEGO Star Wars Retractible Head Pens featuring Darth Vader, Han Solo, Boba Fett, C-3P0 or a Stormtrooper, and each of these is listed at $12.99.

------------
NEW ARRIVALS
------------

TRANSFORMERS ENCORE #20 DEVASTATOR GIFT SET This set of Constructicons has just arrived at our warehouse. A number of sets were quality checked, each had Mixmaster complete with face, so there is nothing to worry about on that note. This set also includes all six individual Constructicon weapons, Bio cards for each figure and of course all of the pieces to assemble the mighty Devastator. We have this box set listed at $124.99.

MP-09B MASTERPIECE BLACK RODIMUS This great recolor of the Rodimus Prime Masterpiece figure is done in black, teal and purple, and is able to transform into vehicle and robot modes of both Hot Rod and Rodimus Prime. We have this import figure listed at $224.99.

GI JOE 2012 SERIES 03 - CASE, SET, SINGLES The latest assortment of GI Joe figures has arrived. This set of six includes a Techno Viper as well as Renegades versions of Cobra Trooper, Ripcord, Scarlett, Storm Shadow and Tunnel Rat, and is listed at $54.99. We also have the case assortment, which adds an additional Renegades Cobra Trooper and a Techno Viper, and also adds Renegades versions of Snake Eyes and Firefly as well as a Hazard Viper and Cobra - the Enemy; this assortment is priced at $84.99. Finally, we have singles available of a number of figures - take a look at the menu for figures and prices.

ALTERNITY A-01 NISSAN GT-R - DAI ATLAS ASIA EXCLUSIVE The first of the new Asia Exclusive Alternity figures has arrived. Late G1 Autobot Dai Atlas is the first, with a blue and orange paint scheme; we have this figure priced at $74.99.

S.H. MONSTERARTS GODZILLA Rendered by the renowned Yuji Sakai and featuring unprecedented detail. Godzilla will feature 29 points of articulation. All figures in this series will achieve never before seen range of movement. Features unprecedented levels of detail and coloring. Figures will capture fine points such as the eye pupils and back plate - in stock at $65.99

1/4 SCALE GORT PREDATOR WITH MASK LIMITED EDITION FIGURE This new version includes the original prototype mask from the 1987 movie (that never made it to the screen), and is limited to 5000 pieces worldwide. We have a few left in stock, priced at $84.99 each.

GREEN LANTERN SERIES 04 - SET, SINGLES This set of DC Direct figures includes Green Lantern Arkkis Chummuk, Power Glow green Lantern Hal Jordan, Green Lantern Stel and Red Lantern Guy Gardner. We have the set of four listed at $64.99, saving you $11 off the MSRP; we also have singles available of each figure, priced at $17.99 apiece.

GREEN LANTERN MOVIE MASTERS SERIES 05 - SET, SINGLES The final assortment of GL Movie Masters has arrived, and includes Green Lantern Morro and the main body of Parallax. We have the singles listed at $17.99 each, and the set of two is listed at $33.99. In addition, if you have missed any of the previous figures, we currently have them all in stock at varying prices, so be sure to grab the ones you need.

MARVEL MINIMATES WAVE 42 SET This pack of 8 includes Civil War Captain America, Arnim Zola, Armored Thor, Beta Ray Bill, Thunderstrike, Eric Masterson as Thor and two Stone Men. We have the set of 8 priced at $29.99, saving you $6 off the MSRP.

CLONE WARS CAD BANE MAQUETTE Gentle Giant has just released a 9.5" Maquette of bounty hunter Cad Bane from the Clone Wars cartoon. He is shown wielding both pistols and includes a Certificate of Authenticity; we have him listed at $85.99, $9 off the MSRP.

RISK LEGACY This new Previews-exclusive version of Risk expands the action with cards and events that occur over time and more, new rules and a campaign that goes through multiple games. This new twist on the classic war game is listed at $52.99.

UN-09 MEGATRON RESTOCK This shiny version of the Voyager Megatron transforms into a gun in his original colors, and we have restocked our supply of him. We have this version listed at $54.99.

IMPOSSIBLETOYS RESTOCK We have received a small restock shipment from ImpossibleToys. We now have the Quint-03 Quintesson Prosecutor, the Quint-05 Quintesson Guard, the Quint-01 Quintesson Judge, the Quint-02 Quintesson Scientist, the Nightbird Ninja figure, Kremzeak, G1-Scale Sparkplug & Spike, the TFA Figures Set and the Transforming Exo-Suit Set in stock, so grab what you need to finish your collection.

UFC ULTIMATE COLLECTOR SERIES 08 - CASES, SET, SINGLES The Series 08 set of 6 includes Jon Jones Championship Edition with Belt, Georges St. Pierre Championship Edition with Belt, Brock Lesnar, Roy Nelson, Jose Aldo and Bruce Lee from "Enter the Dragon", and is priced at $84.99, $5 off the MSRP. The case assortments for this wave include singles or doubles of these figures and are priced at $99.99 each. Finally, we also have singles of Jon Jones Championship Edition with Belt and Georges St. Pierre Championship Edition with Belt, and they are priced at $13.99 each.

MARVEL UNIVERSE 3.75" 2011 SERIES 03, SERIES 04 REVISION 01 Two waves of Marvel Universe Figures have been restocked. Wave 03's set of 5 includes Dr. Strange, Dr. Doom, Scarlet Spider, Skaar and Falcon and is priced at $49.99; the case assortment has two each of those five plus one each of Gladiator and Apocalypse and is listed at $104.99. Series 04 Revision 01's case includes Darkhawk, X-23, Commander Steve Rogers, Cyclops, the Thing, Constrictor and more and is also listed at $104.99; we also have singles of all twelve figures in this case as well as gladiator and Apocalypse - be sure to check them out to fill any spot in your collection.

STAR WARS Vintage 2010 SERIES 05.2 REVISION 01, SERIES 05.5 REVISION 01 These cases are a great way to fill lots of collection holes all at once. Each of these cases is listed at $109.99, and they include figures like Keyan Farlander, Jedi Luke Skywalker, Bom Vindin, Darth vader, Slave Leia and more. In addition, most of the singles from these assortments are also in stock, so feel free to take a look and grab what you need.

GI JOE CRIMSON HISS TANKS & BLACK DRAGON VTOL The popular Crimson HISS tank is back in stock, it is available singly at $22.99 or along with the Black Dragon VTOL at $44.99 for the case.

SAINT SEIYA - SAINT CLOTH MYTH EX - LEO AIOLIA Following Gemini Saga, Tamashii Nations is proud to introduce the Leo Aiolia as the second title in the ground breaking Saint Cloth Myth EX series. Saint Cloth Myth EX represents a complete renovation of the existing Saint Cloth Myth series and strives for superior articulation with cloth (armor) parts attached. Each part features entirely new constructs enabling for a wide range of articulation even when figure is wearing cloth (armor) parts! In stock now at $74.99

BigBadToyStore.com