Four Horsemen Announce Gothitropolis Busts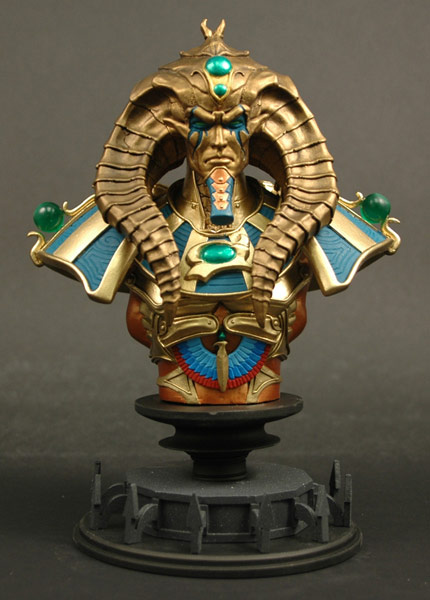 FOUR HORSEMEN ANNOUNCE GOTHITROPOLIS BUSTS!

November 28, 2011 - Beginning this Cyber-Monday, November 28th at Store Horsemen (http://www.StoreHorsemen.com) you'll be able to order your very own 2:1 scaled, hand-cast, fully hand-painted, polyurethane resin bust of Scarabus or any of the other Scarabus variants from the Four Horsemen's Gothitropolis property!

These busts will be individually produced to order right in the Four Horsemen's very own studios and each one will be signed by the whole team at Four Horsemen Studios! Each bust will be individually hand-cast by the Four Horsemen's incredible molding & casting duo – Shane "Diamond" Dittsworth and Owen "Odawg" Oertling - and hand painted to order by the Four Horsemen's amazing princess of the paints – Sherri Lynn Cook!

You'll be able to choose from any or all of the Scarabus variants – Scarabus (sample image shown – not final), Dormant Form Scarabus, Demon Fire Scarabus, Anubos (sample image shown – not final), Thothos, Horos, Melchom, Nergall, Haures and/or Azazel.

Each bust will be $175.00 (plus shipping & handling), and if you decide to purchase all ten we'll give you a discount on the entire order (discount price still to be determined). All orders placed by the end of business on Friday, December 2nd will be guaranteed to be shipped and delivered to your house by December 24th, 2011.

So stop by Store Horsemen on Cyber-Monday and get busted by the Four Horsemen! While you're there, don't forget to check out the Store Horsemen Cyber-Monday sale!