Transformers Prime at Big Bad Toy Store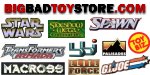 November 8, 2011 - (Sponsor Announcement) - Online retailer BigBadToyStore.com has several Transformers items available for pre-order:

Hi – we've just listed the first waves of Hasbro's Transformers Prime line of figures! An important note about this line that we'd like you to pass on to your readers. This 'First Edition' line is a specialty market exclusive with limited distribution. BBTS will be carrying the full lineup, get your preorders in and you can count on us to fill your order.

Listings include:

Entertainment Pack
http://www.bigbadtoystore.com/bbts/product.aspx?product=HAS21018&mode=retail

Deluxe Wave 1 and Wave 1.5
http://www.bigbadtoystore.com/bbts/menu.aspx?menu=2819&company=0&category=8092

Voyager Wave 1
http://www.bigbadtoystore.com/bbts/menu.aspx?menu=2819&company=0&category=8095

Role Play Blaster
http://www.bigbadtoystore.com/bbts/product.aspx?product=HAS21017&mode=retail

BigBadToyStore.com