Pixar Revoltech, Predators, Dark of the Moon, Power Ranger Samurai, Rocky at Big Bad Toy Store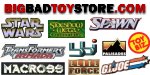 October 28, 2011 - (Sponsor Announcement) - Online retailer BigBadToyStore.com has several new item of interest to collectors:

ATTENTION RETAILERS: BigBadToyStore Distribution is now open and accepting applications from retailers around the world! If you have a government issued business license and would like to buy from us at wholesale pricing - please see this link and fill out an application:
http://www.bigbadtoystore.com/bbts/content.aspx?content=3

-------------
NEW PREORDERS
-------------

PREDATORS SERIES 04 - CASE, SET, SINGLES The newest assortment of NECA's Predators figures includes the Boar Predator, the City Hunter Predator and the Predator Shaman. We have them listed as a set of 3 for $47.99 ($9 off the MSRP) and as a case of 14 (4 Boar, 5 Shaman, 5 City Hunter) for $199.99, saving you $66 off the MSRP. In addition, we have singles listed of the City Hunter and Shaman figures, priced at $16.99 each.

DARK OF THE MOON BUSTER PRIME & JETFIRE BOX SET Takara is reissuing the Buster Prime and Jetfire box set in new Dark of the Moon packaging. For anyone who missed out on this great box set, now is your chance to grab one - we have this import-exclusive item listed at $249.99.

PIXAR REVOLTECH - WALL-E, NEMO Kaiyodo is branching out into a new Pixar Revoltech line that expands on the previous Woody & Buzz releases. First up is WALL-E, who comes with a fire extinguisher, garbage cube and plant in a shoe; he is followed by Nemo who comes with Dory and a special plant and coral articulated base that allows for a variety of poses. Each figure is listed at $39.99.

ROCKY 7" FIGURE SERIES 01 - SET, SINGLES NECA has also announced the first assortment in a new 7" line of Rocky figures. Apollo Creed and Rocky Balboa from "Rocky" are up for pre-order, priced at $17.99 apiece or $33.99 for the set of 2.

NEW BANDAI EXCLUSIVES A number of new Japanese exclusive items are up for pre-order. We have Robot Damashii Seraphim and Seravee sets, the XS-17 Dragonar 1 Custom, Tiger & Bunny Figuarts figures, a Haruhi SOS-1 Robot Original Color Exclusive, a Metal Build 00 Gundam Trans Am Raiser, a trio of One Piece Great Deep busts and new Gundam 1/144 exclusive versions of Kshatriya, Sinanju and GM II Desert Version.

NEW POWER RANGERS SAMURAI FIGURES Listings are up now for upcoming waves of Power Ranger figures and more. We have cases and singles of 6.5" Morphin Power Rangers figures, a six-pack of 2" stylized figures, Zord Vehicle and Figure sets, a Deluxe Lion Zord, a Dojo Training Center Playset, three different case assortment of Megazords as well as the Gigazord and Bull Megazord singles, and even a Battery-Operated Megazord for battle.

ALIEN SILICONE ICE TRAYS - BIG CHAP, EGG Kotobukiya has announced two new silicone ice cube trays, These are taken from the "Alien" movies and one contains Alien egg mold shapes, while the other is Big Chap head mold shapes. We have these trays listed at $9.99 each.

FEMME FATALES RAVEN HEX Tarot's sister makes an appearance as the next Femme Fatales figure. She stands 9" tall and is decorated with black tattoos; we have her listed at $39.99, $5 off the MSRP.

MICKEY MOUSE MIRACLE ACTION FIGURES - JACK SPARROW, MAD HATTER Medicom's Miracle Action figure line continues with two new versions of Mickey Mouse - one dressed up like Captain Jack Sparrow and the other like the Mad Hatter. Each figure has 18 points of articulation, and each is priced at $38.99.

DOCTOR WHO MAXI BUSTS Two new maxi busts are on the way for your Doctor Who collection. The Eleventh Doctor gets a recolored version of his original bust, but this time with a red and white striped shirt and his red bow tie; this piece is listed at $64.99, $5 off the MSRP. The Fifth Doctor played by Peter Davison is the other new bust, and his is priced at $74.99, also saving you $5 off the MSRP.

ASSASSIN'S CREED BROTHERHOOD - 7" ONYX EZIO NECA has announced a new version of Ezio from Assassin's Creed Brotherhood. This Onyx version has a dark hood, comes with a crossbow as well as his assassin's gauntlets, and is priced at $16.99.

MASS EFFECT 3 M-8 AVENGER ASSAULT RIFLE REPLICA The first of two new video game weapon replicas from Project Triforce, the M-8 Avenger from Mass Effect 3 measures 34" long and is limited to 500 pieces worldwide. It weighs in at 20 pounds, and we have it listed at $649.99.

GEARS OF WAR 3 C.O.G. SNUB PISTOL REPLICA Project Triforce is also producing a replica of the Snub Pistol from Gears of War 3. This weapon measures 13" long and is also limited to 500 pieces worldwide; it is priced at $384.99, saving you $15 off the MSRP.

CALL OF DUTY MODERN WARFARE 3 ACCESSORIES Bioworld Merchandising has announced a number of new items from Call Of Duty Modern Warfare 3. We have new listings for caps, beanies, wallets and a number of different t-shirts and hoodies. Check them all out at the link and grab what you like.

NYCC 2011 EXCLUSIVE DEADPOOL CORPS MINIMATES BOX SET The Deadpool Corps is soon to be available to join your Minimates collection. This set includes Deadpool, Lady Deadpool, Championpool (formerly one of the Elders) and Kidpool, with a bonus Headpool thrown in for completeness' sake. This set is listed at $19.99.

NYCC 2011 EXCLUSIVE POP HEROES FLASHPOINT BATMAN The POP Heroes line continues with this NYCC 2011 Exclusive version of the Flashpoint Batman. This piece shows Thomas Wayne in his black, gray and red Batsuit, and is listed at $14.99.

CDMW-27 OMEGA GIANT'S POWER PARTS CUSTOM CLAW CrazyDevy's newest add-on gives Omega Supreme a new claw hand with 90-degree claw-tip movement. This new piece is listed at $29.99, and should arrive in early December.

ENERGON CUBES iGear has announced a run of energon cubes. They will come in purple or orange, and are listed as singles at $2.99 each, or in packs of 20 at $44.99.

LOTR WAR OF THE RINGS GAME, ADD-ONS Alliance Game Distributors has announced a new Second Edition of their War of the Rings game. It allows you to play either the side of good or that of evil, and we have it listed at $84.99, $5 off the MSRP. Alliance has also announced a special tin and card protector pack to keep your playing pieces in tip-top condition, and that is listed at $13.99. Finally, the release of a combination tin & card protector pack with two packs of new cards will allow you to upgrade your first edition game to the second edition without buying a whole new game, and it is priced at $27.99.

WORLD OF WARCRAFT DOOMHAMMER LARP EDITION REPLICA Epic Weapons is releasing a LARP Edition of the Doomhammer weapon from World of Warcraft. This weapon is made from PVC tube piping and coated with polyurethane, with a leather wrapping. It weighs 3 pounds and is covered with insignia from the game; we have this weapon listed at $129.99.

------------
NEW ARRIVALS
------------

DC UNIVERSE WAVE 19 This wave will be arriving early next week - reserve your set now!

D-ARTS MEGAMAN X FULL ARMOR VERSION ACTION FIGURE The third Megaman figure in the D-Arts line is this new version in his white and blue armor upgrade. He comes with new face and hand parts as well as blast effects (all of which can also be used with the other two figures of the line) and is listed at $39.99.

DEUS EX HUMAN REVOLUTION PLAY ARTS KAI - SET, SINGLES Three of the characters from the Deus Ex Human Revolution video game have made the jump to the Play Arts Kai figure series. Adam, Barret and Federova are each available, priced at $49.99 singly, or at $139.99 for the set of three, saving you about $10 off the MSRP.

STAR WARS CLONE WARS 2011 SERIES 06 - CASE, SET, SINGLES This assortment has a six-pack of new characters - Clone Commander Colt, Jedi Even Piell, Armored Savage Opress, a Kashyyyk Warrior, R7-D4 (Plo Koon's Astromech) and Jar Jar Binks in Senate Outfit. We have this set of 6 listed at $69.99; we also have the case of 12, including those six figures plus a Destroyer Droid, Clone Commander Wolfee, Shirtless Savage Opress and more, and it is listed at $104.99. Finally, we have leftover singles of the Destroyer Droid, etc., so if you've missed any of them, feel free to take a look and grab what you need.

STAR WARS CLONE WARS 2011 SERIES 05 CASE RESTOCK We have received a few more cases of Clone Wars 2011 Series 05. This assortment includes Seripas, Captain Rex with Jetpack, Kit Fisto in Cold Weather Gear, Clone Commander Wolffe, an Aqua Battle Droid and more, and is priced at $104.99

TRANSFORMERS CHRONICLE RESTOCK We have received a good-sized shipment from Japan to restock some of our most popular items. The Megatron and Optimus Chronicles sets are back in stock at $124.99 each, and each includes a G1 and aDark of the Moon version of the title robot. The Optimus Set also includes a trailer that can work with either figure.

TRANSFORMERS MP-10 RESTOCK We also received a new shipment of the new MP-10 Masterpiece Convoy/Optimus Prime. This figure includes his trailer, Roller and even a Spike figure to drive. We have this popular new set listed at $249.99.

TRANSFORMERS BATTLE IN SPACE BOX SET RESTOCK This set includes Classics versions of Rodimus/Hot Rod and Cyclonus, plus a recolored Matrix of Leadership and more. We have this set available again, priced at $23.99.

MASTER OF THE UNIVERSE CLASSICS We have received a number of Masters of the Universe Classics figures for the benefit of our international and other customers. This month includes Hurricane Hordak and Icarius, and each is listed at $31.99.

MY LITTLE PONY WITH ANIMAL FRIENDS SERIES 04 - CASE, SINGLES In this assortment, each pony comes with a small cart and an animal friend to keep them company. The case of 12 includes two each of Feathermay, Twinkleshine and Snowcatcher and one each of Rarity, Applejack, Rainbow Dash, Honeybuzz, Plumsweet and Flitterheart, and is priced at $61.99. We also have singles of a number of the figures, priced at $6.99 - $8.99 each.

GEARS OF WAR MARCUS FENIX EPIC SCALE BUST Project Triforce's new Epic Scale bust of Marcus Fenix stands 32" tall and is limited to 500 pieces worldwide. It shows Marcus with a raised weapon in his right hand and a set of COG tags in his left. We have this piece listed at $339.99, $10 off the MSRP.

MAX FORCE GUNS, AMMO Our first shipment of Max Force items has arrived. These guns shot splat pellets, which you soak in water before firing and flatten on impact instead of causing damage. In addition to ammunition in 150 shot ($5.99), 300 shot ($9.99) and 1000 shot with bandolier belt ($18.99), we have received the Shadow Hawk 100, which includes 120 pellets and has removable parts and a fold-down bi-pod for accuracy up to 100 feet, and is priced at $44.99.

RUROUNI KENSHI REVOLTECH FIGURES This week also brought us a shipment of both Himura Kenshin and Battohsai Revoltech figures from the Rurouni Kenshin anime. Each figure comes with a display stand, swords, extra faces and extra hands, and is listed at $39.99 ($8 off the MSRP).

GUNDAM 7-11 IMPORT EXCLUSIVE MODEL KITS 7-11 in Japan has recently released three Gundam 1/144 scale model kits with new colorings and 7-11 decorations, and we have been able to get a small quantity of each for our customers. The RX-78-2, Char's Zaku and Bearguy (Bear Acguy) are each in stock now, priced at $35.99, $35.99 and $48.99 respectively.

NEW KAMEN RIDER S.H. FIGUARTS Three new S.H. Figuarts figures from the Kamen Rider line have arrived. We have stock available of Amazon, Shin Ichigo and Kaixa (Kaizer), priced at $35.99, $33.99 and $39.99 respectively.

ABBYSHOT CLOTHING REPLICAS A small shipment of Abbyshot clothing replicas has arrived. We currently have stock in sizes Small through XXL (except Medium) of the Eleventh Doctor's Jacket, which is priced at $309.99, saving you $20 off the MSRP. We also have various sizes available in the Jenova Trench Coat, the Dante Coat (Red) and the Squall Jacket - check out the items at the link for more information, and feel free to place a pre-order for anything not yet in stock.

ATA BOY MAGNETS, MOUSEPADS & STICKERS Ata Boy has just shipped us a number of new Marvel, DC and Mortal Kombat items. We have mouse pads of Captain America, the Punisher and Spider-Man, along with magnet sets and sticker sets - check them out at the link.

BigBadToyStore.com