NYCC Exclusive Captain Sturnbrau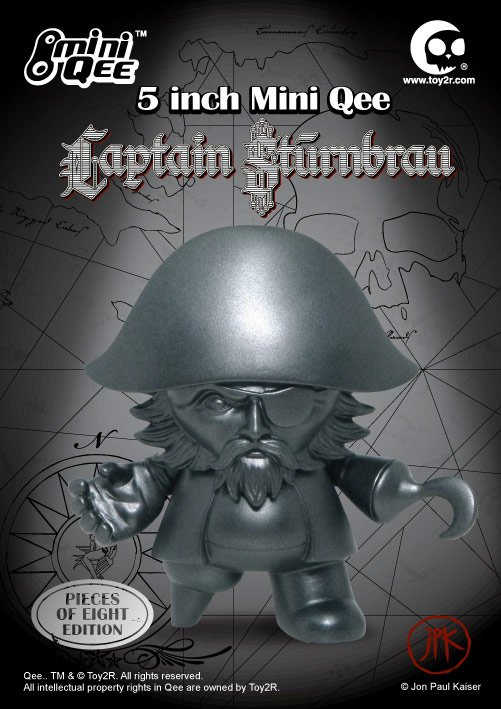 October 2011 - Pieces of Eight have always had a mythical connection with pirates, and now Toy2R continues the voyage of the Whispering Corsair with a special tribute to the pirate lore. Introducing the 'Pieces of Eight' Edition of Jon-Paul Kaiser's Captain Sturnbrau 5" Figure.

Toy2R had planned to launch the original B&W version at NYCC, but has decided to make a special edition – for those loyal followers in search of rare treasure. This silver/black edition will be extremely limited and will debut during NYCC at the Toy2R / Tenacious Toys booth #876. Be sure to set your sights on docking at our booth to snag one of these limited riches.

With Jon-Paul Kaiser making his journey to the states to attend NYCC, fans and retailers may want to seek out the mother load of Kaiser figures at booth #876 including the newest releases; 5" First Mate Nathaniel Vigo, 5" Forgotten Bunee, and 5" Scribe Toyer Mini Qees as JPK will also be signing at the booth on Saturday, Oct 15th at high noon!

Wholesale orders for both the Captain Sturnbrau Pieces of Eight Edition Figure and his other 5" Mini Qee releases available for NYCC are being accepted by APEX ([email protected]) but act smartly, like all mythical treasure, once they weigh anchor – they may be gone for good!