Marvel Universe Team Packs, GI Joe Exclusives, Predators Noland, Star Wars at Big Bad Toy Store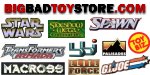 September 14, 2011 - (Sponsor Announcement) - Online retailer BigBadToyStore.com has several new items of interest to collectors:
Hi - Here is a quick update from http://www.bigbadtoystore.com about a variety of new arrivals and more cool new preorders. Don't forget to check out our sale menu here:

http://www.bigbadtoystore.com/bbts/list.aspx?list=7223

New items are added to the main list every few days and thousands of items are listed on the discount menus.

------------
NEW ARRIVALS
------------

GI JOE 2012 SERIES 02 - CASE, SET, SINGLES The second of the 2012 waves of GI Joe figures has arrived. This assortment includes two each of Firefly, Snake Eyes, Duke and Cobra Commander from "Renegades" as well as one each of Cobra - The Enemy, Viper, Iron Grenadier and Hazard-Viper. This case is listed at $84.99; we also have the four "Renegades" figures listed as a set, priced at $39.99, and have restocked most of the 2012 Wave 01 figures as well.

MARVEL UNIVERSE SUPER HERO TEAM PACK SERIES 03 - CASE, SINGLES Hasbro's newest case assortment includes two of the Guardians of the Galaxy Box Set along with one each of X-Force and the Fantastic Four (this shipment appears to contain just the Future Foundation color scheme) and is priced at $84.99. We also have the sets listed singly, priced at $24.99 - $26.99 each.

D-ARTS MEGAMAN ZERO Bandai Japan's latest D-Arts figure is Megaman Zero as he appeared in Megaman X, although some may know him better from Marvel Vs. Capcom III. The figure includes interchangeable face, hand and arm parts along with blast effects, and is listed at $39.99.

HOT TOYS 1/6 SCALE TRUETYPE TTM-18 CAUCASIAN WITH NARROWED SHOULDERS Hot Toys' latest Truetype body is this narrowed shoulders caucasian. It comes with alternate hands and a display stand, and is listed at $46.99.

ASSASSIN'S CREED BROTHERHOOD 1/18 SCALE FIGURE SERIES 01 The set of six figures includes Ezio, Cesare Borgia, the Doctor, the Harlequin, Machiavelli and Da Vinci, and is listed at $59.99. The case of 12 includes 6 of Ezio, 2 of Cesare Borgia and 1 each of the rest, and is priced at $89.99, $30 off the MSRP. Finally, we also have singles of Cesare Borgia and Ezio, priced at $9.99 each.

MARVEL UNIVERSE SECRET WARS COMIC TWO-PACKS 2011 SERIES 02 - CASE, SET The new assortment of Two-Packs includes three each of Spider-Man & Captain Britain and Power Man & Iron Fist, along with one each of Wolverine & Silver Samurai and Deadpool & Taskmaster, and is listed at $119.99. We also have a set available of Spider-Man & Captain Britain and Power Man & Iron Fist at $37.99, and Wolverine & Silver Samurai and Deadpool & Taskmaster at $31.99.

STAR WARS TRANSFORMERS 2011 CLASS III SERIES 01- DARTH VADER This new quad-changer shifts from Darth Vader to Anakin Skywalker to Star Destroyer to Republic Attack Cruiser. It includes lightsabers for both character forms, and we have it listed at $44.99.

STAR WARS CLONE WARS 2011 SERIES 05 - CASE, SET, SINGLES The latest Clone Wars case assortment includes new figures like Captain Rex with jetpack, Seripas, Kit Fisto in Cold Weather Gear and a stealth Ops Clone. This case of 12 is listed at $104.99, with the set of 7 (including Aqua Battle Droid, Saesee Tiin and Clone Commander Wolffe) is priced at $74.99. We also have singles available from this case, including Yoda, Anakin Skywalker, Commander Cody, R2-D2 and Shirtless Savage Opress, so grab the ones you need while they're available.

STAR WARS DARTH MAUL CYBORG 1/4 SCALE PREMIUM FORMAT STATUE Darth Maul's hate was too strong to let him expire after being cut in half; he managed to get a cyborg lower half and continue to hunt Obi-Wan Kenobi. This statue measures 24.5" and shown him with his horns grown out, running with a new version of his double-bladed lightsaber. We have it priced at $309.99, saving you $15 off the MSRP.

12" COBRA DESERT OPS TROOPER: SNIPER Sideshow's latest 12" GI Joe figure is the Cobra Desert Ops Sniper. He comes dressed in desert camo and includes multiple weapons and accessories, all of which are listed on the item page. This figure is priced at $94.99 ($5 off the MSRP) and fits well with the Desert Environment.

GI JOE EXCLUSIVES We have stock of a few of the exclusives of yesteryear. The 2004 Glow-In-The-Dark heavy Water figure is priced at $9.99, and the 2008 Cobra Headhunters Box set is priced at $299.99. The 2000 Flying Tiger 1/6 Scale Convention Set includes a bonus 1/6 scale Soldier, plus an Igloo cooler, baseball cap and more, and is priced at $99.99.

STAR WARS JABBA'S PALACE ARCHWAY 12" ENVIRONMENT This segment of Jabba's Palace shows the intersection between two archways. It stands 20" tall by 15" wide and 12" deep and is listed at $134.99, $5 off the MSRP.

GEAR 4 TOYS HEAD & ARMS SETS These parts attach to the original G1 (or reissue) versions of Ratchet and Ironhide and give them actual heads, upper torsos and moving arms. We have them available as a set of 2 for $56.99, or singly at $29.99 each.

BUFFY THE VAMPIRE SLAYER 1/5 SCALE WILLOW STATUE This statue shows Willow in a green top and red skirt with her backpack over her shoulders. The base at her feet evokes her darker magics, complete with pentagram and skull. We have this piece listed at $209.99, $15 off of the MSRP.

CHALICE OF KALI PROP REPLICA This replica recreates the Chalice from "Indiana Jones and the Temple of Doom". It stands 12" tall and has a sculpted human skull atop the chalice, and we have it listed at $189.99, $10 off the MSRP.

DC BRIGHTEST DAY SERIES 01 RESTOCK We have received a small shipment of this fast-selling wave. It includes Hawkgirl, Deadman, Green Arrow and Aquaman, and they are available as a set of four at $64.99 ($11 off MSRP) or singly at $17.99 each.

MOTU CLASSICS MAN-E-FACES, MEGATOR We have again been able to get a small quantity of this past month's MOTU Classics figures for our international and other customers. We have Man-E-Faces priced at $34.99, while the 12" Megator figure is listed at $64.99.

DC UNIVERSE CLASSICS SERIES 17 SET, WHITE LANTERN We have restocked this popular set as well as the White Lantern Hal Jordan single. White Lantern Hal is listed at $16.99, while the set of 7 with Anti-Monitor C-N-C figure parts is priced at $104.99.

GREEN LANTERN CLASSICS SERIES 02 - SET, ION The shipment also included a small quantity of the GLC Series 02 Set, as well as singles of Ion (Sodam Yat). Sodam Yat is priced at $16.99, while the set of six with Stel C-N-C parts is listed at $94.99.

REVOLTECH RESTOCK Many of our Sci-Fi Revoltech figures have been restocked. Jason Voorhees, Gamera, Gyaos, Batman, Mothra and Baragon are all ready to join your collection now.

HEAD PLAY 1/6 SCALE HEADS This company makes 1/6 scale heads that resemble actual actors and other real-life celebrities. We have received a shipment of 17 different heads, and they are priced at $24.99 each. be sure to take a look and grab what you need before they sell out.

DC MEZ-ITZ SERIES 02 SET This pair includes Superman and his mortal enemy Darkseid. We have them listed at $24.99 for the set of two, saving you $4 off the MSRP.

LITTLE BIG PLANET 2010 SERIES 03 SET This trio of figures includes the original Sackboy in both open smile and angry versions, along with a Platinum Sackboy. This set of three figures is listed at $35.99, saving you $7 off the MSRP. We also have each figure available singly, priced at $13.99 each.

-------------
NEW PREORDERS
-------------

HOT TOYS MOVIE MASTERPIECE NOLAND FROM "PREDATORS" Laurence Fishburne's character from "Predators" has been announced as the next figure in the Movie Masterpiece line. It comes loaded with accessories such as 6 different hands, a laser gun, an axe, an extendable spear, forearm armor with extendable blades, sculpted armor with a newly-developed helmet and more. We have this figure listed at $169.99, saving you $15 off of the MSRP.

MARVEL UNIVERSE 2011 SERIES 05 SINGLES In addition to the Series 05 Case and Set, we now also have singles available for pre-order. We have Tony Stark Iron Man, Iceman, Absorbing Man, Astonishing X-Men Wolverine and Magneto (probably the Ultimates version) in addition to Steve Rogers and the Sub-Mariner. These figures are listed at $10.00 - $14.99 each.

HALO: REACH SERIES 06 - FIGURES, 3-PACKS, 2-PACKS, GENERATOR DEFENSE The final assortment of Halo: Reach figures includes unhelmeted versions of Kat and Jun along with an Elite Zealot, a Brute Major and a Sabre Pilot Custom (Male). They are available as a set of 5 for $59.99, as a case of 8 (two each of Kat, Jun and Brute) for $89.99, and singly at $11.99 each. There are also two new three-packs available - Invasion and Long Night of Solace, with each available singly at $33.99 or as a set of two for $64.99. The new Two-packs are Team Objectives and Headhunter, which are available at $22.99 each or as a set at $44.99. Finally the new Generator Defense Box Set is priced at $22.99.

BATMAN & SUPERMAN - KOTOBUKIYA DC ICE TRAYS Make your ice a lot cooler with these new DC logo silicone ice trays. Be sure to check out the Han in Carbonite and R2-D2 versions as well - all listed here at $9.99 each

STAR WARS IMPERIAL FORCES WALLPAPER Super7 has come up with another great Star Wars item. This time it is a wallpaper with Imperial faces like Darth Vader, Snowtrooper, Stormtrooper and Boba Fett. The wallpaper is flocked and comes in three sizes - check out the entries and see which is right for you.

LAURA II 1/6 SCALE FIGURE Phicen Limited's latest figure is the 1/6 scale Laura II. It come complete with a full cloth outfit as will as pistols, an Uzi, clips, a backpack and more, and is listed at $114.99.

DOCTOR WHO LENTICULAR ANIMATED CHESS SET Underground Toys has announced a new Doctor Who Chess set. This version has lenticular art on each piece and includes heroes and villains. We have this new game listed at $54.99, saving you $10 off the MSRP.

NEW MONOPOLY GAMES - AC/DC, STAR TREK KLINGON, FUTURAMA Three new Monopoly games are up for pre-order from USAopoly. AC/DC, Futurama and Star Trek Klingon versions are all ready for pre-orders, priced at $39.99 each.

NEW WESTLAND GIFTWARE ITEMS We have listed dozens of new Westland Giftware items. They include all kinds of licenses, like Star Trek, Looney Tunes, Disney, Hanna Barbera, Tom & Jerry, Garfield, Winnie the Pooh, the Flintstones, Marilyn Monroe, Peanuts and more, so check your favorite menus at the link for more information.

INVINCIBLE IRON MAN 1:1 SCALE LIFE SIZE BUST Sideshow has announced a new Iron Man bust. This version stands somewhere around 25" tall and includes light-up eyes and unibeam chest piece. We have it listed at $699.99, saving you $50 off of the MSRP.

TRANSFORMERS DARK STEEL IMPORT EXCLUSIVE FIGURE Dark Steel may be a regular release over here, but in Japan he will be an exclusive figure limited to three stores. We have the import figure listed for pre-order, priced at $54.99.

CDMW-26 THE KING'S POWER PARTS MANE & GUN BARREL SET As the name says, this new set includes larger mane pieces for Predaking's chest, along with a gun barrel extension and a newly-designed part to connect the Eagle arm and the Lion body. This new set is listed at $29.99, and should arrive next month.

JUNKION BLACKSMITH HEAD FIGURES This new assortment of figures can replace the heads of any of your Headmasters in addition to having their own robot and alternate modes. The names may sound different, but the figures will certainly be familiar. We have listings for JB-01 Justice Leader, JB-01B Evil Commander, JB-02 Tactical Officer and JB-02B Tactical Officer Hyper Mode figures, and they are listed individually at $11.99 each, or as a set of four at $44.99.

NBA SPORTSPICKS SERIES 20 - CASE, SINGLES McFarlane's newest NBA figure series includes Blake Griffin, Carmelo Anthony, Derrick Rose, Dwyane Wade, John Wall, Kevin Durant and Kobe Bryant. We have each figure available singly at $11.99 each, or you can pick up the case of 8 (including a Chase or Collector Level figure) for $84.99.

SIMPSONS CRUZER SKATEBOARDS - HOMER, BART The Santa Cruz Skate Company is releasing two skateboards under the Simpsons license. The Homer version is done in the shape of his head and torso, while the Bart version is done like the one he rides in the intro to the TV show. We have the Homer version listed at $149.99 and the Bart version at $139.99.

STAR TREK IWG FIGURES These new figures are mutated animals reimagined as Star Trek characters. We have listings up for Captain Titus the Bear, Commander Affonso the Rhino and Lt. Commander Hannibal the Gorilla. Each figure stands about 7" tall and includes a phaser, communicator, tricorder and plush Tribble in addition to their Starfleet uniform shirt, and each is listed at $44.99, $5 off the MSRP.

ARIEL DARKCHYLDE 1/4 SCALE STATUE The 15th anniversary of this heroine is being celebrated with a 1/4 Scale statue by Pop Culture Shock. This mixed media statue measures 24" tall and is listed at $299.99, $20 off of the MSRP.

1/6 SCALE REALISTIK MUSCLE BODY Kaustic Plastik has announced a new 1/6 scale figure body. The Realistik Muscle body includes multiple hands, skin texture and improved ankle joints, and is priced at $39.99.

NIGHTMARE BEFORE CHRISTMAS ACCESSORIES NECA has announced a new crop of NBX items. We have listings up for mugs, mini head knockers, bookends, calendars, lamps, waterballs and more.

BigBadToyStore.com