Bowen Iron Man, Gentle Giant, Tomica Transformers, Map Room at Big Bad Toy Store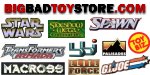 July 14, 2011 - (Sponsor Announcement) - Online retailer BigBadToyStore.com has several new items of interest to collectors:

-------------
NEW PREORDERS
-------------

GENTLE GIANT JULY ANNOUNCEMENTS - MARVEL, STAR WARS, SUCKER PUNCH Ten new items from Gentle Giant are up for pre-order. we have a bust of Cantina Band Member Tedn Dahai at $58.99, a 5.5" R2-D2 Clone Wars Maquette at $68.88, a 3' tall Clone Wars R2-D2 Life Size Monument at $1079.99 (saving you $120 off the MSRP), 12" figure reproductions of Greedo and a Star Wars card back Stormtrooper at $67.99 each, Hulk and Thing Marvel Single Bookends at $124.99 each, Captain America Classic and Thing Mini Busts at $76.99 and a Sucker Punch Amber Mini Bust, also at $76.99.

BOWEN DESIGNS BUSTS - IRON MAN SPACE ARMOR, HYDRO ARMOR Iron Man is getting two new busts from Bowen Designs, showing two more of his armor designs. The 7" Space Armor Mini Bust and the 8" Hydro Armor Mini Bust are each priced at $89.99, and should arrive late this year.

BOWEN DESIGNS STATUES - GLADIATOR, HAWKEYE, CYCLOPS, ULTIMATES CAP METALLIC Three new statues have been announced by Bowen Designs. The Gladiator Original 12.5" Statue is of a classic Daredevil villain and is listed at $239.99; the Hawkeye Museum Statue stands 12" tall and is listed at $234.99; finally, the Cyclops Retro 12" statue shows him in his original X-costume and is listed at $199.99. Bowen has also got a new metallic version of the Ultimates Captain America 13.5" statue, and we have it listed at $249.99.

TOMICA DIE-CAST TRANSFORMERS CARS TakaraTomy has announced a new line of Tomica die-cast cars from the Transformers. The first two releases are up for pre-order now - Bumblebee at $10.99 and Optimus Prime with Trailer for $17.99.

SIDESHOW 12" STAR WARS - BATTLE DROID TWO-PACK, COMMANDER GREE Clone Commander Gree, designation 1004, led the Elite Corps stationed on Kashyyyk during the Clone Wars. He served under General Yoda, commanding troops that employed specialized equipment for combat in the jungle environment. Though a faithful commander following Yoda's orders, Gree was ultimately loyal to the Republic. Preorders listed at $119.99

INDIANA JONES 12" FIGURE ENVIRONMENT - MAP ROOM Joining Sideshow's line of the Indiana Jones collectibles is the City of Tanis - Map Room 12-inch Figure Environment from the Raiders of the Lost Ark film. Each piece is individually painted and finished, each with its own unique quality and detail that is the trademark of a handcrafted Sideshow Collectibles product

BUFFY THE VAMPIRE SLAYER - SPIKE STATUE Celebrating Joss Whedons long-running television series Buffy the Vampire Slayer comes the Spike Statue. This detailed sculpture presents William the Bloody in 1:5 scale, ready to take on the slayer. Each piece is individually painted and finished with unique quality and detail that is the trademark of a handcrafted Sideshow Collectibles product.

GREEN GOBLIN LIFE-SIZE BUST Capturing the maniacal Norman Osborn as one of Spidey's most formidable foes, each piece is individually painted and finished to exacting standards, each with its own unique quality and detail that is the trademark of a handcrafted Sideshow Collectibles product. Complete with a removable and poseable real fabric hat, the Green Goblin Life-size Bust is a perfect addition to any Spider-Man or Marvel collection!

PREDATORS - CEREMONIAL MASK PROP REPLICA Sideshow brings you the Predators Collectible line featuring original Predator character designs by Steve Wang, award-winning creature designer and special effects make-up artist. Each piece is individually painted and finished, each with its own unique quality and detail that is the trademark of a handcrafted Sideshow Collectibles product. The Ceremonial Predator Mask Prop Replica is an incredible addition to any Predator legacy display

DC UNIVERSE SERIES 17 - BLACK LANTERN HAL JORDAN We have received a large shipment of singles of Hal Jordan possessed by the power of a Black Ring. This version of Hal has his mouth open in a yell, and is priced at $16.99.

TRANSFORMERS WAR FOR CYBERTRON CARNAGE AXE ACCESSORY Corbot V's follow-up to the War Axe from War for Cybertron is the new Carnage Axe. This piece is great for the Darkside version of Optimus or most any other figure, and is listed at $19.99.

STAR WARS: THE BLUEPRINTS HARDCOVER BOOK This fantastic new collectible is limited to 5000 pieces and has 336 pages of blueprints and more from the Star Wars Universe. The book itself is fabric-bound and comes in a fabric-bound hardcover case, with metallic stamped detailing and a Certificate of Authenticity. It measures 18.25" tall by 15.5" wide by 2" thick, and we have it listed at $474.99, saving you $25 off the MSRP.

TRANSFORMERS 3D GASCAN GLASSES Oakley is producing a new pair of glasses for those who want to watch the third Transformers movie in 3D. These limited-edition glasses have Autobot and Decepticon symbols on the bows and will work in any RealD movie theater. You can read much more about the glasses on our site, and we have them listed at $224.99.

BOROMIR 24" STATUE Sideshow's latest announcement in their new Lord of the Rings statue line is the 24" tall Boromir statue. He stands proudly, with banner in one hand and sword in the other, and we have him listed at $234.99, saving you $15 off of the MSRP.

T-1000 18" POLYSTONE STATUE This new statue from "Terminator 2: Judgment Day" shows the t-1000 in his police officer outfit, with his gun in his outstretched left hand. He comes with what appear to be attachable liquid metal gunshot sprays, and he is priced at $234.99, saving you $15 off the MSRP.

TRANSFORMERS GROWING PAINS CUSTOM KIT Beelzeboss is producing another add-on kit for the Bumblebee Classics figure - this time it is a brand new Goldbug head and a weapon to go with it. The piece should work especially well with the metallic Transformers United Bumblebee, but will work with any version of the mold, and is priced at $29.99.

TRANSFORMERS G1-TSC-86V1 TECHNICAL SPECIFICATION CARD SET This new set of laminated Tech Specs covers the first half of the Transformer G1 releases from 1986. The set includes 30 cards and is listed at $34.99.

ULTRAMAN REAL ACTION HEROES FIGURES We have just listed pre-orders for a new round of Ultraman RAH (Real Action Heroes) figures. We have Ultraman ace at $198.99, Ultraman Jack at $184.99, Ultraman B Type Renewal Version at $184.99, Ultra Seven Version 2.0 at $221.99, and Metron Alien and Alien Guts at $171.99 each.

DOCTOR WHO PLUSH FIGURES, TIME LORD PSYCHIC CONTAINER Four new Doctor Who items are up for pre-order. We have Medium Talking Dalek Plushes in either Red or Blue for $24.99, as well as a Medium Talking TARDIS Plush with Light-Up Lamp for $21.99. In addition to these, the new Time Lord Psychic Container from "The Doctor's Wife" is up, priced at $29.99.

STAR TREK VAULT: 40 YEARS FROM THE ARCHIVES HARDCOVER Covering all six Star Trek television series and the ten original feature films, the book highlights the far-reaching social and scientific optimism that underpins the franchise. Fully illustrated with more than 350 images, Star Trek Vault provides a broad perspective on the voyages of Captains Kirk, Picard, Sisko, Janeway, and Archer.

STAR WARS ART: THE COMICS HARDCOVER - REGULAR, LIMITED EDITION Hand-selected and curated by George Lucas, the art featured in this volume includes interior pages and fully painted covers from artists such as Al Williamson, Howard Chaykin, Adam Hughes, Bill Sienkiewicz, Dave Dorman, and many more-as well as new work created exclusively for this book by over 20 renowned artists

STAR WARS WACKY WISECRACKS Funko's latest entry into the Star Wars vinyl figure lineup - each available at $11.99

HARRY POTTER PAGE TO SCREEN HARDCOVER Harry Potter: Page to Screen is the complete history of all eight Harry Potter films, providing unbridled access to every aspect of the film-making process. It will tell the stories behind each film and cover the design and technology behind all the astounding effects. Harry Potter: Page to Screen starts at the very beginning, then features interviews, quotes, and stories from the directors, producers, screenwriters, and actors will discuss the making of all eight films at length, including the last film, Harry Potter and the Deathly Hallows, Part 2.

HOT TOYS 1/6 SCALE TRUETYPE BODY - CAUCASIAN MUSCULAR TTM-19 The TrueType body features over 30 points of articulation. With all the innovation that Hot Toys is known for, this is one of the best 1:6 scale figure bodies available - the perfect base for any 1:6 scale fabric costumes and accessories to create unique custom figure.

THE BATMAN FILES DELUXE HARDCOVER Completely outlining Batman's war on crime, The Batman Files includes in-depth computer files, news articles, crime scene photos, blueprints, schematics, and actual maps of Gotham City that were collected, and in many cases even drawn, by the Caped Crusader himself. High production values include black matte gilding, as well as high-tech fabric cover - complete with a metallic Batman emblem to secure the secret contents within.

SOLDIER STORY 1/6 SCALE USMC 2ND MARINE EXPEDITIONARY BATTALION FIGURE An immense list of accessories are included with this figure - everything very detailed - take a look at Soldier Story's latest release here

NEW RUBIES COSTUMES, MASKS, ACCESSORIES - WALKING DEAD, VOLTRON, MORE We have listed a wide variety of new costumes, masks, headpieces, accessories and more from various lines. New items include the Walking Dead, Voltron, Star Wars, God of War, "Cowboys and Aliens" and Thundercats - check them all out at the menus under the link.

GEARS OF WAR BOARD GAME This game is for one to four cooperative players, who take the roles of COG Soldiers and try to fulfill randomly constructed missions. This set is great for lovers of the video games, and is listed at $59.99, $10 off the MSRP.

THE WALKING DEAD BOARD GAME This cooperative game is for one to six players and is taken from the comic version. It even includes seven pieces of brand new art and custom dice, and is listed at $37.99.

------------
NEW ARRIVALS
------------

YOUNG JUSTICE 6" SERIES 01 – SET, SINGLES The first assortment of Young Justice 6" figures includes Artemis and Robin. Each comes with a display diorama and 7 weapons, and we have them listed singly at $21.99 each. We also have them listed as a set of 2, priced at $41.99.

MIMOBOT FLASH DRIVES - DC, STAR WARS, HELLO KITTY A wide variety of new Mimobot Flash Drives have arrived at our warehouse. We have Green Lantern pieces like Kilowog, Sinestro and Tomar Re, DC pieces like Joker, Batman and Catwoman, Star Wars pieces like R2-D2, Darth Maul and Yoda, and even a Hello Kitty Fun In Fields 4GB drive. Most pieces comes in some combination of 2GB, 4GB and/or 8GB versions, so pick the ones that are best for you.

UNIMAX TOYS 1:18 SCALE FIGURE, VEHICLES - CRYSIS, FORCES OF VALOR We have just received a good-sized shipment of 1:18 Scale figures and vehicles. From the Forces of Valor line we have the M4A3 Sherman Tank (Olive Drab), the M16 Multiple Gun Motor Carriage, the M1A1 Abrams Tank (Desert Colors) and more, along with figure sets such as the U.S. Modern Marines Series 02 Set of 3 and the U.S. WWII Army Soldiers Set of 6. We also have the Crysis 2 Series 01 Set of 6 figures, along with some singles of the wave as well.

TRANSFORMERS ANIMATED TRANSTECH CHEETOR TFCC EXCLUSIVE This combination of Transformers Animated mold and Beast Machine idea gives you the best of both worlds. it is a Blurr mold with a new head and deco of Cheetor, and we have it priced at $79.99.

KAMEN RIDER S.H. FIGUARTS We have received a small shipment of Kamen Rider S.H. Figuarts figures. We have the Faiz (555) Blaster Form figure at $40.99, the Agito Ground Form at $29.99, the 000 Tajador Combo at $37.99 and the Ichigo (The First) figure at $24.99

CRAZYDEVY - THE KINGS POWER PARTS 18, 14*, 11 Three sets of CrazyDevy Power Parts for The King have arrived. We have restocked the 24k gold plated Wings set, priced at $59.99; we also have the G1 Bronze/Gold version of the Giant Conic Sword, priced at $21.99; finally, we have the Custom Cannons set listed at $39.99.

TRANSFORMERS G1 REPRODUCTION TECHNICAL SPECIFICATIONS - 1985 SERIES 02 This third box set comprises the Tech Specs for the second half of the 1985 releases. Each is laminated and some have updated art to more closely match the figure, and we have them listed at $29.99 for the set.

COVER GIRLS OF THE DCU – ARMORED WONDER WOMAN STATUE DC's latest release in the Cover Girls line is Wonder Woman as she appeared in her Armored outfit. The 10" statue shows her with her sword outstretched, and we have this piece priced at $84.99, saving you $15 off of the MSRP.

TRANSFORMERS G1-TSC-85V2 TECHNICAL SPECIFICATIONS CARD SET This second assortment for 1985 completes the Tech Spec collection for the second year of G1 Transformers releases. They include updated art for some of the figures, and the set is priced at $29.99.

TRANSFORMERS AUTOBOT DAREDEVIL SQUAD EXCLUSIVE This exclusive box set includes Bumblebee along with a recolored Human Alliance Basic Backfire and Spike Witwicky. We have this set listed at $29.99.

ACTION FIGURE DISPLAY SYSTEM This new set by Fun Publications includes three display bases with arms to hold 3.75" - 4" figures. There are two foot pegs per stand, and even slots to attach background dioramas for additional display magic. The set of three is listed at $8.99.

DEVIL HORNS CUSTOM KIT - YELLOW VERSION This second version of the Devil Horns set is colored in Bumblebee yellow and includes dark grey versions of the large and small guns. This set is listed at $29.99.

MARVEL UNIVERSE 3.75" GIANT-SIZE X-MEN 6-PACK This set of X-Men figures has Storm, Nightcrawler, Thunderbird, Colossus, Cyclops and Wolverine, dressed in the costumes they wore in Giant-Size X-Men #1 (or a close approximation). We have this set listed at $59.99.

MP-M02 MASTERPIECE BUMBLEBEE TRANSFORMERS MOVIE JAPAN EDITION We have restocked our supply of MP-M02 Masterpiece Bumblebee. This is the Takara Japan version, and is listed at $159.99.

ULTIMATE COLLECTOR SERIES 03, 04, 05, 06 - SETS, SINGLES We have restocked four waves of Round 5's Ultimate Collector Series MMA figures. The Series of 6 figures are priced at $84.99 each with the Series 03 Set of 5 priced at $69.99, and singles ranging from $12.49 to $24.99 each. Feel free to check out the menu and grab your favorite UFC and PRIDE stars!

DC UNIVERSE CLASSICS SERIES 11 - SET, SINGLES We have managed to locate a few cases of the DCU Series 11. The cards on these figures aren't exactly in Mint condition, but the figures are. We have the set of 8 with the Kilowog CnC pieces priced at $124.99, and we also have a few leftover singles available.

BigBadToyStore.com