MPL-01 Masterpiece Convoy, DCUC, Marvel Universe, 2011 Holiday Barbie at Big Bad Toy Store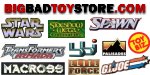 March 30, 2011 - (Sponsor Announcement) - Online retailer BigBadToyStore.com has several new items of interest to collectors:

Hi - Here is a quick update from http://www.bigbadtoystore.com about a variety of new arrivals and many more new preorders!

------------
NEW ARRIVALS
------------

MPL-01 MASTERPIECE CONVOY WITH VOICE BASE For those of you that want to pick up a Masterpiece Convoy, this one will be the last release of this mold. It is so final, it even says "LAST SHOT" on the back! This piece has the long stacks of the Japanese versions, plus it comes with a voice base that includes 15 phrases (in Japanese, of course). One of these phrases is said to announce the name of the next Masterpiece figure, although fandom has yet to decipher that particular riddle. We have this version of Prime listed at $134.99, so don't miss out on this final chance.

BBTS EXCLUSIVE Y-MSF ACCESSORY FIGURES - OCTOPI WITH ROCK, SNAKES A new shipment of BBTS Exclusive Godzilla accessory figures has arrived from overseas. This time we have a set of two different octopi along with a rock accessory, as well as a set of two different Snakes. Each set of figures is listed at $59.99, and are great ways to add to your dioramas and collections.

TRANSFORMERS 2010 SERIES 03, 2011 DELUXE SERIES 01, 02 - SET, SINGLES Our restock shipment also included some of these popular assortments. The Series 01 Set includes Turbo Tracks, Special Ops Jazz, Mindset and Fallback, and is listed at $49.99. The Series 02 set includes Bumblebee (Classics Redeco), Perceptor, Wreck-Gar and G2 Optimus Prime, and we have it listed at $49.99 as well. We also have singles available of all but Wreck-Gar and Special Ops Jazz, priced at $11.99 - $17.99 each. In addition, we have a few of the Series 02 Revision 02 Cases available at $99.99; this assortment includes two each of G2 Optimus Prime and Bumblebee (Classics Redeco) and one each of Wreck-Gar, Perceptor, Special Ops Jazz and Turbo Tracks. We also have a number of sets of Deluxe 2010 Series 03 in stock. This set includes Battle Blade Bumblebee, Tomahawk, Terradive and Electrostatic Jolt and is listed at $49.99. We also have leftover singles in stock from this assortment - these include Hailstorm, Battle Blade Bumblebee, Ironhide, Electrostatic Jolt and Sidearm Sideswipe, and they are listed at $8.00 - $13.99 each.

TRANSFORMERS GENERATIONS 2011 SERIES 03 - SET, SINGLES A new shipment of these figures has arrived, and we have the set of four (Wheeljack, Scourge, Thundercracker and Sergeant Kup) listed at $49.99. We also have singles available of all but Wheeljack, priced at $15.99 - $17.99 each.

IRON MAN 6" FIGURE SERIES 02 - SET, SINGLES This new assortment of 6" figures includes the Crimson Dynamo, Marvel's Initiative War Machine, Stealth Strike Iron Man Mark IV and Iron Man Mark V Evolution Armor. We have them available as a set of 4 at $54.99; we also have singles of the Stealth Strike Iron Man Mark IV and Iron Man Mark V Evolution Armor available, priced at $13.99 each.

FIREFLY/SERENITY FLYING MULE REPLICA This replica of the cargo mover from Firefly and "Serenity" is limited to 250 pieces and includes not only a cast diorama for display, but also a dolly replica for backstage shots. It measures 14.5" long and is listed at $319.99, saving you $30 off the MSRP.

STARGATE SG-1 SHIP REPLICAS We have received a shipment of two of the Stargate SG-1 ships - the F-302 and the Goa'uld Death Glider. Due to a special buy we are pleased to be able to offer these at $49.99 each, saving you $50 - $70 dollars apiece on them, so be sure to grab them before they're gone.

COVER GIRLS OF THE DCU SUPERGIRL STATUE This new statue shows the Girl of Steel blasting up into the air through a metallic round base. It measures 11.75" tall and is listed at $84.99, saving you $15 off the MSRP.

DIE-CAST VOLTRON GIFT SET RESTOCK The Trendmasters 1977 Voltron Gift Set has proven to be very popular, and we've managed to get a hold of a few more sets for our customers. Each set includes all five lions as well as their individual and gestalt weapons, and is priced at $139.99.

MOTU CLASSICS FIGURES For the benefit of our international and other customers, we have received a small quantity of these figures. We currently have Battle Armor Skeletor, King Hsss, Evil-Lyn Re-Issue 01 and Adora Re-Issue 01 in stock, each priced at $34.99.

GHOSTBUSTERS VINZ CLORTHO FIGURE We have also received some of the Vinz Clortho figure from "Ghostbusters." This figure comes with three different heads as well as accessories, and is also priced at $34.99.

GI JOE 2010 SERIES 01, 02 - SETS, SINGLES These two assortments are back in stock now. The Series 01 Set of 8 includes Alley-Viper V1, Beachhead V2, Cobra Commander V2, Duke V5, Firefly V2, Snake Eyes V5, Snow Job V2 and Storm Shadow V5, and is priced at $69.99. The Series 02 Set of 6 includes Snake Eyes V6, Zartan V2, Recondo V1, Destro V2, Jungle-Viper V1 and Dusty V1, and is listed at $49.99. In addition to the sets, we have singles available of a number of the figures, so check out the menu and grab your favorites.

GI JOE 2011 SERIES 02 REVISION 04 CASE This assortment includes two each of the Alley-Viper V1, Cobra Shock Trooper V1 and Jungle-Viper V1, along with one each of Storm Shadow V5, Beachhead V2, Snake Eyes V8, Duke V6, Shadow Tracker V1 and Skydive V1. It's a great mix, especially for army builders, and is priced at $84.99.

IRON MAN 2 FIGURES 2011 SERIES 01 CASE This assortment includes figures like Power Charge Armor War Machine, Hammer Drone, Reactor Shift Iron Man (Mark IV to Mark VI) and more, and this case of 12 is listed at $104.99.

THOR'S ELECTRONIC HAMMER Our second shipment of this popular role-play item has arrived. This hammer not only includes lights and sounds recreating Thor's power over thunder and lightning, but it also has a hidden missile that can fire at enemies. We have this piece listed at $23.99.

ZOIDS 1/72 HMM RZ-041 LIGER ZERO TYPE ZERO KIT This model kit is the white version of the famous Liger Zero, and is part of the Highend Master Model line. We have it listed at $74.99, and it is also compatible with the Liger add-on kits.

TRANSFORMERS MASTERPIECE HEAD ACCESSORY - SINGLES, SET IGear has released a trio of replaceable head accessories for your Masterpiece figures. This version is done in more of an anime style, with angled antennas, and comes in three versions - H-01 Optimus Prime, H-02 Ultra Magnus and H-03 Nemesis Prime. Each also comes with a display base for separate viewing. We have them listed individually at $19.99 each, or as a set of three for $49.99.

KABAYA GUM PLUS TRANSFORMERS SERIES 03 - BOX, RANDOM SINGLE This new assortment includes Powermaster Optimus Prime and Godbomber (who can also join together in both robot and vehicle modes) as well as Starscream. The Box of 8 includes 8 random kits and is listed at $43.99, while the Random Single kits are priced at $5.99 each. If you order multiple random singles, we will do our best to get you a variety of different kits.

MARVEL UNIVERSE SERIES 05 REVISION 01, SERIES 06 REVISION 02 CASES These two new assortments will help you fill in holes in your collection, or make a great start to one for those who are new to the line. They include figures like Mystique, Captain America, Thor, Jean Grey, Red Hulk, Wolverine, Daredevil and more, and are priced at $104.99 per case of 12.

MARVEL MASTERWORKS GALACTUS 19" FIGURE Our new shipment has also included a small quantity of the 19" Galactus in his original colors, along with his herald, the Silver Surfer. We have him listed at $54.99.

STAR WARS VINTAGE 2011 SERIES 01 CASE, SERIES 02 CASE, SET, SINGLES Two assortments have arrived. Vintage 2011 Series 01 includes figures like two different version of Luke Skywalker, Yoda, Darth Vader, General Grievous and more, and is priced at $109.99. Series 02 includes AT-RT Driver, Clone Trooper (Episode II), General Lando, Fi-Ek Sirch, Luke Skywalker - Dagobah Arrival and Weequay Skiff Master, and they are available as a set of 6 for $89.99. The rest of the case adds R2-D2 with Lightsaber & Drink Tray, Rebel Commando, Obi-Wan Kenobi, Blue Senate Guard, Clone Trooper and Stormtrooper and is priced at $109.99 for the case of 12. Finally we have singles available of a number of figures - be sure to take a look at the menu to see them all.

STAR WARS FORCE FX LIGHTSABERS We have received stock of four of the Force FX Lightsabers. We have the Darth Maul Lightsaber with Removable Blade at $119.99, the regular Darth Maul Lightsaber at $99.99, the Anakin Skywalker Lightsaber at $99.99 and the Mace Windu Lightsaber at $99.99.

-------------
NEW PREORDERS
-------------

TRIAD TOYS 1/6 SCALE - NEW ITEMS, RESTOCK A wide variety of new and returning items from Triad Toys has been listed. We have the Pantheon and Fire Fight Triaramas, the Evolution Male Body and more up on backorder as well as dozens of new items like the Catsuit, the Cadence outfit in three colors, Bullet Ballet Outfits in Male and Female versions (2 colors each), the Rin Matsuda D|X Figure Kit and much more. Check out the link for all of the new items, and keep watching for more to be listed in the very near future.

BLUE BOX 1/18 SCALE F-16 ENDURING FREEDOM, LIGHT ARMORED VEHICLE This new large-scale jet from Blue Box is ready for battle, complete with a full complement of weapons as wel as a pilot figure. It is listed at $164.99, $15 below the MSRP, and should arrive sometime this July. For ground transport we also have the Light Armored Vehicle for your 1/18 scale figures, and it is listed at $37.99.

CDMW-20 SEA BRIGADE POWER PARTS SWORD This new chromed sword shares a similar design to the original, but scales it up to be 15.4 cm long (about 6"), a more fitting size for this powerhouse of the deep. We have this piece ready for pre-order, priced at $21.99.

DC UNIVERSE CLASSICS SERIES 18 CASE ASSORTMENTS We have two case assortments listed now for the upcoming wave of DC Universe Series 18. Each case includes 8 figures along with all of the Collect-N-Connect parts to assemble Apache Chief. Assortment W includes two each of Toyman and Black Vulcan and one each of Samurai, El Dorado, Captain Boomerang and Bronze Tiger, while Assortment Y includes one each of Toyman, Black Vulcan, Samurai and El Dorado and two each of Captain Boomerang and Bronze Tiger. We have each case listed at $119.99.

RAMBO SIGNATURE EDITION MINIATURE KNIVES Due to the popularity of the full-sized versions, Hollywood Collectibles has decided to release some of their Rambo knives in miniature form as well. We have knives listed from each of the first three Rambo movies, each with Sylvester Stallone's signature etched in them, and they are priced at $59.99 each.

RESIDENT EVIL: AFTERLIFE REPLICAS Two new replicas from "Resident Evil: Afterlife" are also up for pre-order. We have Alice's Katana, a replica that is limited to 500 pieces, measures 42" long and includes a display base, priced at $249.99. We also have a display of three Shurikens, which is limited to 1000 pieces and is priced at $74.99.

GREEN HORNET - KATO'S THROWING KNIVES Hollywood Collectibles is also producing a set of knives from the recent "The Green Hornet" movie. This trio of black and green throwers each measure 6.25" long, include a display stand and are limited to 1000 pieces. You can pre-order the set today, priced at $79.99.

1:1 SCALE WAR MACHINE BUST Sideshow brings us another piece from "Iron Man 2" in the form of this life-size War Machine Bust. In addition to the detail we've come to expect from these piece. This version also has light-up eyes and Arc Reactor, as well as a swiveling shoulder-mounted gun. This fantastic bust is listed at $939.99, saving you $60 off the MSRP.

GIMLI 17" STATUE Sideshow's new Lord of the Rings statue line continues with this 17" tall version of Gimli. It shows him perched atop a pile of rock, ready to come down on the head of an opponent with his battle axe. We have it listed at $234.99, $15 off the MSRP.

KINGDOM HEARTS BOBBLEHEADS This long-running video game series is near and dear to the hearts of many players, and now NECA will be releasing the perfect figures for fans of the games - the Kingdom Hearts Bobbleheads. This initial assortment includes King Mickey, Goofy, Sora and Riku, and each is listed at $14.99.

2011 HOLIDAY BARBIE - CAUCASIAN, AFRICAN-AMERICAN Mattel has already announced their Holiday Barbie dolls for this year. She is dressed in a green and gold gown, and comes in both African-American and Caucasian versions. Don't miss out on these perennial favorites; we have them both up for pre-order, priced at $46.99 each.

1/6 SCALE NAVY SEAL SPECIAL FIGURE This new Navy SEAL by ART Figures comes loaded with guns and other weapons like knives and grenades, in addition to his other field gear and equipment. We have him listed at $109.99, and he should arrive this June.

VAMPLETS We have just listed the cute little figures of a new line called Vamplets. These plush figures are about 9" - 10" tall each and each comes with its own style and story. They are priced at $17.99 each; in addition we have listed the first two Vampets at $17.99 each, and the Vamplet Bottle of Blood at $5.99.

MICKEY MOUSE MIRACLE ACTION FIGURE - ORIGINAL, RUNAWAY BRAIN EDITION Medicom has announced two new Miracle Action Figures. Mickey will come in original and "Runaway Brain" Editions, with each standing about 4.5" tall and having 18 points of articulation. You can pre-order these items at the link, priced at $29.99 each.

BIG FAU VINYL FIGURE, R. DOROTHY WAYNERIGHT FIGMA ACTION FIGURE Two new items from The Big O are on their way from Max Factory. Big Fau is getting a soft vinyl figure in scale with the Big O Max Alloy figure and the Big Duo vinyl figure, and is priced at $189.99. Roger Smith's helper R. Dorothy Wayneright is also getting a Figma action figure, and she is listed at $44.99.

THE SMURFS MOVIE GAMES NECA is releasing two new items from the upcoming Smurfs movie. The No Smurf Left Behind game includes miniatures of five smurfs as well as the evil Gargamel, and from 2 to 6 people can play; this set is priced at $11.99. Also being produced is the Tag-A-Thon Box of 24; this case includes 24 figures with 8 different characters and is priced at $59.99, saving you $15 off the MSRP.

CHARLIE SHEEN TALKING BOBBLEHEAD This new piece will allow everyone to have a winner in their home. It speaks six of everyone's favorite Charlie phrases, and is listed at $11.99, $1 off the MSRP.

BigBadToyStore.com