Halo: Reach, Thor, Captain America, Exclusive Transformers at Big Bad Toy Store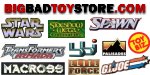 February 9, 2011 - (Sponsor Announcement) - Online retailer BigBadToyStore.com has several new items of interest to collectors:

Hi - Here is a quick update from http://www.bigbadtoystore.com about a variety of new preorders and more cool new arrivals.

-------------
NEW PREORDERS
-------------

TRANSFORMERS SHARED EXCLUSIVES We have just listed a number of new Shared Exclusive Transformers items. We are still waiting for order confirmation from Hasbro, but in the meantime, you get a chance to get your pre-order in early. The Universe Basic Set of three consists of two reissues plus a re-deco of Backstop as Rhinox, and the set is priced at $29.99. The Desert Battle Legends four-pack includes re-decos of Bonecrusher, Brawl, Ratchet and Ironhide and is listed at $19.99. The Deluxe & Legends Scene Two-Pack set includes re-decos of Deluxe Brawl & Legends Jolt and Deluxe Bumblebee and Legends Grindor, and is priced at $39.99 for the two two-packs. The Dinobot Minicon Set of 4 includes a Tyrannosaurus, Pterodactyl and Triceratops recolored as Grimlock, Swoop and Slagg respectively, plus a grey and yellow matching re-deco of the Sabretooth Tiger Minicon; you can pick up this set of four for $19.99. Finally, the Minicon Three-Pack includes re-decos of the Jet Airplane, the Helicopter and Motorcycle, and is listed at $14.99.

THUNDERCATS STACTION FIGURES Icon Heroes has announced the first two figures in their line of Thundercats Staction figures. Lion-O's mentor Jaga will come with a variant unhelmeted head, while Mutant Jackalman comes with an alternate arm wielding a Mace; each 6" figure is priced at $29.99.

HALO: REACH SERIES 04 & TWO-PACK SERIES 04 - CASE, SINGLES This newest wave of Halo: Reach figures includes a new unhelmeted version of Jorge, along with a Brute Minor, an Elite General, a UNSC Marine, a Grunt Major and a Spartan Mark V in Team Blue colors. We have each figure listed individually at $11.99, or you can pick up the case of 8 with two each of Jorge and the Marine and one each of the rest, priced at $89.99. The new assortment of two-packs seems to blend the Deluxe figures into it, with this wave containing a Noble Six (Final) & Noble Six Hologram set, along with four different sets of figures with three extra armor sets - Air Assault (Steel), Air Assault (Team Blue), Grenadier (Steel) and grenadier (Team Red). Each set is priced at $22.99, or you can opt for the case of four, which includes one of either the two Steel color sets along with the other three sets, and is priced at $84.99.

HALO: REACH VEHICLE BOX SET SERIES 03 - CASE, SINGLES This wave focuses on the Mongoose, with two different iterations - the "Pillar of Autumn" Mongoose set and the "Forge World" Mongoose Set. Each set comes with a figure and an accessory, and you can get them singly at $22.99, or as a case with one of each for $44.99.

STREET FIGHTER RYU 18" STATUE SOTA Toys has announced their Anniversary version of the 18" Ryu Mixed Media Statue. This statue includes high-intensity LED lights throughout the clear resin 'flames', and is listed at $319.99, saving you $55 off the MSRP.

BANDAI JAPAN - MODEL KITS, ROBOT DAMASHII, MORE We have listed a wide variety of new Bandai Japan figures and model kits. We have items from Power Rangers, Kamen Rider, One Piece, Dragonball, Gundam and more, including the new 1/48 Scale Mega Size Zaku II, 1/100 Master grade Endless Waltz model kits, S.H. Figuarts figures from many lines and more - be sure to check out your favorite menus at the link to find the newly-available items.

LEGEND OF ZELDA OCARINA OF TIME DARK LINK STATUE This evil shadow version of Link comes on a display base evoking the illusory room where he and link fought in the game. It stands 12" tall by 9" wide and is listed at $169.99.

HALO: REACH THREE-PACK SERIES 01 CASE The new three-packs come in a case of three, with two of the Infection Pack which contains a Spartan Human facing off against two Spartan Zombies, along with one of the Spartan Stalker Pack, which contains a Maroon Spartan Stalker in three stages of engaging the Active Camo system - solid, half-clear and translucent. We have this case listed at $92.99.

CDMW-18 THE KING'S POWER PARTS CUSTOM CANNONS CrazyDevy's latest upgrade for Predaking is a pair of Laser Cannons for his back. This set is 170 mm long and can rotate forwards and backwards 90 degrees; it will also include a pole to keep the cannons and the robot connected and stable. We have this set listed at $39.99, with a release date of early April 2011.

STAR WARS 1/4 SCALE PREMIUM FORMAT EMPEROR PALPATINE & IMPERIAL THRONE Sideshow has announced a new 1/4 scale piece of Emperor Palpatine on his Imperial Throne from "Return of the Jedi". This piece stands 16" tall by 14" wide and 9" deep and includes Luke's seized Lightsaber on the arm, along with allowing posing of the Emperor's arms into a Lightning-throwing pose. We have this fantastic piece listed at $474.99, $25 off the MSRP.

VENTURE BROTHERS BROCK SAMSON 1/5 SCALE STATUE The Venture family bodyguard is the first statue in Sideshow's new line. He stands 15.25" tall and comes with alternate left hands with a cleaver and a knife, along with alternate heads which feature Brock smoking a cigarette or biting a knife. This statue is listed at $234.99, $15 off the MSRP.

THOR MOVIE FIGURES, ACCESSORIES The first of Marvel's two upcoming movies features the Norse God of Thunder, and we have listed a number of figures and role-play items from it. We have the 3.75" Series 01 available as a case of 12 for $104.99, a set of 6 at $69.99 and some singles at $8.99 each. We also have the 8" Hero Series 01 available as a set of two for $23.99 or singly at $12.99 each. The Deluxe Series 01 figures are 29.99 for the set of two or $14.99 for Blaster Armor Thor. The Thor's Helmet role-play piece is priced at $9.99, and the electronic Hammer of Thor is listed at $19.99.

CAPTAIN AMERICA MOVIE FIGURES, ACCESSORIES "Captain America: The First Avenger" is also coming early this summer, and includes two series of 3.75" figures, with the Series 01 Set of 4 at $37.99 or singly at $9.99 each, and Series 02 as a case of 12 for $104.99, a Set of 7 at $69.99 and some singles as well, listed at $9.99 each. Cap also comes as a Hero figure at $11.99, and a Super Shield version at $27.99. There is also a Deluxe Series 01 listed as a set of three for $44.99, and singly at $14.99 each. Cap also has a Cruisers line of vehicles at $11.99 each, and a Battle Vehicle Series at $44.99 for the Set of two and $21.99 for the Offroad Avenger. Finally, Cap also has two role-play items - a Hero mask at $9.99 and a Disc-Launching Shield at $23.99.

KANU UNCHOU 'VENUS' 1/4 SCALE FIGURE This large-scale statue of Ikki Tousen's Kanu Unchou is done as an homage to Botticelli's The Birth of Venus. It shows he standing on a clamshell base, with a narrow swath of pink cloth draped around her. She even comes with two different right arms, so she can be posed in the original modest look, or with her weapon gripped in her hand. This piece is listed at $399.99.

MARVEL SUPERHERO SQUAD 2011 SERIES 02 - CASE, SET, SINGLES The new wave of Superhero Squad figures includes Dark Surfer & Captain America, Wolverine & Polaris, War Machine & Iron Patriot and Spider-Man and Thor; these figures are available as a set of four two-packs for $44.99. The case adds one more each of all but the Dark Surfer Pack along with five returning packs and is listed at $84.99. Finally, we also have singles listed of a number of new and returning favorites, priced at $9.99 - $11.99 each.

------------
NEW ARRIVALS
------------

"THE DARK KNIGHT" 1/18 SCALE BATMOBILE This Hot Wheels Elite release measures approximately 9" long, and comes decked out in details and including a display stand with the vehicle's name on the front. This vehicle is listed at $89.99.

STORM RIDERS 12" FIGURES Enterbay has shipped us four new Storm Riders 12" figures. Each figure comes with alternate hands, one or more weapons, a display base and more, and wears an authentic cloth costume. You can choose from Ultimate Demonic Whispering Wind, Nameless, Striding Cloud and Whispering Wind, priced at $149.99 - $209.99 each.

HD MASTERPIECE BRUCE LEE LATS SPREAD 1/4 SCALE STATUE Enterbay has also released their 70th Anniversary HD Masterpiece 'Lats Spread' Bruce Lee 1/4 Scale Statue. It features excellent sculpting and likeness, along with a cloth outfit (pants) and is approximately 17.75" tall. This piece is listed at $199.99, and would be perfect for all Bruce Lee fans.

DC UNIVERSE CLASSICS SERIES 16 - CASE, SINGLES Our first shipment of DC Universe Classics Series 16 has arrived, and we quickly sold through our sets and a number of singles. We still have Case Assortment 01 available, which includes one each of the six CnC figures, plus an extra Robin and a 'Best Of' Batman. This case is listed at $119.99. We also have a number of singles in stock, including both Robins, Creeper and 'Best Of' figures Batman, Joker and Deathstroke, each priced at $16.99.

TRANSFORMERS UNITED RESTOCK We have received a small restock shipment of Transformers United figures. We have UN-14 Decepticon Lugnut and UN-11 Autobot Grapple at $54.99 each, along with UN-13 Autobot Tracks at $33.99. Each features deco differences from the Hasbro version.

SCI-FI REVOLTECH A shipment of Sci-Fi Revoltech figures is also now in stock. We have restocked the #016 Alien Warrior, priced at $39.99; we have also stocked our shipments of the #022 Predator and the #023 Gigan, priced at $42.99 each.

LEGO MINIFIGURES SERIES 03 - MASTER CASE, CASE, SINGLE The domestic version of Series 03 has arrived at our warehouse. This series includes figures like Mummy, Space Villain, Tribal Chief, Snowboarder and Elf, and we have them as a random single at $3.99, a Case of 60 at $199.99 and a Master Case of 120 at $379.99.

HALO: REACH SERIES 01, 02 RESTOCK We have restocked a small quantity of Halo: Reach Series 01 and Series 02 figures. For Series 01 we have Emile, Jorge, Noble Six and Grunt, and from Series 02 we have all six figures. Grab your favorites before they're gone.

TF BATTLE IN SPACE BOX SET This two-pack of Rodimus (Hot Rod) and Cyclonus is back in stock. This set includes a Matrix of leadership as well as Cyclonus' Targetmaster ally Nightstick. This set is listed at $23.99.

AME-COMI HEROINE MINI FIGURE SERIES 01 - SET, SINGLE This first wave includes Poison Ivy, Harley Quinn and Batgirl, and we have them available as a set of 3 for $39.99, $5 off the MSRP. We also have a few singles remaining of Batgirl, priced at $13.99 each.

Y-MSF KUMONGA VINYL FIGURE, MEGARO & KUMONGA SET The remaining Realistic color monster has arrived. Kumonga is limited to 100 pieces, and is available singly at $59.99, or in a set with Megaro (Megalon) at $109.99.

COVER GIRLS OF THE DC UNIVERSE POISON IVY STATUE DC's newest Cover Girls statue is Poison Ivy, the companion piece to the Harley Quinn version. This statue stands almost 10" tall and shows Ivy with a vine-covered garden implement, and is taken from an original Adam Hughes design. This statue is priced at $84.99, saving you $15 off of the MSRP.

MEGAMAN - PROTOMAN (BLUES) PLASTIC KIT FIGURE Megaman's prototype 'brother' Protoman is the latest in Kotobukiya's Plastic Kit figure series. He comes with his signature scarf and shield and is listed at $39.99.

SIDESHOW SHIPMENT The next three items are to arrive tomorrow, so we wanted to give you a jump on the remaining quantities:

12" MOMAW NADON This cantina denizen is now available as a 12" figure courtesy of Sideshow. Momaw comes with a cloth outfit and a number of accessories such as a rope belt, an herb pouch, a bread bag, a cantina beverage cup and a blaster, in addition to his base. This figure is listed at $109.99, $10 off the MSRP.

12" CAPTAIN REX The leader of the 501st Legion is also being released as a Sideshow 12" figure. He will come with a full complement of Clone Trooper armor detailed in blue, as well as a rifle, a blaster, two pistols and numerous accessories. He is listed at $114.99, saving you $10 off the MSRP.

COLOSSUS COMIQUETTE This new comiquette has the X-Men's strongman in his new post-resurrection costume and armored up. It measures 17" tall by 17" wide and is priced at $279.99, $10 off the MSRP.

BigBadToyStore.com