More Justin Bieber Toys for 2011
The 2011 Justin Bieber Toy Collection Unveiled at New York Toy Fair

New Dolls with Justin's Real Hairstyle and a Transforming Tour Bus Playset Top The List of Exciting New Products Coming This Year Based on the Chart-Topping Recording Artist and Songwriter, Justin Bieber

New York, NY - February 8, 2011 - On the weekend of his big movie release, Never Say Never, another Justin Bieber debut will be taking place across town. The Bridge Direct, Inc., manufacturer of the wildly popular Justin Bieber dolls, and Bravado, the only global, 360° full service merchandise company, will be rolling out a new range of toys based on the likeness and persona of the mega music superstar to retail buyers, press and the toy industry at the American International Toy Fair from February 13-16 at the Jacob Javits Convention Center.

The companies will be showcasing new versions of the Toy of the Year Nominated Justin Bieber Singing Dolls, which "sing" clips of Justin's hit songs, including "U Smile" and "Never Say Never". The 2011 singing dolls each wear a different fashion inspired by Justin's music videos and public appearances. Also new for 2011 are singing plush bears, collectible figures, lifestyle playsets and new versions of the Microphone Concert Kit; however, the two most anticipated new products of the year are the "Real Hairstyle" Dolls and the Rockin' Tour Bus and Concert Stage playset, both due in stores by August.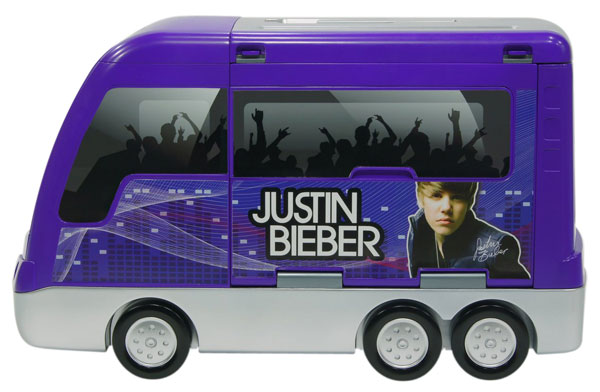 "When we introduced the first series of Justin Bieber dolls right before the holidays last year, the most frequent comment we heard from fans - besides how much they love them - was: 'Why doesn't the doll have Justin's hairstyle that you can comb?'," said Jay Foreman, President of The Bridge. "We heard the fans loud and clear, and we're thrilled to be able to offer them the doll they've been waiting for later this year."

"In working with Justin, we knew that it was important for this line to reflect his distinct style and voice," stated Felix Sebacious, Senior Vice President of A&R for Bravado. "So what began with the success of the first set of dolls has quickly expanded into this new line that enables fans to experience Justin and his music in a dynamic new way."

The Real Hairstyle Dolls (SRP $17.99) will feature fashion collections based on Justin's lifestyle from beachwear to performances to red carpets, and each doll comes with several cool accessories such as a skateboard, backpack or sunglasses.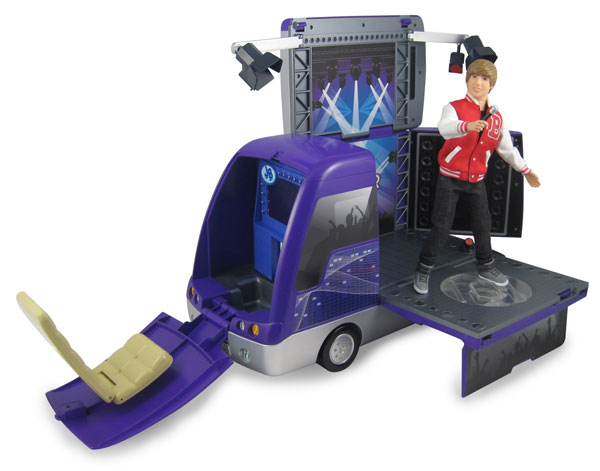 The Rockin' Tour Bus and Concert Stage playset (SRP $79.99) lets fans recreate their favorite concert experience with Justin, from rolling up to the show in the Tour Bus to performing on the Concert Stage. The bus opens and transforms into a stage complete with lights, a spinning floor and an mp3 dock with speakers, so fans can play their favorite tunes through the sound system. There's also a special backstage lounge that converts from dressing table to media room.

For more information on the Justin Bieber toys, please visit http://www.justinbiebertoys.com. Fans can also stay up-to-date on the latest new products by following @JBieberToys on Twitter or Justin Bieber Toys page on Facebook.

About The Bridge

The Bridge Direct, Inc. is a global children's consumer products sourcing and supply chain management company that provides strategic support and resources to licensors, manufacturers, retailers and distributors. The Bridge's services include product development, manufacturing, line planning and management, branding, sourcing, quality control and supply chain management, as well as financial, administrative and sales support. New product lines from The Bridge include: Zhu Zhu Pets™ plush, figures and playsets, Busytown vehicles and playsets, and the Justin Bieber toys. To find out more about The Bridge, please visit http://www.thebridgedirect.com.

About Bravado

Bravado, the only global, 360° full service merchandise company, develops and markets high-quality licensed merchandise to a world-wide audience. The company works closely with new & established entertainment clients, creating innovative products carefully tailored to each artist or brand. Product is sold on live tours, via selected retail outlets and through web-based stores. Bravado also licenses rights to an extensive network of third party licensees around the world. The company maintains offices in London, Los Angeles, New York, Berlin, Paris, Tokyo and Sydney. Now under the Universal Music Group umbrella, Bravado is able to leverage a global sales and distribution network from the world's largest record company, as well as the group's significant marketing strength. In addition to Justin Bieber, Bravado artists include The Rolling Stones, Michael Jackson, Paul McCartney, Kanye West, Beyonce, No Doubt, Nickelback, Lady Gaga, Katy Perry, Elton John, Guns 'N Roses, Metallica, Led Zeppelin, Green Day and The Killers, among many others.