Jan 18: Dynamic Forces on QVC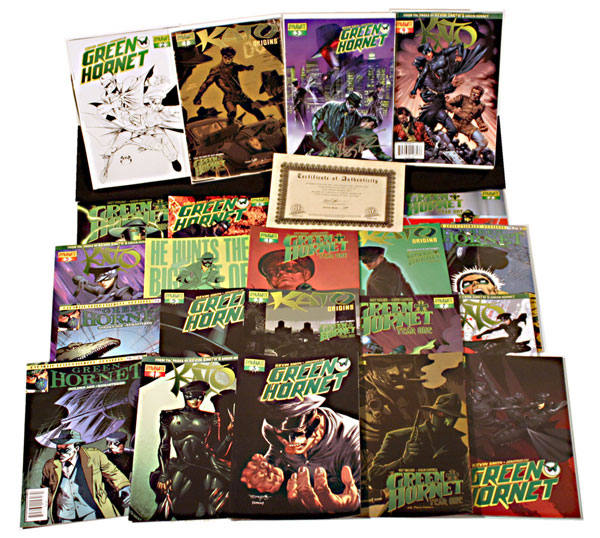 Dynamic Forces Scheduled to Return to QVC

Runnemede, N.J. (January 17, 2011) - Dynamic Forces is scheduled to return to QVC Tuesday, January 18 at 7 AM (ET) to give aspiring comic book fans a gateway into the wonderful world of superheroes.

The broadcast, which follows the January 14 premiere of The Green Hornet, will feature a Green Hornet Collectors Set and a 35th Anniversary Collection that are sure to delight any comic book fan.

THE GREEN HORNET COLLECTORS READER SET
QVC Item #C28361
Approximately $27.00
Starring Green Hornet and Kato from the Dynamite line of comics, this set contains 21 books, including one with Kevin Smith's Green Hornet #3 ULTRA-Limited Edition cover signed by co-writer Phil Hester.

Additionally, two special edition and 18 Green Hornet and Kato Comics will be included.

DF CELEBRATES 35 - that's 1935 - THE YEAR COMICS LAUNCHED IN AMERICA - AND TO THE WORLD
QVC Item #C28362
Approximately $37.50
This exciting collection will feature a guaranteed Green Hornet: Blood Ties #1 signed by writer Ande Parks, which will come bagged and boarded with a Dynamic Forces certificate of authenticity. It will also include the following:

Two Limited-Edition Comics - These books will include an alternate cover comics and/or retailer-incentive comics that were only available to retailers, but not initially offered to the public.
Two Dynamic Forces, Inc. Limited Edition Alternate Cover Comics - Each book will be bagged and boarded with a DF certificate of authenticity.
Limited-Edition Trading Cards - To create a "Cool Perfect 10" set of limited-edition trading cards, this set includes a mix of rare "chase cards." The package will also contain a guaranteed signed chase trading card, one limited-edition chase hand-drawn sketch card, and eight chase cards that feature an assortment of rare foil embossed chase cards, retailer and distributor incentive cards, signed cards, hand-drawn sketch cards, chrome cards, glow-in- the- dark cards and other limited-edition trading cards.
"Random" Comics - An additional 35 "random" comics will also be included in each package.

Featuring 50 comics and trading card collectibles in one package, this set is perfect for fans and novices alike.


ABOUT DYNAMIC FORCES


DF is the comic-book and collectible industry's top producer of limited-edition and autographed memorabilia, including comic books and lithographs. DF functions as a packager of comics, ranking as high as one of the top five suppliers of Diamond Comic Distributors. It is also a premiere comic and entertainment supplier for the United States and international multimedia retailers.


Active and previous licenses include: DC Comics, Marvel Comics, Aspen Entertainment MLT Incorporated, Top Cow Productions, Universal Studios Hit series Battlestar Galactica, and Classic Battlestar Galactica, Xena, and Darkman, Revolution Studios' Hellboy, MGM's Army of Darkness, Pressman Films' The Crow, Sony Pictures' Underworld, T2, Hasbro's G.I.Joe, Sandy Frank Productions' Battle of the Planets (G-Force), Jim Starlin's Dreadstar, Howard Chaykin's American Flagg!, Frank Miller's Sin City, Frank Miller & Simon Bisley's Bad Boy, Classic Media's Lone Ranger, Magnus Robot Figher and Solar, Man of the Atom - and many other entertainment industry giants. DF continues to set the pace in the comic collector and comic memorabilia markets. Recent product line expansions includes: action figures, vinyl and poly resin statues, tin collectibles, mini-deformed characters, lunchboxes, trading cards, lithographs, giclees, apparel and much more.


For updated information on Dynamic Forces specialty merchandise, product art, exclusive creator interviews, columns and upcoming product releases, please visit the Dynamic Forces website at www.dynamicforces.com.


To find a comic shop near you, call 1-888-comicbook


For art and more information, please visit:
http://www.dynamicforces.com


Also, if you're looking for more specials and coupons and DF updates, follow us on Twitter at:
http://twitter.com/DynamicForces