Week Twelve: Toy2R's 15 Weeks to Celebrate 15 Years Contest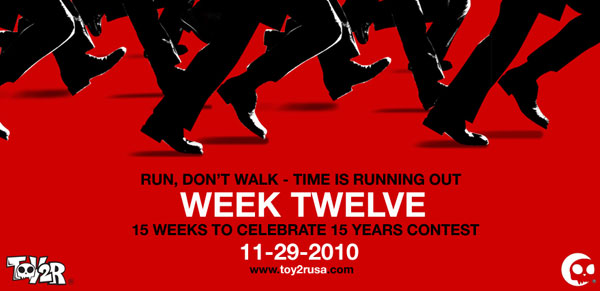 Week 12 Begins - The Qee To Winning with Toy2R!

November 2010 - 15 Weeks to Celebrate 15 Years Toy2R Contest begins its 12th Week!

Are the 12 days of Christmas not enough for you? Well its not enough for Toy2R either - that's why we are happy to announce the 12th Week of our massive contest where Toy2R gives FREE TOYS away each week! We have had 11 happy winners from around the globe and all they had to do to win was to post on our Toy2R USA Facebook Page - yep, that's it - and they won hundreds of dollars worth of Toy2R products - FREE!!

With just 4 weeks left - Toy2R still makes it possible for YOU to win. Simply post a comment, photo of your favorite Qee, TOy2R collection or custom Qee and you're automatically entered. How can you pass up free toys at the holidays?

From the company putting FREE art in your hands this holiday season - Greetings and Good Luck!

Check out the prize package for Week 12....