Week Two: Toy2R's 15 Weeks to Celebrate 15 Years Contest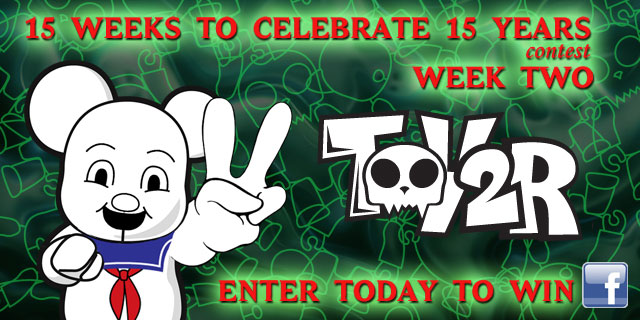 Week Two: Toy2R's 15 Weeks to Celebrate 15 Years Contest

September 2010 - Week Two has begun, meaning a new chance to win one of the cool prize packages from Toy2R as we celebrate our 15th Anniversary! That's right - Toy2R continues with the biggest giveaways of the year with Week Two - and all you have to do is post a comment or picture about how you like Toy2R on the Toy2R USA Facebook Fan Page.

Join your fellow collectors, make some new friends and enter for a chance to score some cool FREE toys from one of the companies that started it all, Toy2R.

Just log on and enter (Limit 5 entries per week will be accepted) between now and Sunday the 26th and get in on the chance to win some great FREE figures for the holidays - you could be everyone's new best friend.

Remember, the celebration would not be possible without YOU, the loyal and dedicated fans who have made Toy2R what it is today - a leader in the amazing and incredible world of designer art toys!

Join The Qeevolution Today - where its the Qee to winning!!