Cheetara, Batman Returns Bat-Cowl, Egon, MOTUC at Big Bad Toy Store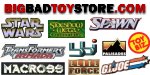 September 22, 2010 - (Sponsor Announcement) - Online retailer BigBadToyStore.com has several new items of interest to collectors:

------------
NEW ARRIVALS
------------

BATMAN RETURNS BAT-COWL REPLICA This large collectible will be the centerpiece of Batman collections and promises to be quite the conversation piece. The cowl is taken from the actual movie version and is cast in fiberglass (not wearable, unfortunately), and comes with a display base with a sculpted utility belt. It is limited to 500 pieces, and we have it listed at $474.99, saving you $25 off the MSRP.

TRANSFORMERS: ROTF OPTIMUS PRIME 12" STATUETTE Popbox Collectible has released their 12" tall statue of Optimus Prime from the Michael Bay movies. This statue is listed at $369.99, saving you $20 off the MSRP.

THUNDERCATS CHEETARA 11" STATUE - REGULAR & ARTIST PROOF VERSIONS Hard Hero's newest Thundercats statue is Cheetara, the gymnastic female on the team. We have this cold cast porcelain statue in two versions - the regular version is listed at $179.99 ($20 off the MSRP), and the Artist Proof version is listed at $124.99.

JAPANESE TRANSFORMERS ANIMATED - TA38 WINGBLADE OPTIMUS PRIME, TA39 JETPACK BUMBLEBEE Two new Transformers Animated figures that were to see release in the U.S. have finally been released in Japan, and we've got stock available here as well. Wingblade Optimus comes from the end of the cartoon series and is partially cast in translucent plastics. He includes his accessory parts like a version of Ultra Magnus' hammer and add-on gauntlets and wings, and is priced at $55.99. Jetpack Bumblebee is slightly smaller than his deluxe counterpart (so as to fit in better scale-wise) and has his stripe on the correct side for a change, and his vehicle mode can fit into a huge submarine/jetpack; he is listed at $39.99.

IMPOSSIBLETOYS.COM TF ACCESSORIES & FIGURES A large shipment of ImpossibleToys.com figures has arrived. In addition to restocking a number of older offerings like the Light-Up Energon Cubes and the TRNS-01 Valkyrie figure, we've now got stock of pieces such as the Nightbird figure (priced at $44.99), a set of Transforming Exo-Suit Spike & Daniel (priced at $69.99), and the Quint-05 Quintesson Guard (priced at $44.99). You can take a look at all of the offerings at the link.

MOTU CLASSICS CHIEF CARNIVUS, GY-GOR For the benefit of our international customers and other who are otherwise unable to get the Matty items we have received a small quantity of the MOTU Classics Chief Carnivus and Gy-Gor figures. We have Carnivus listed at $34.99, and Gy-Gor at $47.99.

GHOSTBUSTERS 6" EGON WITH PKE METER We have also received a small number of the new Ghostbusters Egon figure with PKE Meter. This figure is listed at $34.99.

MARVEL COMIC TWO-PACKS - CASES, SETS, SINGLES We have received a large shipment of Marvel 3.75" Comic Two-Packs. We have 2010 Series 03, Series 04, and even some Series 01, with stock in cases, sets and singles - check them all out in the menu at the link.

STAR WARS 2010 VINTAGE BLACK & SILVER - SERIES 01, 02, 03, 04, 04 REVISION 02 - CASES, SETS, SINGLES A number of cases of 5 waves of Star Wars 2010 Vintage figures have arrived. We have cases available of Waves 01, 02, 03 , 04 and 04 Revision 02, priced at $104.99 each; we also have the Series 02 Set of 8, priced at $79.99. Finally, we have singles available of all figures but General Grievous and Dack Ralter, and they're priced at $10.99 - $12.99 each.

STAR WARS 2010 CLONE WARS SERIES 03 - CASE, SET, SINGLES The third wave of Clone Wars figures is now in stock. We have the case of 12 listed at $99.99, the set of 4 new figures at $64.99, and singles (mostly Series 01 rereleases) priced at $7.99 - $14.99 each.

STAR WARS 2010 BATTLE PACKS SERIES 02 - CASE, SINGLES The second assortment of Star Wars 2010 Battle Packs was also on the shipment, and includes Mandalorian Troop, ARC Troopers, Droids & Clones #2 and the Anti-Hailfire Squad. We have the battle packs listed singly at $27.99 to $34.99 each, or you can pick up the case of 4 for $99.99.

TRANSFORMERS 2010 GENERATIONS SERIES 03, 04 SINGLES Our recent Hasbro shipment also includes a number of cases of Generations 2010 Series 04. This assortment includes new figures Dirge and Blurr, along with Cybertron versions of Soundwave, Megatron and Optimus, and Red Alert. We have stock available of five of the six singles (Blurr is gone already, as you would expect from his name), priced at $12.99 - $14.99 each.

LPS GET THE PETS 2010 SERIES A2 - CASE, SINGLES The second assortment of Get the Pets figures has arrived. This assortment includes figures like Sheepdog, Chimpanzee, Walrus and more, and we have them listed at $3.9 - $4.99 each, or you can pick up the case of 12 for $37.99.

GI JOE ALPHA VEHICLES SERIES 02 - SET, SINGLES We have received a number of cases of the second assortment of 2010 GI Joe Alpha Vehicles. Included are the Cobra Ice Cutter and the AWE Striker (each with driver), and we have them priced at $29.99 for the set of 2, or $15.99 each.

TRANSFORMERS 2010 ACTIVATORS A new assortment of TF Activators has arrived. This one includes Bumblebee, Optimus Prime, Ironhide and Starscream, and we have all four in stock, priced at $11.99 each (Megatron as well, priced at $15.99.)

TRANSFORMERS 2010 SCOUT SERIES 03 - CASE, SET, SINGLES This third assortment includes new figures Firetrap and Sunspot; the case of 12 includes three each of the two new figures, along with one each of Hubcap and Insecticon and two each of Oil Pan and Breacher and is listed at $104.99 We also have Sunspot and Firetrap listed singly at $13.99 each, or you can pick up the set of two for $24.99.

CHRONO TRIGGER FORMATION ARTS BOX SET This set of figures from the classic video game "Chrono Trigger" is the perfect way to display your affection for the game, and we have the set listed at $29.99.

FEMME FATALES TAROT, BACK IN BLACK DAWN PVC STATUES Two new figures from Diamond Select's "Femme Fatales" line have arrived at our warehouse. Back in Black Dawn and the regular black version of Tarot are ready to join your collection, priced at $39.99 and $34.99, respectively.

REVOLTECH ZOIDS GENO BREAKER The Blade Liger's nemesis Geno breaker has arrived in Revoltech form. This figure dwarfs most Revoltechs, and is ready to give the Blade Liger a severe beatdown. We have it listed at $69.99, so grab yours before they're gone.

----------------------
25% OFF GRAPHIC NOVELS
----------------------

Save 25% on nearly every Graphic Novel we have in stock from now until Monday September 27th! Thousands of books are in stock from a range of publishers - browse the menu here:
http://www.bigbadtoystore.com/bbts/browse.aspx?browse=10

-------------
NEW PREORDERS
-------------

PERFECT GRADE STRIKE FREEDOM GUNDAM MODEL KIT The latest is the 1/60 scale Perfect Grade line of Gundam model kits is Kira's Strike Freedom Gundam. This massive piece dwarfs the recent Red Astray figure, and is priced at $279.99, saving you $20 off the MSRP.

MARVEL SELECT GAMBIT Gambit is the next X-Man in the Marvel Select figure line. This figure comes with a Danger Room base (like Cyclops) so they can be displayed together (or with other X-Men figures), and is priced at $19.99, $2 off the MSRP of $21.99. We expect that this figure will have a variant as the others have recently, so keep your eyes peeled for that listing as well, hopefully to come soon.

STAR WARS 12" KENNER REPRODUCTION FIGURES Gentle Giant is releasing scaled-up 12" versions of the original Star Wars figures. In addition to the SDCC 2010 Stormtrooper figure, we have now have pre-orders up for Chewbacca and "Big Head" Han Solo. Chewie is listed at $71.99 ($8 off the MSRP), while "Big Head" Han Solo is priced at $69.99 ($5 off the MSRP).

STAR WARS COUNT DOOKU LIGHTSABER STUNT REPLICA This new replica reproduces the look of Count Dooku's lightsaber hilt from "Revenge of the Sith" and is taken directly from the version used on screen. The hilt measures 12" long and comes with a display stand, and is priced at $99.99.

MARVEL BISHOUJO 1/7 SCALE BLACK CAT Kotobukiya has announced a new figure to add to their Marvel Bishoujo collection. The Black Cat is displayed over a city building base and comes with a diamond in her hand, and is priced at $49.99, $10 off the MSRP.

BANDAI EXCLUSIVES We have just listed a number of exclusive Bandai import figures. These figures come from various conventions and offers from Japan, and include pieces like a Gundam GFF Metal Composite RX-78-2 Version Ka Roll Out Color figure, a number of Saint Seiya figures like the Cygnus Hyoga Final Bronze Cloth Original Color Edition, Kamen Rider figures such as the Kuuga Rising Dragon & Rising Pegasus set, Soul of Chogokin GX-47N Energer Z Normal Color Version, Robot Damashii figures and more. Be sure to check out all of the exclusives at the link.

MLB SPORTSPICKS PLAYMAKERS SERIES 02 - CASE, SINGLES McFarlane's second wave of MLB Playmakers includes figures like Joe Mauer, Roy Halladay, Mariano Rivera and Kevin Youkilis, and we have them listed singly at $6.99 each, or as a case of 12 for $74.99. Note that each figure may come randomly as batter or fielder, unless on one version of the figure is being made.

DC DIRECT - OCTOBER ANNOUNCEMENTS

NEW DC AME-COMI - RAVEN, MERA Two more DC heroines are on their way in DC's Ame-Comi line. Teen Titan Raven and Aquaman's wife Mera are both being sculpted for the new line, and we have them up for pre-order at $59.99 each, saving you $10 each off the MSRP for the pieces.

WONDER WOMAN #600 STATUE This new statue shows Wonder Woman in her new costume that debuted in Wonder Woman #600. This updated version is a way to bring her back to revelancy, and the statue is available for pre-order, priced at $99.99 (saving you $25 off the MSRP).

BLACKEST NIGHT BLACK LANTERN BATMAN BUST The next release in the Blackest Night bust series is the zombie-like Black Lantern Batman. This bust is listed at $59.99, saving you $10 off the MSRP.

BLACKEST NIGHT GREEN LANTERN 1/4 SCALE POWER BATTERY & RING PROP REPLICA The 1/4 scale power battery line continues this month with the original Green Lantern. Both the Battery and the Ring light up, and come with a clear green display base, and we have the set listed at $29.99 ($5 off the MSRP).

BATMAN BLACK AND WHITE STATUE - DUSTIN NGUYEN VERSION The latest Black & White Batman statue is from artist Dustin Nguyen (not the actor), who is also known for his work on the Authority and WildCATS. This new statue is priced at $69.99, $10 off the MSRP.

HARLEY QUINN 1/4 SCALE MUSEUM QUALITY STATUE The Joker's main squeeze Harley Quinn is next to get a 1/4 scale Museum Quality statue. This piece shows Harley walking her Hyenas Bud and Lou, each with a related "treat" in their mouth. This statue is listed at $274.99, a whopping $50 off the MSRP of $324.99.

ULTIMATE SHOWDOWN - SUPERMAN Vs. BIZARRO STATUE SET The Ultimate Showdown line continues with the Man of Steel and his messed-up copy Bizarro. These statues are displayable separately or together and can combine with other pieces in the Ultimate Showdown line. The set is priced at $144.99, saving you $30 off the MSRP.

JUSTICE LEAGUE CLASSIC ICONS SERIES 01 - SET, SINGLES The Big Three (Batman, Superman and Wonder Woman) and upcoming film star Green Lantern Hal Jordan comprise the first assortment of this new line. We have them listed as a set of 4 for $64.99, or you can grab your favorite singles at $16.99 each.

WORLD OF WARCRAFT SERIES 08 - SET, SINGLES This new assortment includes the Black Knight Argent Nemesis, Forsaken Priestess Confessor Dahlia and a two-pack of Gnome Rogue Brink Spannercrank vs. Kobold Miner Snaggle. Each figure pack is available singly at $20.99, or you can pick up the set of three for $59.99.

BigBadToyStore.com