Transformers Movie, Marvel Legends 2-packs at Big Bad Toy Store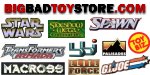 May 1, 2009 - (Sponsor Announcement) - Online retailer BigBadToyStore.com has several new items of interest to collectors:

-------------
NEW PREORDERS
-------------

TRANSFORMERS MOVIE II - PREVIEW FIGURES Hasbro has just given us the go-ahead to list several movie 'preview' figures. We will have the full wave 1 movie selection in stock and ready to ship on May 30th, so be sure to check back then for many more items. Preview figures currently listed are Deluxe Bumblebee and Soundwave, Leader Optimus Prime, and Bumblebee role-play Helmet & Blaster - take a look here

FANSPROJECT SUPERION APPENDAGE ADD-ON KIT This awesome new add-on kit gives your Superion the fists and feet he deserves. The coolest feature of these add-ons is that they also turn into Fast pack, armor and radar disc for the figures in jet mode. This set is priced at $44.99 - take a look here

HOT TOYS RESIDENT EVIL / BIOHAZARD 5 FIGURES Another awesome pair of figures from Hot Toys. Chris Redfield and Sheva Alomar each come with a wide variety of weapons, cloth uniforms, and tons of detail. Preorders are currently listed at $169.99, pricing may drop slightly in the future depending on distribution methods on these figures.

MARVEL LEGENDS 2009 TWO-PACKS WAVE 1 SET This exclusive set of Marvel 2-packs features Iron Man/Female SHIELD Agent (Maria Hill), Kree Warrior/Skrull Warrior, and Nick Fury (w/optional head)/Hand Ninja. We have the preorders listed at $10 off MSRP at $79.99 - take a look here

TF CLASSICS TAW-01, 01S, 01B GOD SWORDS A company called Perfect Effect has designed some very cool giant swords compatible with TF Classics Prime, Magnus and Nemesis. Each sword can also be converted from gigantic sword, to a more regular sized sword with extra pieces used as a shield and wings. The swords are $69.99 each

X-MEN ORIGINS WOLVERINE HOT TOYS MOVIE MASTERPIECE FIGURE We don't have an image of this figure yet, but its safe to say that Hot Toys will exactly capture the likeness of Wolverine from the new movie. Preorders have been set at $169.99 - pricing may come down later.

MAN-THING 18.5" COMIQUETTE The latest to join Sideshow's line of Marvel collectibles is the monstrous Man-Thing Comiquette. Each piece is individually painted and hand-finished, each with its own unique quality and detail that is the trademark of a handcrafted Sideshow Collectibles Comiquette. Complete with LED light-up eyes and towering over 18 inches high - Preorders have been listed $30 under MSRP at $469.99

TERMINATOR REPLICA LEATHER JACKETS Using all original surviving resource material, Arnold's jacket has been re-created exactly as it was worn on screen. The jacket features police grade leather with zip-out cold weather, custom printed lining and sew-in label celebrating the 25th anniversary. It also incorporates all the safety features of today's motorcycle jackets to ensure realism and protection. Preorders for sizes Medium to XXL have been listed at $249.99 here

GX-47 ENERGA Z - MAZINGER Z PROTOTYPE SOUL OF CHOGOKIN FIGURE EnergerZ the prototype model for MazingerZ makes its grand appearance in the all new anime series, "Mazinger Edition Z: The Impact!". In this all new Chogokin, EnergerZ's signature motorcycle pilot seat on head and slope back (cape/ramp via which the motorcycle climbs to the head) are recreated in precise detail. Entirely new tooling and design from GX-7E. Preorders have been listed at $63.99

QUEENS BLADE REVOLTECH FRAULEIN REINA This is the first figure in a new Queens Blade based line of Revoltech figures. Reina looks fantastic and is priced at $36.99 - take a look here

BOWEN MARVEL STATUES Three new versions of Hulk have listed as well as a new Angel Statue - take a look at the new figures below, Bowen continues to do great work:

13" RETRO GREY HULK STATUE
15.5" MAESTRO HULK STATUE
17.5" PLANET HULK STATUE
12.5" ANGEL IN RED COSTUME STATUE

WORLD OF MMA CHAMPIONS SERIES 4 Sets and singles are available for the fourth set of fighters from MMA - the set is $89.99 and includes one each of: Cung Le, Dan Henderson, Fedor Emelianenko, Gina Carano, Matt Serra, Mauricio "Shogun" Rua

TERMINATOR: SALVATION KNIFE REPLICAS Each knife measures 8" in overall length with a 3.6" 440 stainless steel blade. The handle features black G10 overlays and a leather lanyard wrap. Complete wih rigid nylon fiber sheath and a metal collector's box.

NEW GOEMON MOVIE MASTERPIECE FIGURES - CHACA & SAIZO Two more characters from the upcoming Goemon movie have just been listed at $149.99 each. Take a look at Chaca and Saizo as well as the previously listed Goemon below

STAR WARS 1/4 SCALE PREMIUM FORMAT COUNT DOOKU The Count Dooku Premium Format figure captures every detail of the corrupted former Jedi, standing confidently with his uniquely curved lightsaber drawn. Each piece is individually painted and finished to exacting standards, each with its own unique quality and detail that is the trademark of a handcrafted Sideshow Collectibles Premium Format Figure.

TRANSFORMERS EXCLUSIVE ULTRA CLASS DARKWIND & COUNTDOWN
A couple nice new exclusive repaints have been listed at $49.99 each - take a look at them here

STAR WARS EXCLUSIVE DISTURBANCE AT LARS HOMESTEAD BOX SET This cool playset features the Moisture Farm and 4 characters - take a look here

HOT TOYS TRUETYPE 1/6 SCALE CAUCASIAN NARROW SHOULDERS FIGURE This updated body style is apparently the version used in the new Hot Toys Joker Deluxe figure. Preorders are only $29.99 per figure so it's great for customizing - take a look here

MICHAEL JACKSON - "BAD" VINYL FIGURE Another cool Michael Jackson figure back from the days when he was on top of the world - this vinyl figure is $67.99 and stands over 6" tall

FRANK CHO'S JUNGLE GIRL - DIAMOND EYE EDITION Sculpted and Painted by Tom and Joy Snyder, based on Frank Cho's cover from JUNGLE GIRL SEASON ONE #1! The Jungle Girl Statue is one of Dynamite's most ambitious projects! Based on the cover art to the premiere issue of Dynamite's series, Frank Cho himself has meticulously art directed the piece, and he hasn't let any detail escape his artistic eye.

EVEN MORE NEW PREORDERS:

-- DBZ SON GOKU YOUNG VERSION VCD
-- ROBOT SPIRITS GUNDAM EXIA
-- ROBOT SPIRITS AKATSUKI - HEAVY WEAPON & WING TYPES
-- DIE-CAST SDX COMMAND GUNDAM
-- SAINT CLOTH MYTH - LOST CANVAS PEGASUS TENMA

------------
NEW ARRIVALS
------------

GEARS OF WAR - SERIES 3 This series includes the GoW2 version of Marcus Fenix, a COG soldier, Palace Guard, and two new Locust Drones: Cyclops and Grappler. The set of 5 is in stock now at $69.99, various singles are also available and we have a few of the Gold Lancer variant Marcus in stock as well.

STAR TREK MOVIE TOYS The new Playmates figures for the upcoming Star Trek movie are starting to arrive. In stock now are the Enterprise, Bridge, 3.75" figures, and 12" figures. Other items will be arriving soon - take a look here

ROLLOUT COMMAND TRAILER In stock now at $109.99 - this set of regular and nemesis trailers fits perfectly on classics prime. Each trailer opens up in a fairly intricate fashion and also includes a 6 wheeled roller.

MASTERPIECE STARSCREAM - G1 COLORS In stock now at the reduced price of $79.99 - this is one of the greatest versions of Starscream out there, be sure to pick one up if you don't have it in your collection yet.

ENCORE IRONHIDE & RATCHET PRICE DROP We were able to take advantage of clearance pricing on these and have dropped our price to just $21.99 each for Ironhide & Ratchet - We have a variety of other deals on the Encore menu as well, take a look here

GREEN LANTERN BATTERY PROP It's what fans of Green Lantern have wanted for years - Green Lantern's Power Battery cast in metal! Comes with a "one-size-fits-most" (size 10) metal Green Lantern ring that lights up the lantern for 30 seconds when the ring is pressed against the face of the lantern. A resin stand is also included to display the Green Lantern ring when it's not in use. In stock now at $309.99

STAR TREK RETRO BRIDGE SET Maintaining all the features of the original release, transport your eight-inch retro cloth figures with the turn of a dial, or explore the galaxy with interchangeable view screens! Featuring the classic fold-up design - in stock now at $49.99

MLB SPORTSPICKS 2009 SERIES 1 (SERIES 24) In stock now at $10.99 each are: Rodriguez, Rollins, Jeter, Becket, Fukudome and Hunter

BigBadToyStore.com