Happy Holidays from Sideshow Toy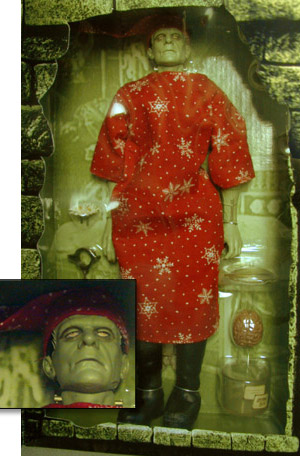 Contrary to popular belief, the staff at Raving Toy Maniac was good this year. Or good enough at least to get on Santa's good side. We were lucky enough to score a special Holiday Edition Frankenstein's Monster from Sideshow Toy. The famous monster dons red pajamas and a matching cap to welcome in the holiday season, and only 400 were made.
The monster still comes packaged with his abnormal brain, jar with lid, shackles, flower bouquet and cobblestone foot stand, not to mention his over 20 points of articulation.
This figure is a special reissue of the first fully licensed 'actual likeness' 12" figure of Boris Karloff™ as the monster Frankenstein. The figure is packed in a full color box that features a replica of the original movie poster on the front flap.
Even with his flowers and what appears to be an extremely comfortable pajamas, the monster looks as realistic and menacing as ever.
Thanks to Sideshow Toy for including us on their holiday list.