Hasbro's Jedi Quest Kids Club Interviews Boba Fett Sculptor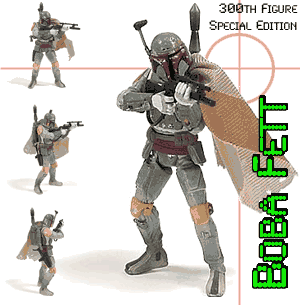 Hasbro's official Star Wars site features an on-line magazine specifically for younger collectors, theJedi Quest Kids Club. Right now the "Toymaker Secrets" feature spotlights Hasbro's John Warden, designer of the Boba Fett 300th Figure.
Warden graduated from Ohio State University, majoring in industrial design. He points out that most people with this type of degree end up designing toasters and drills. John is much happier in this line of work.
When asked about the best feature of the new Boba Fett, John replied:
"The launching backpack. I really like the smaller details, too. Things like the flexible skirt/belt, rotating scope and thrusters, and the fact that Fett's finger fits in the trigger guard make the figure very special for me. Plus, all of the tiny nicks and scratches add to the realism, and it took a really long time to get them all to look just right!"
You can read the entire interview by clicking here, or click on the Jedi Quest Kids Club from Hasbro.com.