Land of the Dead Action Figures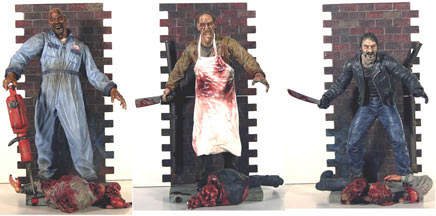 October 2005 - SOTA Toys is now releasing official pics of the Land of The Dead action figures!

The "Land of the Dead" 7-inch scale action figure assortment includes Blade (Tom Savini), The Butcher (Boyd Banks) and Big Daddy (Eugene Clark). Each zombie comes with part of a diorama base as well as body parts of a victim ripped apart by zombie teeth. These body parts can be reconfigured into the man he used to be... missing a few bits here and there.

Land of The Dead figures will be available in the USA May 2006.

Big Daddy
click to see larger image (73k, 444 x 720)

The Butcher
click to see larger image (68k, 504 x 720)