Mattel's 2005 Hot Holiday Toys List


EL SEGUNDO, Calif. -- Oct. 5, 2005 -- From Barbie® dolls and Hot Wheels® cars to Family Entertainment and Games, Mattel Has Great Gift Ideas for Girls and Boys of All Ages.


'Tis the season when boys and girls begin dreaming of snow days, sugar plums, and the cool, new toys that will top their holiday wish lists this season.


For three generations, parents have turned to Mattel, Inc. to bring their children toys that will make merry memories and that they will love year-round. This year, the toy industry's No. 1 doll property(1), Barbie® doll, starring in "Barbie™ and the Magic of Pegasus," and Hot Wheels® AcceleRacers™ cars and track sets, based on the popular animated series of the same name, lead an all-star lineup of the season's top toys from Mattel.


Mattel's list of holiday favorites also includes the "techno-cool" Vidster™ Digital Video Camera, a "movie-studio in a box"; Pixel Chix™, a virtual friend featuring "A 2-D Girl living in a 3-D World™"; and Tyco® R/C Shell Shocker™, an engineering marvel that challenges kids to "Release The Beast!™." And for kids who enjoy toys inspired by their favorite blockbuster entertainment, Mattel offers Scene It?® The DVD Game™ Harry Potter™, the latest addition to the award-winning Scene It?® game portfolio, and the Batman Begins™ Gotham City™ Playset, a Batmobile™ that transforms into a toy-sized Gotham City™.


GIRLS


BARBIE™ AND THE MAGIC OF PEGASUS: With five chart-topping films under her hit-making belt, Barbie™ doll returns to the small screen this holiday in the Barbie® brand's highly anticipated, new original princess tale and 3-D enhanced, animated film "Barbie™ and the Magic of Pegasus." Each Barbie™ film has earned a No. 1 ranking on the video charts as entertainment that is loved by girls and admired by families. This year's film casts Barbie™ as the courageous Princess Annika™, who embarks on an adventure set in the Magical Cloud Kingdom™ with a new group of pals. The unique story will teach girls the value of hope and family love, while also earning a warm place in girls' hearts by inspiring their imaginations and encouraging them to explore their creativity through the arts. With an entire line of products, including princess dolls, winged horses and playsets, girls can bring this enchanting new tale to life at play. (3-D enhancement available on DVD only)


BARBIE™ AND THE MAGIC OF PEGASUS DVD/VHS: Barbie™ as
Princess Annika™ discovers adventure when she is befriended by Brietta™, the magnificent winged horse, who flies her to the Magical Cloud Kingdom™. There, Annika™ has three days to break a spell that has turned her family to stone. During the adventures of Barbie™, girls will enjoy 15 minutes of spectacular 3-D scenes on the DVD version (which comes with four pairs of Barbie™ 3-D glasses). The DVD also includes exciting bonus features, including outtakes, fun games and a music video of end credit track song "Hope Has Wings" by up-and-coming teen pop star and Universal recording artist Brie Larson. (VHS does not include 3-D scenes or glasses).

MSRP: $19.98 Age: 6+

BARBIE® AS PRINCESS ANNIKA™ DOLL: (2005 Toy Wishes Magazine "All Star", 2005 Toys "R" Us Joy List) Barbie® as Princess Annika™ doll, the enchanting lead character, can change a look just like "magic." Barbie® doll is dressed in a gorgeous lavender gown with sparkly accents and a silvery crown. With one quick twist, girls can change the look of Barbie® doll's dress from princess pretty to princess glam! She also comes with a "magical" light-up wand perfectly sized for both Barbie® doll and the girl.
MSRP: $19.99 Age: 3+

BRIETTA™ THE PEGASUS GROOM & GLAM™ STYLING HEAD: For girls who love hair play, this innovative new twist on a styling head will be the "mane" attraction for the holidays. Girls can style the horse's long blonde mane with streaks of pink hair that turn purple with cold water. The styling head also has color change eye shadow, and comes with a brush and fun hair accessories. And what pampering would be complete without a crown? The styling head also includes lip-gloss, stick-on gems and a matching crown for both the horse and the girl.
MSRP: $29.99 Age: 3+

FASHION FEVER™ BARBIE® DOLLS: (Winner:2005 Oppenheim "Gold Seal" Award) The ultimate fashionable dolls are back this season with the latest looks and a new friend, the first male Fashion Fever™ doll. School rules when you have the coolest clothes, and Barbie® doll's closet is fully stocked and stylin' this fall with hip essentials and the trendiest accessories.

MSRP: $9.99 ea Age: 5+

MY SCENE GOES HOLLYWOOD™ DOLLS: (2005 Family Fun "Toy of the Year" Finalist) Barbie® doll, Madison™ doll, Chelsea™ doll and Nolee™ doll. The My Scene™ girls are ready for their break on the big screen! All the My Scene™ starlets are dressed in their trendiest "red carpet" attire for the premiere of their new, full-length, direct-to-video movie "My Scene Goes Hollywood™," released by Miramax. Each doll includes lots of fun, movie-themed accessories, including a director's chair and a cool second outfit for the ultra happenin' after-party!

MSRP: $19.99 ea Age: 6+

MY SCENE GOES HOLLYWOOD™ LINDSAY LOHAN DOLL: One of the freshest and most popular teen faces on the celebrity circuit, Lindsay Lohan, has joined the My Scene™ crew! This doll captures the likeness of Lindsay Lohan, and her fun, trendy outfit complements Lindsay's fashion-forward sense of style. The My Scene™ Lindsay Lohan doll is ready to hit the red carpet with a full movie premiere outfit, faux fur-trimmed coat, director's chair, velvet-style rope and lots of fun, movie-themed accessories.

MSRP: $29.99 Age: 6+

MY SCENE GOES HOLLYWOOD™ DVD/VHS: It's "Lights! Camera! Fashion!"™ for the My Scene™ gang. For the first time ever, "My Scene Goes Hollywood™" brings the My Scene™ characters to life on a Hollywood-style movie set so that `tween girls can further play out their dreams of teenage moments filled with celebrity, fashion and friends. In "My Scene Goes Hollywood™," conversations about friends, fashion and shopping are briefly interrupted when the My Scene™ girls stumble upon a big Hollywood production -- and get cast as extras in the film! Sure, they look totally amazing but things really heat up when Madison™ gets picked from the crowd to fill in for one of the actresses. Now she's in the spotlight with a hot Hollywood "It" boy and mega-movie star Lindsay Lohan. Join the My Scene™ girls on the red carpet for ultra fabulous fun, sweet styles and behind-the-scenes thrills in "My Scene Goes Hollywood™."

MSRP: $19.99 Age: 6+

MY SCENE GOES HOLLYWOOD™ PARTY LIMO™ VEHICLE: Movie stars always arrive in style, so when it's time for the My Scene™ girls to attend the Hollywood premiere of their new movie, "My Scene Goes Hollywood™," they sport the hottest ride in town. This luxurious SUV party limo is decked out with glitz and glam from door to door, including working lights, a beverage bar, fancy seats and a real hot tub! The limo top even pops up, so that the girls can stand up and be seen in the scene!

MSRP: $69.99 Age: 6+

TEEN TRENDS™ DOLLS: (Winner: 2006 Oppenheim "Gold Seal" Award) Meet the new Teen Trends™, the posable 17-inch fashion dolls with "personality!" The Teen Trends™ dolls are hip with trendy fashions that reflect each girl's unique "personality" and style. These dolls have long beautiful hair that hold sassy styles, and, in the spirit of real fashion magazines that girls love to read, each doll also comes with her own personalized Look Book! Teen Trends™ are the "it girls" for fashion, hair and style.

Gabby™ doll: Gabby™ is the "girly girl" and adores shopping, watching movies and relaxing at the spa. Her trendy outfit captures her fun, feminine style with zipper details and accessories -- just like something a real teen would wear! Her pretty hair really curls, and she comes with great hair accessories like a brush, clips and curling iron.

MSRP: $39.99 Age: 6+

Kianna™ doll: Kianna™ is the "rocker girl" who has a blast going to concerts, playing her guitar and writing music. Her contemporary style truly matches her wild personality! She comes with pink gel for her hair and other fun hair accessories, so she can look like a rock star everyday!

MSRP: $39.99 Age: 6+

Deondra™ doll: Deondra™ is the "bling bling girl," and loves doing anything outdoors and getting her groove on the dance floor. Her trendy velour sweat suit is the perfect outfit for an active girl. For more funky fun, she comes with clips, a brush and a hair extension so girls can create her perfect look.

MSRP: $39.99 Age: 6+

Courtney® doll: Courtney® is the "preppy girl" who enjoys going to the beach, riding her bike and taking her dog, Francie™, to the park. Courtney® is charming in her casual fashions, and comes with bendy curlers that really curl her hair and other accessories for variety and vogue.

MSRP: $39.99 Age: 6+

LITTLE MOMMY™ BABY CHECKUP CENTER™ PLAYSET: The Little Mommy™ Baby Checkup Center™ has everything a little girl needs to play doctor, including a checkup table with scale to weigh the baby doll and lots of interactive accessories for discovery play -- a stethoscope with real "heartbeat" sound effects and girly giggles, a thermometer, ear and eye scope, band-aid, blood pressure monitor, and more! Plus, it is collapsible for easy storage. Doll not included.

MSRP: $29.99 Age: 2+

POLLY POCKET™ SNOW COOL™ HOTEL PLAYSET: Polly Pocket™, the No. 1 property in mini dolls & accessories(2), and ultimate "girl-on-the-go," is full of small delights and big surprises. Whether it be the latest in trends or the most exciting travel destinations, Polly Pocket™ dolls adventures are always filled with delightful twists. Polly™ dolls "coolest" new hotel looks like a magical winter castle but opens to reveal the ultimate winter adventure destination complete with a working ski lift and ski slope to race down. Grab dinner on the balcony and then it's time for Polly™ doll to hit the ice-skating rink, where a magnetic feature allows Polly™ doll to actually dance on the ice! Last but not least, Polly™ doll and friends can chillax in the hot tub. There's so much to do for hours of winter getaway play!

MSRP: $29.99 Age: 4+

POLLY POCKET™ SNOW COOL™ PLAYSET ASSORTMENT:
Ski Shop™ with Drew®
Sleigh Day™ with Lila®

Vacation is even more fun with your friends! Polly™ dolls friends are part of the Snow Cool™ Hotel, with two winter-themed playsets. The entire crew can stock up on skis, snowboards or winter fashions at the Ski Shop™ with Drew®, one of Polly™ dolls newest friends. It even has a cash register to ring up the fun mini goods. Or if everyone wants to see the sights, they can bundle up and catch a ride on the sleigh with Lila®.

MSRP: $9.99 ea Age: 4+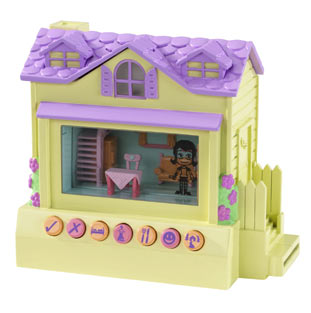 PIXEL CHIX™: (2005 Toy Wishes Magazine "All Star", 2005 Toys "R" Us Joy List "Best of the Season," 2005 kol/aol Toy of the Year Finalist, 2005 Parenting Magazine "Toy of the Year" Finalist, 2005 Family Fun "Toy of the Year" Finalist) Pixel Chix™ pals combine activities that mirror a girl's life with technology. She is "a 2-D girl living in a 3-D world!™" because she loves to do the same things a little girl does -- she talks, eats, sleeps, exercises, hangs out and plays games.

A Pixel Chix™ pal comes to life in her virtual home when girls engage her in such activities as trying on fashions and socializing with friends. During the day, the time-aware Pixel Chix™ pal will ask aloud, "What should we do?" Dress her in a stylish outfit and a Pixel Chix™ pal responds "fabulous." Choose her favorite food and she sits at the 3-D kitchen table to eat it. Send her to bed and she climbs up the 3-D stairs to her bedroom, brushes her teeth, turns out the lights and begins lightly snoring.

Three different Pixel Chix™ houses are available: a stylish loft, a cozy country cottage and a lavish mansion. Up to 10 Pixel Chix™ houses can be connected together, allowing their "residents" to socialize -- they may chat with each other on the phone, engage in a special group dance, or walk out their virtual front doors to visit each other's Pixel Chix™ houses for a party or movie night.

Also, the more girls play with their Pixel Chix™ pal, the more their virtual world will expand as they accumulate more foods, fashions and games. On the other hand, if girls forget to tend to their Pixel Chix™ pal, she will eventually "pack up and leave."

MSRP: $29.99 ea Age: 7+

2005 HOLIDAY™ BARBIE® DOLL BY BOB MACKIE: (2005 Toy Wishes Magazine "All Star") A perennial favorite, Barbie® doll has celebrated each holiday season with a doll commemorating the year. Joining this lovely tradition is the first ever Holiday™ Barbie® doll designed by Bob Mackie. The 2005 Holiday™ Barbie® doll wears a gown of white printed jacquard with glitter sparkles over white tulle, fuchsia organza and pink satin. Barbie® doll's bodice is also accented with a luxurious burgundy sash. The beautiful accessories of silvery emerald-colored and crystal-colored earrings, tiara, necklace and brooch complete her festive ensemble. This keepsake is sure to be treasured for many years to come.

MSRP: $39.95 Age: 6+

GAMES: PARTY TIME

SCENE It?® THE DVD GAME™: (2005 Toy Wishes Magazine "All Star": Scene It?® The DVD Game™ Harry Potter™) Scene It?® is the first ever DVD-based board game, combining a cool social interactive board game with themed trivia and the visual excitement of fast-growing DVD technology. Scene It?® turns a flat board game into a 3-D multimedia match of memory, logic and pop culture knowledge. In 2005, Mattel introduces seven exciting titles to the Scene It?® brand portfolio -- each with content exclusive to the theme.

Scene It?® Harry Potter™ MSRP: $39.99 Age: 8+
Scene It?® TV MSRP: $39.99 Age: 6+
Scene It?® Music MSRP: $39.99 Age: 12+
Scene It?® Sports (Powered by ESPN) MSRP: $39.99 Age: 13+
Scene It?® 007™ Game Pack MSRP: $19.99 Age: 13+
Scene It?® Turner Classics Movies™ Game Pack MSRP: $19.99 Age: 13+
Scene It?® HBO Game Pack MSRP: $19.99 Age: 13+

MAD GAB® GAME: It's Not What You SAY, It's What You HEAR! Try this: DEW WINO HUE. Repeat the words a few times aloud and you're sure to guess that you are actually saying "Do I know you?" In Mad Gab®, teams work to decipher groups of unrelated words into real phrases before the time runs out. It's a game sure to spur laughter as friends speak this strange language, and then say the answer without even knowing it! For 2 or more players.

MSRP: $22.99 Age: 10+

BALDERDASH® GAME: Balderdash® is a bluffing game where players try to fool each other by making up phony definitions or other answers to questions. Players earn points by guessing the correct answer and by bluffing their fellow players. There are five categories of answers to choose from: Words, People, Movies, Initials and Laws. Bluff answers can be really zany, leading to lots of laughter and hilarious fun. Sometimes the real answer is the wackiest of them all. The fun is in the fooling! The game includes Balderdash™ cards, game board, play pieces, die, instructions and definition pads.

MSRP: $22.99 Age: 18+

OUTBURST® REMIX GAME: It's Outburst®... and it's twisted! Mattel has blended fresh, contemporary content with updated and outrageous Outburst® topics -- and topped them all off with offbeat headlines. Teams must decide if they will play or pass when they hear the headline is something like "Dirty Dish." The twist is that teams must decide before finding out the topic is "Publications About Celebrities." Teams have just 60 seconds to match as many of the answers on the card as possible. Shout out everything that comes to mind until time runs out. With 600 topics of common knowledge and beyond, OUTBURST® Remix will keep players thinking, laughing and... shouting.

MSRP: $24.99 Age: 18+

UNO ATTACK!® GAME: UNO Attack!® is a frenzied, unpredictable version of the popular UNO® game that adds speed and surprise to the classic game. Players push the button on the Card Launcher, and, if they are lucky, nothing will happen. If they're not, the Card Launcher will fire a stream of UNO Attack!® cards at the player. UNO Attack!® comes with 112 UNO Attack!® cards, including special command cards such as "Trade Hands," "Discard All," All Hit," "Hit Fire" and "Hit 2," and a motorized Card Launcher. For 2 to 10 players.

MSRP: $24.99 Age: 7+

ENTERTAINMENT

BATMAN BEGINS™ TRANSFORMING GOTHAM CITY™ PLAYSET: (2005 Toy Wishes Magazine "All Star") Embedded in the American psyche of boys for generations, Batman™ is the original self-made superhero, who always has the best toys and gadgets, and works in one of the coolest places on the planet, Gotham City™. The Gotham City™ Playset begins as a replica of the "Batman Begins™" Batmobile™ with rolling wheels. It opens up into a Gotham City™ playset scaled for Mattel's 5-1/4-inch "Batman Begins™" figures. This awesome electronic set features nine action stations and includes a pop-out train, light, sound and manipulative play features. It's everything that a kid needs to play out their own Batman™ adventures.

MSRP: $59.99 Age: 4+

VIDSTER™ Digital Video Camera: The Vidster™ Digital Video Camera is a virtual "movie studio in a box" that enables kids to produce their own music videos and movies. Combining a versatile video camera with three-step photo and video-editing software, the Vidster™ Digital Video Camera gives kids and 'tweens ages 8 and older everything they need to shoot, edit and distribute short films in one purchase.

With 32 MB of on-board memory, kids can use the camera right out of the box and capture up to 10 minutes of footage and dozens of digital photos. Vidster™ and its bundled photo and video software enables kids to add digital music files, and edit and customize their footage and still photos into complete short films or music videos in three simple steps. Films can be easily e-mailed to family and friends, uploaded onto Web sites or burned onto DVDs.

Vidster™ features a 2.0 digital zoom lens, built-in microphone, color LCD viewfinder, tripod mount and removable hand grip attachment. An expansion slot accepts up to a 512 MB SD card for hours of footage and photos that can be captured and stored. Includes USB cord. Requires four "AA" batteries, not included.

MSRP: $79.99 Age: 8+

WHEELS

TYCO® R/C SHELL SHOCKER™ ASSORTMENT: (2005 Toy Wishes Magazine "All Star," 2005 Family Fun "Toy of the Year" Finalist) "Release The Beast!™" A transforming "beast," Shell Shocker™ ushers in a new era of radio control products... and is something completely different from anything else in the R/C aisle. Initially a ball wrapped in a protective rhino-like skin while in "Shield" mode, the creature can turn its shell inside out while in motion to gain traction and explore, and also to reveal its scorpion-like tail to attack. Shell Shocker™ can easily traverse all sorts of terrain -- including grass, sand and even mud. Two glowing red eyes indicate that this is something more than your normal remote controlled toy -- part alien, part machine, part beast. (Requires Tyco® R/C Pro Flexpak® battery, sold separately).

MSRP: $79.99 Age: 8+

HOT WHEELS® ACCELERACERS™ ACCELEDROME TRACK SET: (2005 Toy Wishes Magazine "All Star," Nick Jr. "Toys 2005 Most Wanted" list) The AcceleDrome track set is headquarters for AcceleRacers™ vehicles in the animated series. Now kids can use their HyperPod™ vehicles with the AcceleDrome track set to launch their own non-stop thrills and action by letting boys recreate scenes from the AcceleRacers™ movie while incorporating track and manipulative play. The awesome set features two high-speed motorized loops and a revolving turntable for challenging action, as well as dual rotating loops, two car launchers and a motorized booster. HyperPod™ vehicle sold separately.

MSRP: $59.99 Age: 5+

HOT WHEELS® GORILLA ATTACK™ TRACK SET: This high-performance track set includes an amusement park being threatened by a rampaging gorilla with smashing fist and chomping teeth! Features speed, stunts and crashing action as kids race to aim the stun gun to shoot the gorilla. The gorilla's fist pounds cars off the track while the other hand diverts cars into his mouth. The motorized track has automatic and manual override so kids can "become" the gorilla, too.

MSRP: $39.99 Age: 4+

MATCHBOX® MEGA RIGS™ DINO ADVENTURE: (2005 Child Magazine "Child's Best Toys," 2005 Family Fun "Toy of the Year" Finalist, 2005 Dr. Toy "100 Best Children's Products" list) The Mega Rigs Dino Adventure truck lets kids create their own adventure by transforming and constructing the truck into smaller vehicles and accessories to prepare for their mission of capturing the scary dinosaur. The truck breaks up into 26 team pieces; more than 30 different trucks can be created. The dinosaur stomps and chomps and roars for realistic adventure play action. Requires two "AA" batteries, included.

MSRP: $42.99 Age: 4+

HOT WHEELS® DROPSTARS™ ASSORTMENTS: Boys of all ages continue to collect Hot Wheels® cars. Cool small-scale models with exclusive Dropstars™ license representing today's lifestyle cars, and the perfect gift for the dub-style car guy. Not for use with Hot Wheels® sets. Vehicles featured in this assortment include the Maybach, Ferrari 360 Spider, Hummer H3, Range Rover and Mercedes-Benz SL55. The Dropstars™ line also features mid-sized vehicles with all of the realistic styling of the Dropstars™ small-sized vehicles but also feature hoods and doors that open. Vehicles featured in the mid-size assortment include the Lamborghini Murcielago, Range Rover, Mercedes-Benz SL55, Chrysler 300C and the '64 Continental. Not for use with Hot Wheels® sets.

MSRP: $2.99 (small-size) Age: 8+
MSRP: $10.99 (mid-size) Age: 8+

TYCO® R/C DROPSTARS™ ASSORTMENT: (2005 Toy Wishes Magazine "All Star") This cool assortment features 1:18 scale models with exclusive Dropstars™ license representing today's lifestyle cars, and makes a perfect gift for the dub-style car guy. Two full function vehicles catch the trend with cool R/C action. Choose the Range Rover or Dodge Magnum with 6-volt power and speed, huge tires and bumpers with authentic licensed styling. Requires four "AA" batteries for the vehicle and two "AA" batteries for the transmitter. Batteries not included.

MSRP: $29.99 Age: 5+

About Mattel
Mattel, Inc. (NYSE:MAT) (www.mattel.com) is the worldwide leader in the design, manufacture and marketing of toys and family products, including Barbie®, the most popular fashion doll ever introduced. The Mattel family is comprised of such best-selling brands as Hot Wheels®, Matchbox®, American Girl® and Tyco® R/C, as well as Fisher-Price brands (www.fisher-price.com), including Little People®, Rescue Heroes®, Power Wheels® and a wide array of entertainment-inspired toy lines. With worldwide headquarters in El Segundo, Mattel employs more than 25,000 people in 42 countries and sells products in more than 150 nations throughout the world. The Mattel vision is to be the world's premier toy brands -- today and tomorrow.

BALDERDASH, BARBIE, HOT WHEELS, LITTLE MOMMY, MAD GAB, MATCHBOX, PIXEL CHICKS, TEEN TRENDS, TYCO R/C, UNO, VIDSTER and associated trademarks are owned by Mattel, Inc. (C) 2005 Mattel, Inc. All Rights Reserved.

BATMAN and all related characters and elements are trademarks of and (C) DC Comics. (s05)

(C) 2005 Home Box Office, Inc. All Rights Reserved. (SM) service marks of Home Box Office, Inc.

James Bond Materials (C) 1962-2005 DANJAQ, LLC and United Artists Corporation. All Rights Reserved. 007 TM and related James Bond trademarks are trademarks of DANJAQ, LLC licensed by Eon Productions Limited. All Rights Reserved.

OUTBURST® & (C)2004, 2001, 1999, 1996, 1998, 1986 Hersch and Company, Los Angeles, CA 90063. All Rights Reserved.

(C) 2005 Screenlife, LLC. All trademarks and copyrights are the property of the respective owners. All Rights Reserved. Patent D470537. Other U.S. and foreign patents pending. Screenlife™, Scene It?®, The DVD Game™, Final Cut®, Tie Breakers®, Alternates®, Flextime®, Distorted Reality®, Spellbinder®, Sound Clips®, Sequential®, Invisibles®, Optreve® and DVD Powered by Optreve™ are trademarks of Screenlife, LLC, 811 First Ave, Suite 640, Seattle, WA 98104.

Turner Classic Movies and related logos are ™ and (C) 2005 Turner Classic Movies.

(C)2005 Bob Mackie Design Group, Ltd. All Right Reserved.

(1) NPD Funworld/Toy Industry Insights Data -- "Property Trends" Year To Date 2005 (Jan-Jun)
NPD Funworld/Toy Industry Insights Data -- "Property Trends" Year End 2004
NPD Funworld/Toy Industry Insights Data -- "Property Trends" Year End 2003

(2) NPD Consumer Online Panel data through August 2005 -- Mini dolls & Accessories Category