DC Direct & More at Big Bad Toy Store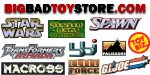 December 3, 2004 - (Sponsor Announcement) - Online retailer BigBadToyStore.com has several new items of interest to collectors:

DC DIRECT: Two brand new sets of figures have just arrived from DC Direct. The First Appearances Series 2 set and Justice League of America Series 2 sets are each available for $49.99. First Appearances 2 set features Superman, Robin, Hawkman and Green Lantern - as they first appeared in their comicbook debuts. JLA 2 is a very nicely done set featuring Elongated Man, The Atom, Adam Strange and Firestorm. We've also cut the price of the Jim Lee Signature Series Batman Hush set to $199.99 - which is $50 under the MSRP!

BLUE BOX: We've received about 30 different Blue Box figures that were either previously out of stock or are new products. The new items include 1:18 scale F-16 Falcon, Pave Hawk Helicopter, Light Armored Vehicle and also some new 12" WWII figures. Other Blue Box items back in stock include: Cy Girls Aurora, Aska, Destiny; Cy-Com: Spectre, Fireblade, Colossus. Elite Force: Prowler, Digital Camo figures, Hawkeye, various WWII and WWII Aviators and various 1:18 vehicles have been restocked.

STAR WARS: The Luke FX Saber from Master Replica is back in stock for $113.99. Another wave of OTC basic figures has arrived including: Snowtrooper, Scout Trooper, Greedo, Lando, Luke, Vader, IG-88 & More. The Master Replica AT-AT will be arriving to us soon!

TAKARA SUPERLINK: Exciting news from Japan - one of our suppliers has been able to secure us a fairly significant number of the Toys R Us Japan EX-01 Buildtron Exclusive figures. These were produced in a fairly limited number and sold only in Toys R Us-Japan stores. They will be arriving in late december and pre-orders are available for $114.99 per set. These are more expensive than the typical sets because they are exclusive items that our suppliers had to go store to store to purchase at full retail + taxes, but I was happy to be able to get any at all and this should be a good collector piece in the long run.

LORD OF THE RINGS MINIMATES: The next wave of LotR Minimates from Art Asylum has just arrived - 10 more cool mini-figures are available for $7.99 per set of 2. Sets include: Grishnakh & Orc Scout, Boromir & Merry, Gollum & Sam Gamgee, Twilight Frodo & Aragorn, Pippin & Uruk-Hai Crossbowman.

LIVING DEAD DOLLS 8: The latest release from Mezco - LDD 8 features the standard size and format dolls in their coffin style boxes. Figures include: Grace of the Grave, Angus Litilrott, Faith, The Lost, and Hollow

We have a large shipment of items coming from Japan either later today or Monday - so look forward to more great stuff being added to the website soon. Predaking and BT-10 Grimlock arrive in about 7 days - pre-orders are still available - reserve yours now - in time for the holidays!

BigBadToyStore.com