Trigun: Gazelle the Peacemaker Figure
click to see larger image (122k, 790 x 1091)
December 2004 - The newest figure in Kaiyodo's popular line of Trigun/Toy Tribe action figures is about to be released, and Diamond Comic Distributors is pleased to bring it exclusively to the United States!

Trigun is one of the hottest anime properties on the market today. The hit show has satisfied its fan base with a popular product line that includes videos, DVDs, T-shirts, statues, and actions figures. The Trigun action figure line has been one of the most popular product lines in recent memory, with Vash the Stampede, Nicholas Wolfwood, and Monev the Gale. Now, from Yasuhiro Nightow's hit Trigun/ Toy Tribe line comes the latest addition, the Gazelle the Peacemaker Action Figure!

Imported from Japan, this figure is an original creation of Nightow, and not a character seen in the manga or anime, but has all of the smoking-gun flavor as the previous Trigun action figures. Measuring approximately 9" tall, Gazelle features over 30 points of articulation (including his hair!) and includes a giant Transforming Pistol, which can be broken down to its component parts, including a "magazine" fully loaded with missiles! Also included are metal chains to strap the weapons on Gazelle's back, as well as a sculpted display base that features the head and shoulders of a fallen foe, allowing Gazelle to be displayed in a myriad of action poses. Scheduled to ship in March 2005, this will be one figure that no serious collector or fan will want to miss!
Click to see large (separate) images of the gun, the base, and the figure (193k total)

Fans can find these and other great products based on today's most popular Japanese imports at their local comics shop, or by contacting the Comic Shop Locator Service toll free at 1-888-COMICBOOK (1-888-266- 4226) or online at http://www.comicshoplocator.com.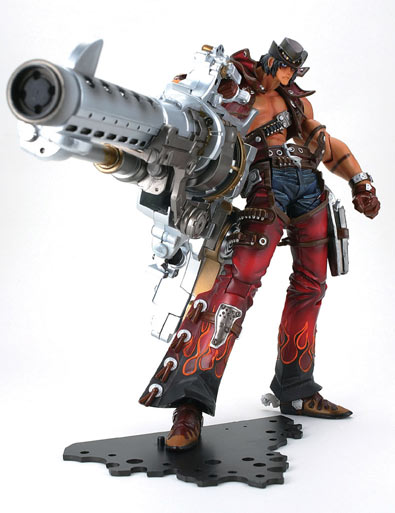 click to see larger image (117k, 790 x 1026)