SOTA: Professional Bull Riders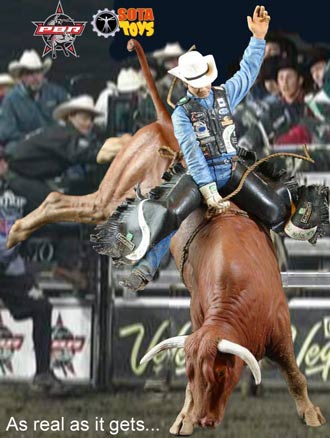 click to see larger image (89k)
SOTA TOYS' PBR FIGURES AND BULLS - "AS REAL AS IT GETS!"

August 20, 2004 - 8 Seconds. That's all that stands between a rider and glory... plus a few tons of fierce, fighting bull!

And soon you'll be able to take the action home with you!

SOTA Toys next spring will be producing riders and their bull from one of the most popular up-and-coming sports in the US. The first series of toys will be based on the hottest bull riders from the PBR 2004 Tour including PBR Founder Michael Gaffney riding one of the most popular bulls in America today, "Little Yellow Jacket," Adriano Moraes riding "Hotel California" and Justin McBride riding "Mudslinger."

Our first released image of the PBR line is Gaffney on "Little Yellow Jacket" in mid-buck (NOTE: This is not the final version-some minor changes will be made before release).

In 2005, SOTA Toys will show you that PBR is "As Real As It Gets!"

ABOUT PBR, INC.:

Over 100 million viewers tune in each year to the PBR on NBC, OLN, and in Spanish on Telemundo. With over 450 hours of prime time programming annually PBR ranks among the most prolific sports on air, in addition to attracting over one million live event attendees each year with its multi-tiered event structure which includes the marquee Built Ford Tough Series presented by Wrangler, the U.S. Smokeless Tobacco Company Challenger Tour, and the Humps N Horns Tour, designed specifically for entry level contestants. The PBR's governing board of directors is comprised of renowned bull riders who have developed the event into a stand alone sport which is experiencing unprecedented growth in global popularity. The PBR is headquartered in Colorado Springs, Colo., and has over 600 athletes competing in more than 100 PBR sanctioned competitions.

ABOUT SOTA TOYS:

Founded in 1997, SOTA Toys, Inc., is based in Van Nuys, CA. The company designs, creates, produces, and markets novelty products and action figures, based on well-known entertainers and celebrities. Founder Jerry Macaluso, a veteran toy designer, has had many years of experience in this business, having previously created and designed toys, action figures, and other products based on such well-known properties as "Star Trek," "Aliens," "Predator," "Spiderman," "Power Rangers," "Resident Evil," Playboy, Bruce Lee, and hundreds more. For more information visit http://www.sotatoys.com.