Dynamic Forces Warlock Bust


July 31, 2003, Runnemede, NJ - Dynamic Forces has announced two new Marvel projects, both focusing on the "cosmic" end of the Mighty Marvel Universe!


"With the tremendous fan response to Jim's [Starlin] "The End" series, and the creation of a new ongoing series out of that mini, now is the perfect time to be a cosmic fan," said Nick Barrucci, President of Dynamic Forces. "Our Warlock Bust, and signed copies of Thanos #1 are the perfect addition for any fan's collection!"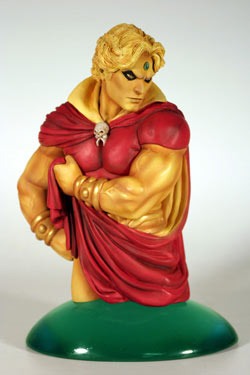 WARLOCK 10" BUST
http://www.dynamicforces.com/htmlfiles/p-C98497.html

From his first appearance as the mysterious "Him" way back in Fantastic Four #67, to his starring roles in the cosmic Marvel Comics of the '70s and '80s, Warlock truly comes to life for the first time ever as a DF Collectible Bust!

Standing atop his soul gem, faithfully recreated here, Warlock was designed, sculpted, and painted by Tom and Joy Snyder and will be the pride of your collection. Standing 10" tall, and limited to only 1,000 pieces in the world, this bust is a must-have for your collection!

$89.99 Suggested Retail Price

Special Note: The Warlock Bust is advanced solicited and will ship in December!

THANOS #1 - Signed by Jim Starlin!
http://www.dynamicforces.com/htmlfiles/p-C98516.html

From the pages of the hit series Marvel: The End comes a brand-new Thanos ongoing series by writer and artist Jim Starlin! Best of all, the legendary creator is signing a limited number of these first issues for Dynamic Forces!

Each signed copy will be hand-numbered, sealed with a DF Holo-Foil Sticker and includes a numbered certificate of authenticity!

$19.99 Suggested Retail Price

For more information on Dynamic Forces specialty merchandise, product art, exclusive creator interviews and upcoming releases - including more Marvel Comics Product, please visit the Dynamic Forces website at www.dynamicforces.com

Dynamic Forces is the comic book and collectible industry's top producer of limited edition comic books, lithographs, and more.

A licensee of DC Comics, Marvel Comics, Top Cow Comics, Dark Horse Comics, Universal Studios, Paramount Studios, Pressman Film's classic film "The Crow", Sony Pictures "Underworld", T2, Sandy Frank Productions "Battle of the Planets (G-Force)", Jim Starlin's "Dreadstar" and many other industry giants, DF continues to set the pace in the comic collector and comic memorabilia markets. Recent product line expansions includes: action figures, vinyl and poly resin statues, lunchboxes, trading cards, lithographs, giclees, apparel and much more!