Green Goblin Head Sells Out


July 14, 2003, Runnemede, NJ - The third in a series of collectible, full-sized head busts from Dynamic Forces featuring the icons of the Marvel Universe and arguably Spider-Man's deadliest foe - the nefarious Green Goblin - was announced as sold-out from the manufacturer on the day of shipping. The Green Goblin Head Bust joins the previously released Spider-Man and Captain America Head Busts, as well as the upcoming full sized Hulk and full sized Thing Head Busts from Dynamic Forces. All products are overseen, and designed, by artist Alex Ross.


"It's a mixed blessing," said Nick Barrucci, President of Dynamic Forces. "Because now I have to figure out where I'm going to get one for my collection. I didn't grab one quickly enough before they went out to all of our customers and accounts; It may just have to be eBay, but I don't want to pay that much!"


Customers and Retailers are encouraged to check their orders on the next two Full-size Head Busts coming later this year from Dynamic Forces.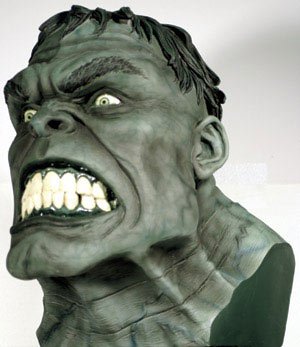 INCREDIBLE HULK FULL-SIZE HEAD BUST
http://www.dynamicforces.com/htmlfiles/p-C97708.html

Designed by artist Alex Ross and sculpted by Mike Hill this is the DEFINITIVE version of the Incredible Hulk!

Standing close to 16" tall from top to bottom (including base) and a foot wide front-to-back and side-to-side the scope of this piece needs to be seen to be believed!

$349.99 Suggested Retail Price
Strictly Limited!

THE THING FULL-SIZED HEAD BUST - sculpted by Lou Cella and overseen by Alex Ross!
http://www.dynamicforces.com/htmlfiles/p-C97888.html

Inspired by the work of comic greats Jack Kirby and John Byrne, this masterpiece reproduced the FF's own Thing (a.k.a. Ben Grimm) as a life-life, and full-sized collectible bust! Measuring almost 16" high and over 10" wide (in each direction), and magnificently sculpted by Lou Cella with direction from Alex Ross!

An Extremely Limited Edition, this will be the biggest THING in your collection (Just keep him away from you Hulk Full-Size Head Bust - those two definitely don't get along!)!

$349.99 Suggested Retail Price
Strictly Limited!

For more information on Dynamic Forces specialty merchandise, product art, exclusive creator interviews and upcoming releases - including more Marvel Comics Product, please visit the Dynamic Forces website at www.dynamicforces.com

Dynamic Forces is the comic book and collectible industry's top producer of limited edition comic books, lithographs, and more.

A licensee of DC Comics, Marvel Comics, Top Cow Comics, Dark Horse Comics, Universal Studios, Paramount Studios, Pressman Film's classic film "The Crow", Sony Pictures "Underworld", T2, Sandy Frank Productions "Battle of the Planets (G-Force)", Jim Starlin's "Dreadstar" and many other industry giants, DF continues to set the pace in the comic collector and comic memorabilia markets. Recent product line expansions includes: action figures, vinyl and poly resin statues, lunchboxes, trading cards, lithographs, giclees, apparel and much more!