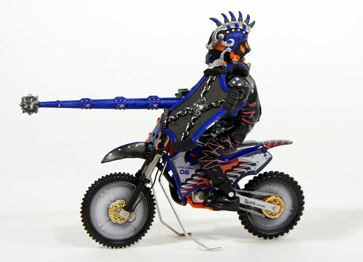 Lord Kong
ESCONDIDO, CA, (February, 2003) - X Concepts has set Toy Fair 2003 for the launch of a whole new world of futuristic medieval action sports figures called S.K.U.M.M.™ (Super Kinetic Ultra Magnetic Men), it was announced by Niveque Storm brand manager.

SKUMM™ are genetically engineered super soldiers infused with nano-technology. No longer used as soldiers they have been re-integrated into society as sports stars in the exciting sport of futuristic medieval jousting. The jousters use high-tech motorcycles and other battle vehicles for an exciting fusion of medieval combat and 22nd century technology.

"The story line for SKUMM is a very large part of the play value. The comics that will be published will help introduce the SKUMM world and the cast of wild characters for our spring launch of the figures," said Storm.

The S.K.U.M.M.™ are fully articulated magnetic action sports figures that are equipped for ultimate play. There will be 12 S.K.U.M.M.™ in all including: Demonicus, Doc Smiley, Jimmy the Torch, Lord Kong, Monty the Dart, Silent, The Zombie, The Pain Giver, Brandon "Naked Brain" Nelson, Grinder, The Shaman and Biohazard. Each one comes with full battle gear.

The comic series will feature the 12 new action figures hitting stores in spring 2003.To help introduce the world of SKUMM™ an introductory Issue "#0" will be offered online and sent to comic stores across the nation. SKUMM #1 - SOMETHING HAZARDOUS THIS WAY COMES, will debut in April from Digital Webbing Press, 24 pages, $2.95 US.

To enter the world of S.K.U.M.M.™ got to www.skumm.com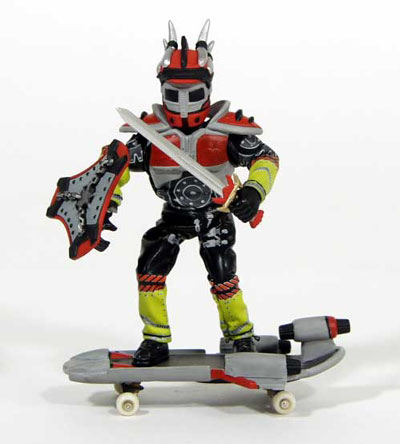 Grinder
(Read another press release about the new SKUMM figures and comic books, with a picture of the Biohazard figure.)