1:64 Scale Modifiers Vehicles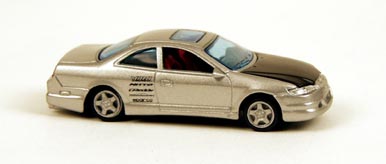 Escondido, CA (January, 2003) - Adding to the 1/43rd series, Modifiers die-cast collectibles are launching the 1/64th scale line. Series 1 is now available in mass retailers and specialty stores nationwide with an MSRP of $4.99.

With the same blueprint that made the 1/43rd scale so successful, Modifiers has taken their attention to detail and authenticity to a smaller 1/64th scale vehicle. Each vehicle will have a unique aftermarket kit, including carbon fiber hoods, custom seats, colored window tint, strut bars and adjustable suspension. The custom wheels can also be interchanged with other vehicles from the 1/64th scale Modifiers collection.

"The 1/64th scale is great because, like the 1/43rd scale line, it satisfies both the collectors and the car tuning enthusiasts due to the smaller size and attention to detail. Unlike anything else on the market, our 1/64th scale line has over 50 parts and retails for under $5.00," said Todd Ballard, creator and Product Manager.

Series 1 will launch with the following vehicles: 1999 Honda® Civic® SI, 1999 Mitsubishi Eclipse GSX, 2000 Acura® Integra Type R®, 2002 Cadillac® Escalade(tm), 1999 Honda® Accord® Coupe EX, and 2000 Ford F150 XLT. In addition, Modifiers(tm) has secured over 90 official licenses from the top automotive aftermarket companies.

Headquartered in Escondido, California, X Concepts® serves as the exclusive manufacturer and marketer of Modifiers(tm), which is available at retail and specialty stores across the United States and throughout the world. The 1/43rd and 1/64th scale die-cast collectibles feature officially licensed, interchangeable parts including engines, hoods, seats, rear windows, exhaust systems, wheels, tires, body kits, sound systems and adjustable suspension. More information about Modifiers(tm) can be found on the company's web site, http://modifierscars.com.