Eternal Toys Gives Fans 12 Inches To Die For
Chaos! Comics most popular character, the voluptuous Lady Death, is becoming a 12" action figure courtesy of Eternal Toys and Diamond Select.

The figure, which is clad in removable arm and leg battle armor (sorry, kids, the chest piece isn't removable) also comes with a gigantic long sword to allow Lady Death to live up to her name.

Lady Death follows hot on the spiked high heels of the just released 12" Chastity, and the soon-to-be released 12" Purgatori action figures.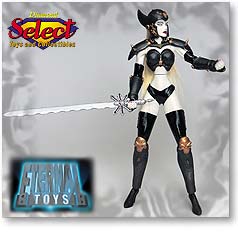 The 12" Lady Death action figure will be solicited in the February Previews (in comic stores on February 2nd) for an expected May shipment.
For information on ordering contact your local comic shop.
[Updated 1-21-2000]