15% Off Sale at Big Bad Toy Store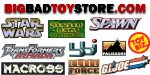 October 13, 2010 - (Sponsor Announcement) - Online retailer BigBadToyStore.com has several new items of interest to collectors:

-------------------------------------
15% OFF TOYS & 35% OFF GRAPHIC NOVELS
-------------------------------------

From now until Monday we've reduced pricing on thousands of in-stock items by 15%, and Graphic Novels are 35% Off. This sale does not apply to items with the 'New' or 'Preorder / Backorder' designation, but we've just removed the 'New' designation on several thousand items! Vintage Department, T-Shirts, Statues, Busts, Toys, Role Play, Games, Books and everything else is included - just browse or search for your favorite items and take advantage of the savings.

-------------
NEW PREORDERS
-------------

TRANSFORMERS UNITED TAKARA FIGURES The new Transformers United line from Japan picks up where the Henkei line left off, and includes Generations and Classics-type figures. We have 22 figures listed, from UN-01 Cybertron Mode Optimus Prime to UN-22 G2 Optimus Prime, with figures priced from $31.99 to $49.99. Some highlights from the line include Cybertron Mode Cliffjumper, Kup, Rumble & Frenzy and Wreck-Gar, along with a couple whose translated names still need to be learned. Check out the new listings and reserve your favorites now.

TRANSFORMERS 2011 VOYAGER SERIES 01 The newest assortment of TF Voyagers includes Solar Storm Grapple, Strafe and the first non-animated appearance of Lugnut. We have them listed individually at $24.99 for Lugnut and Strafe, or you can pick up a case of four (two Lugnut and one each of Grapple and Strafe) for $89.99. We've also just listed a set of three (one of each), at $74.99.

STAR WARS VINTAGE 2010 SERIES 06 A new assortment has been announced of the Black & Silver Vintage figures. They are listed as a set of 8, including a Super Battle Droid, a Senate Guard, Kit Fisto, Mace Windu, Jango Fett, Zam Wessel and Peasant versions of Padme and Anakin, and the set is priced at $84.99. We've also got them listed as a case of 12, adding Obi-Wan Kenoib, General Grievous, Darth Vader and a Sandtrooper, and that is priced at $104.99. Finally, We have singles listed of all 12 figures (although a few are currently sold out), priced at $10.99 - $11.99 each.

BRIGHTEST DAY SERIES 03 - SET, SINGLES DC has announced their third wave of Brightest Day figures at the convention. This wave consists of White Lanterns Flash and Batman, along with Jade and the new Aqualad, Jackson Hyde. We have singles priced at $17.99, with the set of four listed at $64.99.

GREEN LANTERN CLASSICS SERIES 02 - SET, SINGLES Mattel has announced almost all of the Green Lantern Classics Series 02 lineup. It includes Star Sapphire, Ion (Sodam Yat), a three-pack of Green Lantern B'dg, Red Lantern Dex-Starr and Sinestro Corps member Despotellis, a currently-unnamed Green Lantern Movie Preview figure and two packs with interchangeable heads and hands - Red Lanterns Skallox & Night Lik and Green Lanterns Nautkeiloi and Medphyll. We have them listed as a set of 6 for $89.99 as well as individually at $16.99 each. The set of 6 will also include all of the pieces for the Collect-and-Connect figure, Green Lantern Stel.

TRANSFORMERS SHARED EXCLUSIVE - DESERT DECIMATION LEGENDS BOX SET Our newest shared exclusive is the Desert Decimation Legends Box Set. It includes a black version of Ironhide, Ratchet with a dusty paintjob, Bonecrusher and Deep Desert Brawl. We have the set of four priced at $17.99, saving you 10% off the MSRP of $19.99.

PREDATORS 7" FIGURE SERIES 02 - SET, SINGLES We now have singles of the Tracker Predator and Unmasked Berserker Predator which are available for pre-order. They are listed at $15.99 each, or you can opt for the set of three which adds a Cracked Mask Battle Damaged Classic Predator, and is priced at $49.99.

LIVING DEAD DOLLS PRESENTS SCARY TALES: RED RIDING HOOD & THE BIG BAD WOLF A new set of 10" LDDP dolls is on its way from Mezco. This new set is the first of the Scary Tales items, and includes Red Riding Hood and the Big Bad Wolf. We have it up for pre-order, priced at $44.99, which will save you $10 off of the MSRP.

GI JOE 12" DUSTY Sideshow's latest 12" GI Joe figure is Dusty, the desert specialist. He comes with a large quantity of weapons, accessories and clothing pieces, so you can make him look like he did on the cartoon or like an actual combat figure. Either way, we have him priced at $119.99, $10 off the MSRP.

NYCC 2010 EXCLUSIVES We've listed four NYCC 2010 exclusive items. Tonner is releasing a DC Stars 16" Zatanna figure, which is priced at $174.99, and three Minimates Box Sets are coming out as well. The New Mutants get their first release with a four-pack of Cannonball, Karma, Sunspot and Wolfsbane, which is priced at $17.99. We also have two four-packs of Age of Apocalypse minimates, with Magneto, Rogue, Cyclops and Sunfire (Set 01) priced at $17.99 and Apocalypse, Dark Beast, Jean Grey and Wolverine (Set 02) priced at $16.99.

TF WAR AXE ACCESSORY This new item from the folks at Corbot V is a great accessory for the War For Cybertron Optimus Prime figure, and will allow you to display him as he appeared in the game. The War Axe accessory is priced at $17.99 and looks fantastic, even in the prototype pictures.

SCI-FI REVOLTECH #017 - SANTA JACK SKELLINGTON A new Nightmare Before Christmas Revoltech has been announced - Jack Skellington in his Santa Jack outfit. This figure includes Zero with a red nose as well as a sack and a base with a decorated christmas tree, and is listed at $43.99, with a November arrival expected.

TRANSFORMERS - IMPORT FAMILYMART EXCLUSIVES FamilyMart in Japan is having a special with a number of Transformers exclusives, and we've been lucky enough to get a hold of some of them for our customers. We have listings for two exclusives Animated Activators - Skywarp at $59.99 and Ramjet at $74.99. We also have listings for Animated Earth Mode optimus Prime (Matte version) at $89.99, a set of 4 partially-translucent EZ Collection Animated figures at $79.99, random blind-boxed Animated Mini Figures at $9.99 each and Figure & Strap sets at $8.99 each, and finally two different Animated 4.3" tall Glasses (Optimus Prime and Bumblebee) at $14.99 each. You can find all of them listed on the menu at the link.

CREATORS' LABO #028 SUPER SONICO BABY DOLL - REGULAR, DX These two new listings are for the Baby Doll figure, originally seen in the Super Sonico artwork. This figure come with a number of accessories such as two cats, replaceable clear articles of clothing and more, and is priced at $119.99 ($15 off the MSRP). We also have the DX version of the set listed, which adds a refrigerator, a guitar with stand, a green teddy bear and more, and is priced at $194.99, saving you $25 off of the MSRP.

STAR WARS LUKE SKYALKER CEREMONIAL JACKET & MEDAL SET This jacket is a replica of the one Luke wore at the ceremony at the end of "A New Hope". It also includes a replica of the Medal of Yavin given to Luke by Princess Leia, and we have this jacket priced at $259.99, saving you $15 off the MSRP. It is available in Medium, Large and Extra Large.

IRON MAN 2 - NICK FURY's COAT Our second replica is a duplicate of the jacket Nick Fury wore in "Iron Man 2". It is constructed of black leather and adorned with SHIELD logos, and is priced at $439.99, $35 off of the MSRP. This coat is available in Small/Medium and Large/Extra Large.

HARRY POTTER & THE DEATHLY HALLOWS 7" FIGURE SERIES 01 This first assortment of Deathly Hallows figures is up for pre-order and includes "Snatcher Case" Harry Potter, Severus Snape and Greyback. We have the set of three listed at $45.99, and it should be arriving in November.

NBX 8" ACTION FIGURE SET OF 8 This new set of Nightmare Before Christmas figures from Jun Planning includes Jack Skellington, the Mayor, the Pumpkin King, Behemoth, the Vampire Brothers, Sally, Dr. Finklestein and Santa Jack with Vampire Teddy. It is listed at $169.99, saving you $45 off of the MSRP, and should arrive this November.

EVANGELION 2.0 ASUKA VERSION 2.0 REVOLTECH FRAULEIN FIGURE This second version of Asuka Langley's Revoltech Fraulein figure has her in her updated plugsuit and includes accessories like six pairs of hands and three different faces. She is priced at $40.99, and is set to arrive in February of next year.

NBA SPORTSPICKS SERIES 19 - CASE, SINGLES The newest assortment of McFarlane's NBA Sportspicks includes Rajon Rondo, Steve Nash 3, Shaquille O'Neal 2, Lebron James 3, Amare Stoudemire 2, Chris Bosh 2 and Carlos Boozer. You can either opt for the singles, priced at $11.99, or you can grab a case of eight, which includes one of each figure plus a Chase or Collector Level figure, for $79.99.

NEW GRAPHITTI DESIGNS LISTINGS We have a number of new DC t-shirts and hoodies listed from Graphitti Designs. We have 52: Remember Bludhaven, Booster Gold Fan Club, Gotham City Police, New Parallax Symbol t-shirts and more, along with the Red Lantern Symbol hoodie listed. You can check out these new listings and more under the menus at the link.

NEW SKELANIMALS - PLUSH, VINYL, PVC Three new waves of Skelanimals figures have been announced by Toynami. Series 03 of the 8" Deluxe Plush includes Bill the Pig, Chip the Frog, Oliver the Owl, Pudge the Turtle and Timmy the Spider, and each is listed individually at $17.99. Series 03 of the 6" Vinyl Figures is also up for pre-order, with singles of Jae the Wolf, Pen the Penguin and Pudge the Turtle priced at $17.99 each. Finally the third box set of Skelanimals PVC Figurines includes Pen the Penguin, Pudge the Turtle and Jae the Wolf and is priced at $13.49.

TOY STORY STATUES - BUZZ, WOODY Electric Tiki is producing two new Toy Story statues. Buzz Lightyear stands 11.5" tall on his base, while Woody stands 14.5" tall on his, and each statue is listed at $169.99, $10 off the MSRP.

------------
NEW ARRIVALS
------------

BBTS EXCLUSIVE MACROSS ROBOT VINYL COLLECTION VOLUME 06 1/100 SCALE ZENTRAEDI HEAVY ARTILLERY BATTLEPOD The sixth figure in the Robot Vinyl Collection is our newest Big Bad Toy Store exclusive, the 1/100 scale Zentraedi Heavy Artillery Battlepod. This one is done in the green coloring from the movie and includes the Heavy Artillery pods on top, and we have it listed at $29.99.

32" MILLENNIUM FALCON RESTOCK Hasbro has done another run of the large Millennium Falcon ship that has been so popular. This ship comes with Han and Chewie ready to fly and has lights and multiple sounds and voices of different characters, and is priced at $184.99.

BOWEN DESIGNS 12" BLACK CAT STATUE This new statue of Spider-Man's on-again-off-again ally shows her in her shiny black outfit and stands 12" tall. We have it listed at $164.99, saving you $10 off the MSRP.

CHRISTOPHER REEVE AS SUPERMAN 5.75" BUST This new bust is being released in honor of DC's 75th anniversary and shows Superman with his fists on his hips as he appeared in the movies. This piece stands 5.75" tall and is listed at $69.99, $10 off the MSRP.

FFXIII PLAY ARTS KAI ODIN The Play Arts Kai Odin figure from Final Fantasy XIII has arrived. This fantastic figure can transform into a horse for your figures to ride, and is priced at $189.99, saving you $10 off of the MSRP.

UNIVERSAL MONSTERS SELECT CREATURE FROM THE BLACK LAGOON, MUMMY The first two releases in Diamond's new Universal Monsters Select line have arrived. The Mummy includes a big heavy sarcophagus and the Creature incldues a lovely victim on a display base. The Mummy and the Creature from the Black Lagoon are each priced at $17.99, saving you a couple of bucks each off the MSRP for the figures.

UNIVERSAL MONSTERS MINIMATES - CREATURE FROM THE BLACK LAGOON BOX SET The second set in the Universal Monsters Minimates line has arrived. This set includes regular and glow-in-the-dark versions of the Creature, plus Dr. Reed in diving gear and Kay Lawrence in swimsuit. This set is listed at $12.99, $3 off the MSRP of $15.99.

FREDDY KRUEGER GLOVE PROP REPLICA Just in time for Halloween, we've received a restock shipment of NECA's Freddy krueger Glove Prop Replica from "A Nightmare on Elm Street". It will make a great addition to any horror collection or Freddy Krueger (or other) costume, and is priced at $64.99 ($7 off the MSRP).

ROBOT VINYL COLLECTION 03 - VEHICLE VOLTRON The 9" Vehicle Voltron vinyl figure has proven to be almost as popular as the Lion Force version. This figure doesn't transform but has standard articulation and looks great, and is priced at $31.99, saving you $3 off the MSRP.

NFL SPORTSPICKS SERIES 23 - CASE, SINGLES This new assortment from McFarlane Toys includes Rashard Mendenhall 2, Michael Crabtree, Drew Brees, Tim Tebow, Miles Austin, Mark Sanchez 2, Brett Favre 6 and Donovan McNabb 4, and we have them available as a case of 8 (with one figure randomly replaced by a Chase or Collector Level figure) for $79.99, and singles priced at $10.99 each. We've also got the Brett Favre 6 in White Jersey Collector Level figure, listed at $19.99.

SUPER SHOGUN STORMTROOPER 24" VINYL FIGURE Super7 has just sent us another shipment of this fantastic new figure, and we've got a few left over after filling our pre-orders. This figure combines the style of "Star Wars" with the playability of the Super Shogun figures of the late 1970s, and even has a fist that fires off like a rocket punch. We have the figure listed at $259.99, saving you $40 off of the MSRP.

LPS SPOOKY TUBE HALLOWEN CAT & BAT SET This cute little two-pack is a great item for collectors and kids alike. It contains a cat dressed up like a princess, and the bat has purple wings with stars and moons. We have this two-pack listed for $7.99, and it's ready to ship out in plenty of time for the upcoming holiday.

TRANSFORMERS 2010 DELUXE FIGURES We've got new stock of a number of Deluxe TFs. We have the Series 04 set of Axor and Rescue Ratchet priced at $31.99, along with singles of Series 01 Ironhide, Series 02 Tuner Skids, and Series 01 Battle Blade Bumblebee, priced at $14.99, $13.99 and $9.99, respectively.

STAY PUFT CAFFEINATED MARSHMALLOWS We've received another shipment of the caffeinated Stay Puft marshmallows. These have been flying out the door, priced at $19.99 per box of 24.

TWILIGHT ZONE 8" FIGURE SETS We have two series of the new 8" Twilight Zone figures from Bif Bang Pow. Series 01 includes the Gremlin and Jason Foster from "The Masks", and they are listed as a set for $37.99. Series 02 includes Kanamit and the Devil, and they are also priced at $37.99 for the set of two. These figures are particularly great for fans of the original TV series, as they are done in the same black & white style as the show.

TRANSFORMERS ANIMATED ENCYCLOPEDIA (IMPORT) This new book has arrived from overseas, and includes black & white and color illustrations from the recent show, along with information that unfortunately is in Japanese. The book is listed at $34.99 and will make a nice addition to a Transformers collection.

NINTENDO ITEMS We've received a large shipment of Super Mario and other items. These include the Super Mario Figure Six-Pack, the second series of Nintendo Specialty Tins, Nintendo Plush Series 02, Super Mario Keychains Wave 1 and Mario and Yoshi Plush Backpacks. Take a look at all of the new items at the link for more information.

UFC ULTIMATE COLLECTOR LIMITED EDITION SERIES 04 - SET, SINGLES The fourth wave of Ultimate Collector Series limited edition figures has arrived. This set of 6 includes Bruce Buffer, Quinton "Rampage" Jackson, Royce Gracie, Cain Velasquez, Mauricio "Shogun" Rua and Brock Lesnar and is listed at $119.99 ($30 off the MSRP). We also have singles of Lesnar and Rua, priced at $18.99 each.

BigBadToyStore.com