Toy Vault Awarded Monty Python License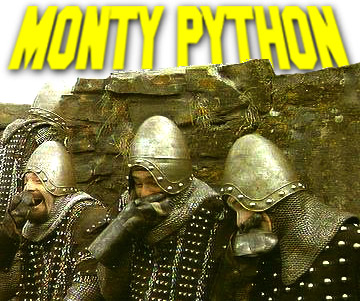 Toy Vault, creator of the Farscape, EverQuest, and Lord of the Rings action figure lines, announced today it has been awarded the license to produce a new product line based on the works of the British "ground-breaking" comedy troupe, Monty Python.
Python Pictures Ltd. has awarded Toy Vault the license to produce a new line of toys based on the British cult comedy series Monty Python's Flying Circus and the classic feature film Monty Python and the Holy Grail.
"Monty Python was one of the major formative influences of my misspent youth", said Toy Vault's creative director Jon Huston, "so bringing this line from concept to finished product is literally a dream come true. With so many cool characters and concepts to draw from, the possibilities are virtually endless."
Toy Vault plans to manufacture a wide range of Python products including 9" to 12" articulated and non-articulated dolls, some of which will feature sound and/or light-up features, little big head figures up to 5" tall, plastic key chains, plush and soft-sculptured toys and figures.
Monty Python was the collective name for 5 British comics, John Cleese, Graham Chapman, Terry Jones, Eric Idle, Michael Palin, and American animator Terry Gilliam. From 1969 through 1983 the "Pythons" appeared in 47 episodes of their BBC series Monty Python's Flying Circus, 5 feature films, and 19 record albums. With their outrageous blend of dark slapstick humor and edgy social commentary, Monty Python has become one of the most influential, and popular comedy groups of the 20th century. In recent years, the A& E network has been running the original BBC episodes, as well as making them available on VHS video and DVD, introducing a whole new generation to the wacky world of Monty Python.
Monty Python, and its off-the-wall humor, has become a part of our culture. Quotes and phrases from their skits appear in television shows, movies, and books. Allusions to "yes, a rabbit, but with big pointy teeth", and "what?…that?…mere flesh wound", have become a part of everyone's conversation.