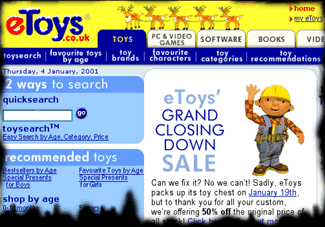 Failing online toy seller eToys Inc. will retire its 15-month-old European operations Jan. 19.
EToys.co.uk, which was suprisingly successful, but not profitable, sends a dark omen to other on-line retailers who are not faring well in this unforgiving industry.
"EToys.co.uk has performed really well, quickly becoming the number one retailer of children's products in the U.K.," a recent statement posted on the EToys site explained. "But unfortunately, the disappointing recent performance of the company as a whole and the negative market conditions have forced us to close down."
EToys Europe, garnered $2.4 million in its first six months of business. Sales doubled during the recent holiday period, and the customer base in Britain grew to more than 90,000. Though this may look promising, they expect their fourth-quarter 2000 revenue to land short of predictions.
Some collectors have found the UK site to provide items not available on our shores. A grand clearance sale at the site that offers a 50 percent discount through Jan. 19 on all products, could come as good news to consumers.
EToys' stock plummeted 72.73 percent to 28 cents a share Dec. 18 after the Santa Monica, CA, retailer said holiday sales were unexpectedly poor. Shares closed yesterday at 7/32, or 22 cents.
EToys estimated on Dec. 15 that net sales for the fourth quarter would hover between $120 million and $130 million. The retailer had said earlier that sales for that quarter would be $210 million to $240 million.
www.etoys.com lost its No. 1 rank in online traffic this holiday season to Amazon.com and Toys 'R' Us, that recently joined stores to sell toys online.
Through their partnership, Amazon and Toys 'R' Us report 123 million shopping visits. By contrast, eToys had 21.12 million visits.