Red Hulk, 100 Item Sale at Big Bad Toy Store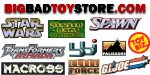 June 11, 2008 - (Sponsor Announcement) - Online retailer BigBadToyStore.com has several new items of interest to collectors:

Hi - Here is a quick update from http://www.bigbadtoystore.com about a wide variety of new preorders, many new arrivals, and a new clearance sale.

---------------
CLEARANCE SALE:
---------------

We've just slashed prices on 100 older, overstocked, and slow-moving items. There is a wide variety of product ranging from Transformers, GI Joe, and Star Wars, to a mix of obscure Japanese items and more. Take a quick swing through this menu for 100 great deals

--------------
NEW PREORDERS:
--------------

BBTS EXCLUSIVE MARVEL SELECT RED HULK The hot new Marvel title "Hulk" has been focused around the mystery of the who this new Red Hulk is, and what drives his anger. He's managed to take out the Abomination and other Hulk friends and foes, and his rage seems tempered by a sly intellect. Now BBTS is getting an exclusive Red Hulk Marvel Select figure in cooperation with Diamond Select Toys, and we'll have them ready for you come Setember! You can pick him up singly, or you can get a special set of the new Red Hulk with the classic Marvel Select Green Hulk!

TRANSFORMERS ANIMATED - LEADER ULTRA MAGNUS Standing tall, this Elite Guard Commander transforms form robot into a cannon-laden armored vehicle. Ultra Magnus has lights, sounds and speech, and he'll be on his way this August.

T2 60" STUDIO SCALE HUNTER KILLER This huge figure of one of the marauding airships of Terminator 2 is a truly impressive sight. The five foot long ship from Hollywood Collectibles not only comes with a Future War themed display base, but it also comes with eyelets to suspend it from the ceiling! This excellent piece is sure to be the center piece of any collection. This beast is priced $300 under MSRP at $3199.99

STAR TREK CLOTH RETRO WAVE 7 The Cloth Retro line of Mego-like Star Trek figures continues this winter with the seventh pair - Lieutenant Sulu and a Gorn warrior. Like the rest of the line, these figures display classic sculpting and cloth costumes with accessories.

FUTURAMA SLURM Finally a thirst quencher from the future! For Boston America and Futurama comes these cans of the brand new energy drink Slurm! Hopefully this beverage will taste good, though those are pretty long odds, considering it's worm of origin - Enjoy!

AVP:R COSBABIES This new line from Hot Toys continues with these cute Alien Vs. Predator: Requiem figures. You can choose from Predator, Wolf Predator, Ancient Predator, PredAlien, ALien or Battle Damaged Alien, or you can save a few dollars by picking up the set of six!

CLASSIC DOCTOR WHO SONIC SCREWDRIVER REPLICA Davis Marketing is producing a 1:1 scale replica of the original Sonic Screwdriver, first used by the fourth Doctor, Tom Baker. This wonderful collectible has a spring-loaded body to simulate the movement of the original, and comes with its own deluxe presentation case with etched brass plaque.

AMBUSH ON HOTH DIORAMA This diorama portrays the classic scene where Luke and his Tauntaun are attacked by the Wampa while on Hoth. Standing 18" tall by 19" wide, this large-scale display will look great in any collection.

ALIEN SPACE JOCKEY STATUE Originally designed by H.R. Giger for the movie, this amazing piece has been referenced from the actual production maquette which was made for the movie. This diorama of an alien creature manning a giant laser cannon is 18" long by 11" high, and should arrive in time for the holidays.

SHAW BROTHERS MOVIE FIGURES NECA is releasing a new line of figures from the classic Shaw Brothers movies. The first series is set to include the Abbot from The 36th Chamber of Shaolin, along with two other figures. Check out our listing for more details.

18" BEETLEJUICE The Cult Classics line brings us another great large-scale figure! This 18" tall Beetlejuice figure brings back Michael Keaton's great performance as the Ghost with the Most, complete with sound! This figure should be shipping this September.

GEARS OF WAR - 12" MARCUS FENIX Hot on the heels of the first wave of Gears of War figures comes this large-scale version of Marcus Fenix. At 12" tall he's big enough the take in all of the finely sculpted details, and he's sure to come with many accessories.

FINAL FANTASY XII FRAN & BALTHIER STATUE This 14" tall Sculpture Arts statue shows Balthier and Fran escaping out of a crumbling remains of the Palace of Rabanastre on the back of an airbike. The detailing on this piece allows for the realistic facial expressions and intricate sculpting of the building.

FINAL FANTASY VII PLAY ARTS ARMS COLLECTION Square Enix is releasing a new set of add-on weapons for the excellent figures of the Final Fantasy Play Arts line. From the classic Final Fantasy VII comes an upgrade weapon set consisting of Hardedge, Conformer, Fairy Tale, Dragon Claw and Death Penalty, so you can now have many new play and display options for your Play Arts figures!

HCM PRO GUNDAMS - SANDROCK, TALLGEESE, SHEN LONG Bandai is also continuing their Gundam Wing HCM Pro figures with these three latest releases. Sandrock, Shen Long, and the Tallgeese Gundam are all up for pre-orders, and will be coming in on a staggered schedule this fall.

RAMBO IV STATUE This 12" statue by Hollywood Collectibles shows Sylvester Stallone as the eponymous hero from his most recent outing. Crafted in polystone, these statues are then painted by hand for fine detailing to bring out the sculpt.

ICONIC REPLICAS - DOCTOR WHO & UFO: Check out a variety of new statues and replicas based on the properties mentioned above. These high end collectibles are all produced in quite limited numbers

TMNT BLACK & WHITE BOX SET Instead of trying to find all four Black and White Turtles individually, now NECA is releasing a box set containing all four of the turtles. This box set will include the individual weapons with the turtles, but not the display bases or extra accessories of the individually packaged turtles.

CHANGE-BOTS BALLS FIGURE The first in a new line of transforming vinyl figures from the art of indie creator Jeffrey Brown, the Change-Bot Balls can transform from golf cart into gun-wielding robot! Don't miss out on this first line from Devil's Due's new toys divison!

COMMANDER GREE PX BOBBLEHEAD A new bobblehead to add to the Star Wars collection! This Previews Exclusive bobblehead is of Commander Gree, and must have been sculpted quickly, since the poor trooper was there and gone in the blink of an eye thanks to Yoda's sharp senses. Pick yours up this fall.

INDY MIGHTY MUGGS WAVE 2 This wave of Mighty Muggs figures will have an assortment not limited to
just one movie. The original Indiana Jones Mighty Mugg is included here, along with Monkey Man from Raiders, Professor Jones from Last Crusade, and Mutt Williams from Crystal Skull.

BARACK OBAMA BOBBLEHEAD The presumptive candidate of the Democratic Party is already making history, and now he'll be immortalized in a bobblehead. Funko will be releasing this great new collectible in August, the base emblazoned with the phrase "Obama 08", and it will be able to speak "Yes We Can," Obama's signature phrase. Don't miss out!

BOWEN MARVEL STATUES - BLACK KNIGHT, QUICKSILVER (BLUE OR GREEN)
Three new Marvel statues have been announced by Bowen Studios. The Black Knight stands 14" tall and stands triumphant, thrusting the ebony blade into the sky. Quicksilver stands tall and proud at 12", and comes in either his earlier green costume or his later blue costume.

TORCHWOOD ACTION FIGURES First they brought us the Doctor Who figures, and now Underground Toys is importing the first wave of figures from the hit spinoff Torchwood! Wave One, which consists of Captain Jark Harkness, Gwen Cooper, the Cyberwoman and a Weevil, is available in the set of four, or you can order Captain Jack or the Weevil singly.

------------
COMING SOON:
------------

HALO 3 - SERIES 2: McFarlane will be shipping out the much anticipated second round of Halo 3 figures towards the end of June, to arrive in early July. These are moving well so be sure to get orders in now to ensure inventory is available once they arrive in July.

BATMAN - DARK KNIGHT 12" FIGURES: Batman and the Joker will be arriving to us in the next 2 - 5 days. DC has sold out of these on the wholesale level and we are trending that way as well. Reserve yours now at $74.99 each.

INDIANA JONES - WAVE 3: This wave contains some great figures from the 2nd and 3rd Indy movies, including the River Phoenix Young Indy, and Sean Connery as Henry Jones. Sets & Cases will be in stock next week.

WORLD OF WARCRAFT - SERIES 2: We've just heard that Warcraft will be shipping out from DC fairly soon - so look for them in several weeks. Preorders are available now at $59.99 for the set of 4

-------------
NEW ARRIVALS:
-------------

BBTS EXCLUSIVE CTHULHU STATUE Sota Toys brings us this great new Cthulhu statue sculpt, and we've not
only got their original Ultra Cthulhu statue in greens and browns, but we've also worked with Sota on a BBTS Exclusive Black Ultra Cthulhu statue, in Black and shades of purple, with violet-red wings. You can pick up the original for $199.99, the Black BBTS Exclusive version for $249.99, or save $50 and get both for $399.99!

TF ANIMATED - DELUXE, VOYAGER, TWO-PACK We've just received our first shipment of Transformers Animated toys, and they turned out great! We've got the first two waves of the Deluxe figures, including Optimus, Bumblebee, Blackarachnia & more. We've also got some of waves 1 and 3 of the Voyager-sized figures, with Megatron, Starscream, Bulkhead and Lugnut available, as well as a two-pack of Grimlock and Lugnut. We've also got the TF Animated: The Battle Begins box set, with deluxe-sized battle-damaged Cybertron mode Optimus and Megatron figures, along with a DVD featuring the title episode.

18" ALIEN FIGURE NECA's released a great new 18" figure based on the title monster of 1979's "Alien" hit movie. This figure is huge, well articulated, and too scary to run into in an alley on a rainy night! Pick one up for your collection today!

MP-05 UPGRADE KIT One of our contacts has managed to find us another shipment of Masterpiece Megatron Upgrade Kits. These die-cast and plastic pieces replace the flimsy handle pieces on Meg's legs and also include pieces to make Megatron's cannon and allow him to transform into full gun mode with silencer and extended stock.

BATMAN: KILLING JOKE BOX SET This DC Box Set includes the 48 page Prestige Format Special "The Killing Joke" as well as action figures of Batman and the Joker in their outfits from the story. The book gives us a possible origin for the Joker, and has him trying to prove that anyone can 'lose it' from just one bad day.

HIGH DREAM 24" MAZINGER This great vinyl figure is a great way to relive the Shogun Warriors classic toys without the classic toy price tag. Standing a full two feet tall, this Mazinger figure is cleanly sculpted and has quite the heft, yet it's priced at a mere $131.99 - pick yours up today!

GENESIC GAOGAIGAR CMS has shipped us the newest of the Brave Gokin figures - the Genesic GaoGaiGar! Made of die-cast metal and ABS plastic with PVC joints, this final Yuusha Ou figure comes with scads of accessories and can separate into six individual machines and combine into the great GaoGaiGar.

IMPOSSIBLE TOYS - KREMZEAK, QUINT-02, QUINT-03, QUINT-04 Impossibel Toys has sent us a large shipment of Transformer accessory figures, and they're all ready for ordering! In addition to refilling our G1-scale Spike and Sparkplug figures and Light-Up Energy Cubes, we've also got plenty of Kremzeak light-up figures, and Quintessons aplenty - from the Quint-01 Judge, the the Quint-02 Scientist, the Quint-03 Prosecutor and the Quint-04 Executioner. Pick up a few of these great figures and add them to your Tranformers and Transformers: the Movie collection today!

PALISADES BUMBLEBEE STATUE We found a few of these great statues to list, and they're all ready to go. This statue is a limited edition of 1000 pieces, and show Bumblebee full-body, fashioned after his appearance in the G1 cartoon. His face is painstakingly sculpted into the friendly minibot that we all know and love, and he comes with an Autobot symbol display stand.

HALO 2 CLEAR MINIFIGURE 5-PACK From the now-defunct Joyride Studios comes this multi-pack of miniature Halo 2 figures. It includes a colored miniature version of Master Chief, as well as clear versions of two Grunts, Master Chief and an Elite.

YAMATO GN-U DOU BATTROIDS Yamato's new line on GN-U Dou figures features robot toys from many shows in ~6" scale with great articulation. The newest releases of these are three battroids from the Macross Plus anime. You can choose from the gray VF-11B, Isamu's tan YF-19, or Guld's blue YF-21, all in stock now!

AVP:R REQUIEM 1 & 2 SETS We've just re-upped on the great figures from NECA for this movie. We've got wave 1, comprised of the 8" Alien Warrior and PredAlien Hybrid, and wave 2, consisting of 8" Masked and Unmasked Predator figures. They're all in stock now, so take your pick!

SERENITY LUNCHBOXES - SERENITY, FRUITY OATY BAR Dark Horse has just released two new lunchboxes from the popular Firefly/Serenity sci-fi franchise. The Serenity Lunchbox features the Serenity logo on one side, and the ship itself on the reverse. The Fruity Oaty Bar lunchbox features the dynamic Fruity Oaty Bar logo one the front, with the Fruity Oaty girls in a forest on the back.

SHURAKI - NEEDA PVC FIGURE Needa is the fourth figure in the Shuraki multimedia series of PVC figures. Designed by master Shunya Yamashita, this warlike lady is in a military-esque outfit with jack boots and a mini-skirt, and includes some optional clothing parts, a knife and a big old bayonet, to boot!

IKKI TOUSEN - KANU UNCHOU CERBERUS VERSION This exquisitely crafted figure of one of the fighting girls of Ikki Tousen, Kanu Unchou. Kanu is dressed in her school uniform, which consists of a black midriff-bearing jacket, a white mini-skirt, and white leg warmers. This figure shows her wielding her signature Crescent Blade.

BigBadToyStore.com