| | |
| --- | --- |
| | |
N2 Toys Crocodile Hunter toy line will also feature several kid-size role play accessory items that will enable kids to further immerse themselves in the Crocodile Hunter's world.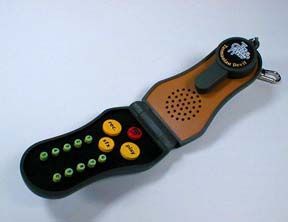 TheCrocodile Hunter CrocTalk Recorder is a high-tech record/playblack module that contains state of the art voice chip technology. A library of digital voice information (recorded by Steve Irwin) for 50 wild animals can be accessed by entering the correct numerical codes. Also, use the CrocTalk Key (included with all the Crocodile Hunter plush toys) to access even more animal trivia - all digitally recorded by the Croc Hunter himself. Also has record/playback functionality so kids can record their own observations while on the hunt. The CrocTalk Recorder features handy flip phone styling and belt clip for easy storage on your own Outback adventures.
The Crocodile Hunter Binoculars serve as an actual working pair of binoculars, but with a flip of the switch it goes from traditional binoculars to a special viewer where you can see nineteen exciting scenes from The Crocodile Hunter television series.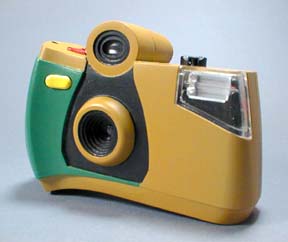 The Crocodile Hunter Croc Talk Talking Camera is an actual working, rugged 35mm camera that features special Croc Hunter styling. Press the shutter to hear one of several fun "Croc-isms" like "By Crikey!" The camera also adds a fun crocodile border to all the photos. This is the perfect camera for outdoor (or indoor) wildlife photography.
The Crocodile Hunter Outback Adventure Kit is a kid-sized, high-quality Croc Hunter backpack with two zippered compartments, containing a real working headlamp for night time adventures and a deluxe multi-functional kid adventure tool with magnifying glass, compass, ruler and "creature capture" tweezers.
[Home] [News] [Forum] [Features] [Columns] [Archives] [Custom] [Newsletter]
[Shop Center] [Chat] [Resources] [Contact] [Sitemap] [Privacy] [Toy Shows] [Links]