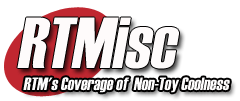 Rogue's Gallery Venom Bust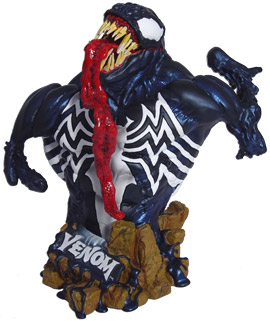 Hate is a powerful thing. Hate can destroy places and ruin lives. As a force, it is usually divisive and it tends to tear people apart. At times though, the worst thing happens and that hate can be used as a unifying force. When you have people joined together from hatred, you've created a very dangerous thing as seen in Germany in the 1920's and 30's. When Spider-Man's former costume joins with a person who hates Peter Parker, the results are not so global, but what is created is bad news for Spider-Man. Bad news.
The story starts sometime before today, as time in comics is notoriously hard to track. During the original Marvel Super Heroes Secret Wars, Spider-Man is on another world (that was created for heroes and villains to battle) and he operates an alien machine. Out comes a black ball of goo that turns out to be a new black costume that can shoot webs, and even change into different clothing. The costume isn't really a costume, but an alien being that really, really likes living with Peter Parker. It likes him a little too much, and when he learns it is trying to permanently bond to him he takes steps to get rid of it since it seems vulnerable to sonic energy.
The other half of the odd couple is Eddie Brock, a journalist who was working on a story of the Sin-Eater murders. Things didn't go well since his expose wasn't entirely accurate, and he blamed Spider-Man because the webhead captured the real Sin-Eater. You can see the problem. The end result is you have someone who really hates Spider-Man.
Just like an omelet, after you break some eggs you have to mix them, and this is just what happened. The symbiote was hurt and joined with Brock, and the two found their shared hobbies to be a great relationship builder. The new being called itself 'Venom' and basically went insane in its hatred for Spider-Man. The worst part about it was that it also knew who Spider-Man really was, so it could harass him and his family.
Venom is sort of Spider-Man's evil twin brother, and his powers mimic Spidey's fairly well. He can climb walls and shoot out webbing, and he has a sort of danger sense. The one thing that he doesn't do is set off Spider-Man's spider-sense, and this lets all manner of fun things happen because now he has the ability to throw Peter a surprise party and he won't know.

The Rogue's Gallery is produced by Diamond Select Toys and designed and sculpted by Art Asylum, and this is an outstanding line of mini-busts. The reasons are myriad, starting with subject matter. All the characters are villains, and it's nice to see the bad guys get some reward for defining the heroes they fight. All the busts have unique looks and designs, and they have integrated the base into the design of the bust. This feature alone sets them apart from most busts on the market, who have taken to either simple bases or common bases for pieces within a line.

Venom is the last in a string of Spider-Man foes that has dominated the line so far and they saved Spidey's most popular foe for last. It started with the Lizard, then moved on to Sandman, Venom's offspring Carnage, the Kingpin, Kraven the Hunter, the Vulture and then The Scorpion. Next will be Sunfire and the Mandarin, so the villains are expanding though they may return to Spidey's favorites in the future.

One of the conditions that Art Asylum placed on doing the Rogue's Gallery line was that Digger would get to sculpt the Venom piece for the line. This is the first time in a while that Digger has had a chance to put hands to work sculpting (since he's been busy with the business end of the company), and the result is a wild piece that fits the extreme nature of Venom like a symbiotic alien bodysuit. And remember, Digger isn't just a member of Art Asylum, he's also the president!

For the Venom bust, all the stops have been pulled out and so has the tongue. Venom has always been portrayed grotesquely and the bust has a huge tongue lolling out of a huge maw filled with pointed and unbrushed teeth. There are no arms for the figure, as is the standard for the Rogue's Gallery, and the body has subtle washes in metallic blue to accentuate the shading. Venom appears to melt into the base, made of a pile of bricks, along with a nice logo. This is what your Venom action figures will look like if you leave them on the radiator.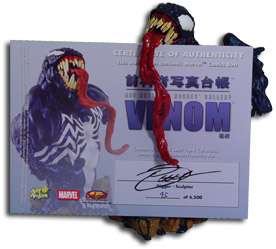 The Venom mini-bust is limited to a run of 6500 pieces and it comes with a full-color certificate of authenticity. The certificate is signed by Digger and numbered, and sealed in a plastic bag taped to the side of a piece of Styrofoam. That piece has a twin, and together they keep the bust safe inside the box. The box itself is nearly all white, with some background information on Venom on the back, and the concept art drawing. It also has nifty Japanese writing that is simply a translation of the English on the box to ensure it meets language requirements in Madeupistan.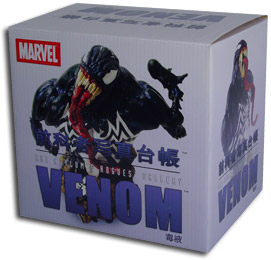 More Pictures of Venom
Where to buy the Venom Bust: This piece is limited to a run of 6500, and you can find it at your local comics shop and various online retailers such as TowerRecords.com for between $35 and $45 USD.