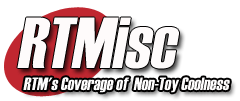 Rogue's Gallery Kingpin Bust
Some men are born great, while others have it thrust upon them. Still others scheme and plan and eventually steal that greatness for themselves. Wilson Fisk, a humble dealer of spice, falls into the latter category. The greatness he has gained has made him rich, powerful, and the kingpin of crime on the American East Coast. It also makes him a criminal, though his crimes have never been traced back to him in any official capacity, but a great criminal nonetheless.
Don't be fooled by the portly portrait of the Kingpin, because he isn't just a pudgy person. He's packed solid with muscle and he's highly trained in the arts of hand-to-hand combat, especially sumo wrestling. As a child he realized that to be the best he could it would require not only an iron will to survive and succeed, but also physical strength and prowess. To that end he rigorously trained his body in fighting styles and building his body while nourishing his mind with books. That the books were stolen didn't matter to him, and his interest in political science would eventually lead him to develop leadership strategies he would later use to build his own gang.
At age twelve he was a murderer and at thirteen a teenager. As he grew in strength and knowledge he built up not only a network of illegal activities but also legitimate businesses, starting with a spice company. Thankfully he used his knowledge of business and political science not as a politician, but as a criminal, which could do less damage. It wasn't long before he had a wife (necessary to disburse his funds) and had risen to be the top criminal in New York. His legitimate businesses allowed him to maintain a public life, so he became part of the New York social scene.
His attempt to unify all the gangs under his control backfired and he was thwarted by Spider-Man and publicly revealed as a criminal by Daily Bugle publisher J. Jonah Jameson. While this public outing would normally be rewarded with a powerful position in either the Democratic or Republican Party, it just served to make him mad. Over the years he has had many run-in's with the wallcrawler, and his first appearance was in Amazing Spider-Man #50, back in 1967. He deserves a prominent spot in Spidey's Rogues Gallery, though he's the top dog on Daredevil's 'I don't like you' list. He is so intertwined with Daredevil that he'll be making an appearance in the new Daredevil movie, played by big guy Michael Clarke Duncan.

Being part of Spider-Man's Rogues Gallery is a prerequisite for inclusion in the Rogues Gallery series of busts from Art Asylum and Diamond Select Toys (DST). The line celebrates the classic villains of Marvel Comic' spokesman, and the Kingpin is the fourth one. He bats clean-up after the Lizard, Sandman and Carnage, and is to be followed by Kraven, the Scorpion and Venom. All the busts in the line are sculpted to the same scale, which is slightly smaller than the Ultimate busts from DST, larger than the Bowen busts and much smaller than the Dynamic Forces busts. The Kingpin stands a stately 6'7" tall in the comics (and about 18 feet around) and his mini-bust is six inches tall. So you get a six-inch bald thing with a ring - perhaps we should stop now.
The Kingpin of Crime appears as he did early in his career, with two working eyes, a generous midsection and smoking (back when it was safe). The Kingpin may change his brand of coffin nails from a cigar (which keeps pretty much everyone away) to a cigarette, both of which are removable and exchangeable from his mouth. Remember kids, smoking is bad for you and the surgeon general says that you shouldn't do it unless you are a movie director or producer who would like to get that tobacco money so your characters will smoke a lot in your movies. If you are, change your name to Smith and be silent about it!

See the Big Picture
The subject of a fat guy smoking may not lend itself to the most dynamic pose, but Art Asylum has taken the character and designed the overall piece to better show the man not through simple posing but also through the base design. The base looks like a large gold ring emblazoned with the letter K, and it rings a city skyline. The Kingpin's bust rises from the tops of the buildings that he rules over, showing him to be the most powerful man in the city. It also shows he's the fattest cat in the whole town, with girth that eclipses the light from shining on the city. At least it keeps people dry when it rains.
Today's RTMisc is brought to you by the letter K and the number 6,500, which is how many Kingpin busts they are producing. If you want to buy ten of them and then try to knock them down with a Bowen Mysterio bust that is certainly your business. All 6,500 of them come in nice white boxes, with text in English and Japanese and a design sketch on the back. They all also include a full-color certificate of authenticity signed by Digger, which you can flip over to use for keeping score if you do go bowling (and actually know how to keep score). The bust is also packed in 6,500 identical halves of Styrofoam, making that just as limited as the bust but far less colorful. He isn't articulated because he's a bust, so go look at the pictures!!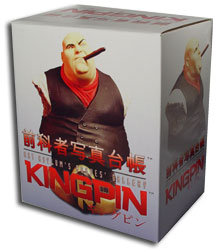 More Pictures of Kingpin
Where to buy the Kingpin Bust: This piece is limited to a run of 6500, and you can find it at your local comics shop and various online retailers for between $35 and $45 USD.