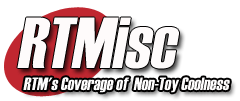 Yoda Mini-Bust
The Star Wars movies have long been fertile ground for merchandising. Every conceivable product (and few that probably shouldn't have been conceived) has been made for characters and equipment from one or more of the five movies in the series. One of the latest additions is a line of mini-busts of characters from Gentle Giant Studios, a line that looks to set a new standard for Star Wars statuary. One of the standard bearers is the Jedi Master Yoda.
When Yoda first appeared in The Empire Strikes Back he wasn't 'a' Jedi Master, but 'the' Jedi Master, as in the only one the audience had been introduced to thus far. He was small, full of wisdom and hidden power, and he didn't even have a lightsaber. His lack of overt weaponry enhances his power and also shows he practices what he preaches, since he always says the force is only for defense. His lone status as Jedi Master would change as more was revealed of the past.
When Yoda re-appeared in the prequels it was as the head of the Jedi Council, which basically meant he was considered the top Jedi, even among the faithful. Even so, he was still full of quiet and simple wisdom, and is slow to take a direct role in things relying on the universe to unfold as it must. That and he's lazy, since he has a floating chair to get around just like overweight people at Wal-Mart. The difference is that he can use his Jedi Mind Trick on the greeter, and most people can't.
The mini-bust for Yoda has been informally dubbed 'enter the Muppet', to comment on his origins and his fighting style. Yoda began life as a puppet that was voiced and performed by Frank Oz, whose other famous characters include Miss Piggy and Fozzie Bear from the Muppet show. Oz is one of the world's greatest puppeteers, and his work on Yoda is exemplary. Oz's voice has been retained in the prequel films, but in parts of The Phantom Menace and in all of Attack of the Clones, Yoda has been created digitally and is no longer performed as a puppet.

Being an entirely digital character has freed the character from some of the limitations it previously held, and now Yoda can be seen in action. For the final duel of Attack of the Clones, Jedi Master Yoda must confront Count Dooku. Dooku makes short of work of both Anakin and Obi-Wan, but not so with Yoda as the diminutive master puts on a display of swordsmanship. His fighting style might be described as 'Tasmanian', but in the end their fight is a draw. You can rest assured that both will be back for Episode 3.

Much of the work that consumers are familiar with are action figures that either have scanned heads and/or scanned bodies and props. The action figures from Lord of the Rings (from Toy Biz) and Enterprise (from Art Asylum) have used the scanning process to build facial sculpts, though these are on a very small scale (around 1:12). The process of shrinking means that some details are lost, and so using a larger scale works well to bring more detail.

The scanning process is merely the start of the road to a product, and the artisans at Gentle Giant take the raw scan data and make a hard copy. From there they will work at it to tweak it until it is as perfect as possible, and from there it will eventually be painted and make its way through the approval process. After that they can push it on the way to being a production piece, ready to adorn someone's shelf.
The scaling on the Star Wars mini-busts fits in roughly with Diamond Select's Rogues Gallery busts, so the two lines can peacefully co-exist on the same shelf. The scaling is close to that of Sideshow Toy's Star Trek busts, though many purists won't be mixing the two lines. Yoda is only four inches tall, but he doubles it with his saber. The busts use a standard base design with a simple, classic look and they are numbered on the box and under the base.
For this bust, Yoda gets to keep his lightsaber while Darth Vader has to resort to the 'old choking trick' instead. Results may vary. Yoda is posed for action, though he is not actually in action. This pose is more exciting because it is the anticipation of the action that will unfold in the mind of the viewer. If you don't believe that, read How to Draw Comics the Marvel Way and be educated! Yoda's hand comes off with the lightsaber stuck in it, and this is more a result of packing concerns than a result of training Obi-Wan.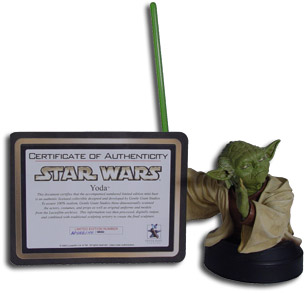 Yoda gets the same treatment as Vader in that there are 3500 pieces in his run, and they were both released in December of 2002. Next is a Boba Fett bust that has been slightly delayed so they could make more due to high demand.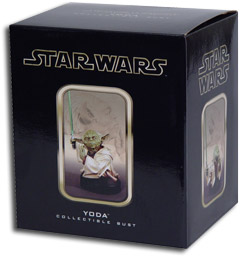 More Pictures of Yoda
Where to buy Yoda: This mini bust is a limited edition of 3,500 and it retails in the $39 to $50 USD price range. Star Wars mini busts are available at trend and specialty stores, as well as various online toy and collectible retailers.

Several such online stores are RTM sponsors AisleSniper.com, The Outer Reaches, Beanstoys.com, and Action Figure Xpress. (Be sure to check the other RTM sponsors, listed on the Shop Center.) If you can't find Yoda at retail, you may want to try checking eBay.