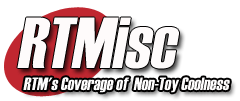 The DC Comics Action Figure Archive
by Scott Beatty
Every year there are a variety of books written about toys. Some are about the history of toys, some cover the industry itself and most of the rest cover Star Wars in some fashion. For once, there's a book about DC Comics toys that will be hitting the shelves just after Christmas 2007. It provides a comprehensive look at these toys, but it also suffers a lack of detail in some areas.

RTM was provided a copy of this book prior to the general release so we could provide an advanced look at what is within. Our copy isn't any different than one you would purchase, so even though it is advanced it is still just the same regular book. Books actually get produced before hand and reach stores on a timeline, unlike most toys!

What You Get

At-A-Glance:
• DC Comics Action Figure Archive
• From Chronicle Books
• 9.25 x 12.25 x .75 inches
• 208 pgs • Full Color, Hardcover
• $40 SRP



When your subject matter is 'DC Comics Action Figure Archive' you have a lot of ground to cover, and that's what you'll see in this tome. It really does cover a variety of lines from many manufacturers, from older Mego figures to the latest from DC Direct and Mattel. Well, latest is a relative term, since the book was published in the last half of 2007.

The focus is on action figures, so vehicles and playsets are not generally included. While there might be a whole book on just Batmobile toys, this book doesn't cover them all nor does it delve into other know vehicles and accessories in any depth. There are a few vehicles and playsets mentioned here and there but generally they aren't covered with any depth.

You get action figures, just like it says on the cover, arranged in alphabetical order, and the 'F' section is surprisingly small. We're talking loose action figures, because the book never goes into any of the packaging in any detail. It has no pictures of any of the toys unopened with the exception of the front and back covers of the book and a small sidebar in the 'R' section that details the 'recloseable' packaging that DC Direct used very briefly in 2002.
There is an obligatory introduction and a 'how to use the book' guide. It also has two small sections on scale and articulation. The mini-guide to articulation helps explain the articulation counts, but really doesn't go beyond simple numbering of the points. The scale guide is a little perplexing because it really isn't scale but size. For example, Mego's Aqualad is listed as a 7" scale and Mego's Aquaman is listed as 8" when both should be listed as the same scale, just different sizes because Aqualad is smaller than Aquaman.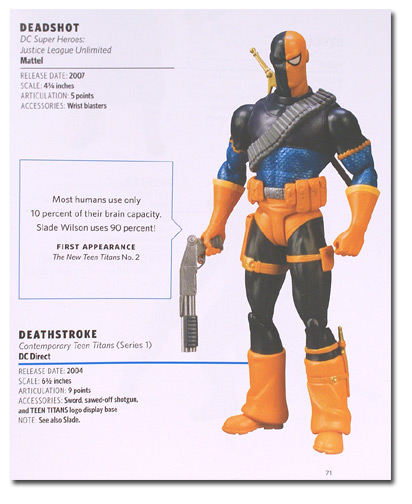 You get some basic information on every figure - the name, release date (only the year released), scale (really size), articulation count (number only), any accessories, the manufacturer and the line to which the figure is associated. You also get any action features and a list of variants if they apply.
The book was written by Scott Beatty, a former Toyfare magazine editor and he was aided and abetted by 'experts at DC Comics'. I think this alone explains why scale and size are confusing! The dust jacket isn't anything to write home about, but the actual cover (shown just above) of the book makes it look like a packaged toy, with the Captain Action Batman set on the front and a DC Direct Jim Lee Batman on the back.
The Good
The best thing about this volume is the breadth of action figures that are included. It is simply the most complete guide to DC Comics action figures yet created. It boasts coverage of over 1400 action figures, and the research that went into it was extensive. It does have over 600 photos, all of them nice and clean and easy to make out.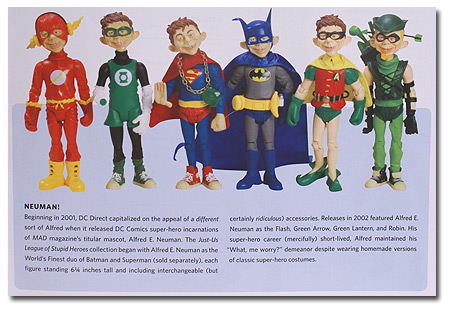 Some of the lines have text associated with them and there are several sidebars throughout the book to cover some of the sublines (like Justice Lords for JLU or the Alfred E. Neuman DC Direct figures). There is also a bit of trivia sprinkled throughout, with some about the figures and some about the characters.
The Not So Good
You probably remember the over 1400 figures covered? Well, there are over 600 photos, and simple math (or not so simple if you're Barbie and math is hard) reveals about 800 figures that don't have photos. Basically, over half of the figures are only documented with text, so using it to identify loose figures you may find will be hit-or-miss.
The design of the book is also very textbook-like, so you have many white pages with a smattering of text entries mixed in with pictures. It's more functional than arty, so you'll have to decide which you prefer. It does get the information across, though for my tastes it is a bit plain even though the tops of the pages are color-coded by letter (one thing I do like about the design).
There is no index, which I can understand being left off due to the alphabetical nature of the book but still seems an unnecessary omission. For example, all the Minimates are listed under 'Minimates' in a sidebar rather than being entries under the characters that they represent. And index would alleviate this problem.
Conclusion
This book is kind of a mixed bag. It does have a ton of action figures covered within it, but it is spartan in the information it provides. It doesn't have photos of over half the toys covered, so using it as an ID guide isn't possible to any real extent.
It is a great start to a DC Comics action figure archive and has plenty of basic information, but it is far from a complete guide to the same. It is a good reference but only for the most basic details and it doesn't delve too deeply into the individual toys or their inspirations.
The real problem with this book is the scope. This is vast, covering so many lines and manufacturers that it would be impossible for any single volume to cover all of it with any real detail. It is a trade-off that you have to make, and it does a great job of covering the breadth of DC Comics action figures.
To use a metaphor, the river is wide, but just not very deep - it covers lots of ground but you can wade across it.
Where To Buy
The retail price for this book is $40, but you can get it for $26.40 from Amazon. It is up for pre-order as of this writing and is due for release on December 27, 2007. If you're going to buy it, I would suggest getting the lower Amazon price, especially when you can get free Super Saver shipping. And if you order it through them, using the RTM Amazon link is good karma, and has been known to grant total consciousness on one's deathbed in some cases.
And if you enjoy books on toys, probably the very best is TwoMorrow's Captain Action reference, and we've covered a few others listed below. Also, be on the lookout for a detailed review of TwoMorrow's Mego World's Greatest Super Heroes volume, on the way soon.
---
More book talk on RTM: