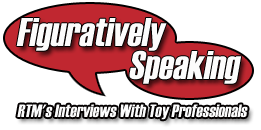 Figuratively Speaking
with Jason Choy
June 2003 - Ching Head - a Sit-Down with Jason Choy
By John Wong, Action-HQ.com
Sitting at Brown House Coffee, Ringo Ngo the Business Director for Ching&Co mention that a meeting Jason Choy, creator of Ching&Co, was harder than one would realize. Jason, a tall long hair artist type, listens and laughs at the supposedly other interviews that he has given to various magazines and websites. He did agree that he does keep to himself a lot. Ringo sits back weary eyed with a smoke ready to jump in at any signs of anything miss-said as we roll into the interview.
As with most designers making their own toys, I always wonder (and imagine many of you also) how they came up with the idea for their figures. I mean it is good to know when things come out and so on but what are the products really about. As the discussion grew, it seems that the all too recognizable Ching Head is more than just that. There is in fact a Ching empire!
But before we get into that, we might as well start from the beginning:
[Translated]
John > Jason, tell us about Ching&Co?
Jason > Well, I'm a collector and I got into vinyl making about 2 years ago. I was looking at all the designer toys that were coming out and notice that they were mostly urban and hip-hop, very non-Asian. And I thought why not something Chinese; I mean why not provide collectors out there with something else. That is how I started Ching&Co and Ching Head.
John > Ching Head is very Asian and in fact, it is a Chinese soldier from the Ching Dynasty. So why that character in particular vs any other?
Jason > I always wanted to do that figure and since no one was making it, I had to do it myself. However, I knew I had to make it more modern and attractive so I added in Western aspects like the changeable sports shoes and the likes. Actually, when I first started on him, I was told that no one would like it [because it was too Asian] but now, you can see other designers adding in an Asian-style.
Potato Wheel
click to see a large collage image (about 115k)
John > Your next figure was "Potato Wheel". How you come up with him and why that name?
Jason > "Potato Wheel" is a old-style Chinese executioner similar to the hooded executioner in old Europe. I named him "Potato Wheel" because his color and shape is like a potato and he is round like a wheel. He is actually part of my Ching City series I.
John > So there actually is something behind the figures. I was wondering about that as there is a progression. Can you tell me more?
Jason > Yes it is. There is a whole story behind Ching City. Actually this will be the first time I have talked about this. [Looking at Ringo] I'm not sure if I should be saying this but I guess Ringo will stop me... Well just a little. It is very complex. The characters of Ching City will revolve around the plot and mystical artifact called the "Royale Mystery". It is a puzzle of a sort and when unleashed, is a time machine. Now you see why they have an amalgam of items such as the sport shoes. That is all I can say right now.
John > Very interesting. [Readers, you heard it first here!] Tell me more?
Jason > Well our next character is... uhmm [looking at Ringo] ... is "Dead Skin". He is a criminal. Things are unfolding now, huh, haaa. He is called that because he has course skin like a dead person. He also has stitches across his face like a pirate and a tattoo on his back. I will get you some pictures when we are ready to show them. I cannot right now as there are too many people making fakes right now and they can do them in 2-3 weeks. Anyway, then in the next Series, I am looking to create the King of Ching City and Jester, etc.
John > Yeah, that topic about fakes needs further discussion but perhaps another interview. So with the figures and story, will there be a comic?
Jason > It is too much work for me right now. It was either the figures or the comic and I am still tying down some of my ideas. However on the new packaging, we will include some of the story line. Actually you can see it in the "Chung Shan" packaging.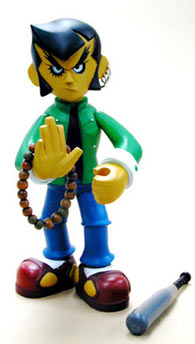 Chung Shan
click to see a large collage image (about 115k)
John > Yeah, what about "Chung Shan" and how does he fit in?
Jason > He is under Ching&Co label but under a different series called "Out of Town". I would like to note that this line is for more our price-conscience consumers.
Chung Shan is a Westernized Chinese who has found his inner Chinese-self amongst Western ideas. As you can see from the prayer beads and by his arms and hands, I have posed them in a very Buddha-style position. Anyway, the story revolves around this character. You can find out a little more on the packaging. I am looking to produce his brood probably next year. And am examining the relationship between him and Ching City plot together. There is the "Royale Mystery"!
John > Things seem very planned out and I am glad as not many have the foresight. Another question, I think readers would like to know is why you always have an "Anti-" figure?
Jason > Everyone has a dark-side and that is wear it came from. We all have two faces, a balance like Yin Yang. The color schemes chosen very much reflect that. And it is better than calling it this X-version or color-variant.
John > Fair enough. Any last words?
Jason > Though I am a collector and understand why people do not open their toys, I would like people that buy them to actually appreciate them by taking them out and playing with them. I created a lot of accessories just for that purpose. For "Potato Wheel", it comes with 5. No use leaving them in the bag. Be such a waste otherwise.
---
After our sit-down, there is a deeper understanding and appreciation for Jason's work. Where a lot of toy design/concept influence is from the West, he has actually rebuked this like some of the Asian toy designers and set his own style. Then there is taking the best of both East and West in thought and idea, and the "Anti-" thing with Yin and Yang. Something for all to consider. This is the first time he has expressed his ideas and lets hope that we get to see more of Jason's work soon.
The Plug: Buy Jason's figures at Action-HQ.com. Guaranteed lowest prices anywhere.
click to visit Action-HQ.com
Images courtesy of Action-HQ.com.