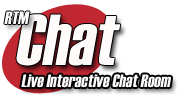 Chat Info For Parents

The Raving Toy Maniac strives to be a place that is friendly to children of all ages. While our primary target audience is adult collectors, we realize that the topic of this site is popular with children and adolescents. Please familiarize yourself with our Child Privacy and Safety Guidelines.

Chat forums pose particular problems when dealing with children's issues. The RTM Chat Forum (The Toy Buzz Live!) is only actively monitored during scheduled chat events. However, the chat forum is open for general use 24 hours a day, 7 days a week. The site administrators will make every effort to police the forum and will be on hand to monitor the forum's use at random times. Chat sessions will be periodically logged to check for inappropriate use.

However, no system is foolproof. We encourage parents to prepare their children for the possible dangers they may encounter on the Internet just as you would prepare them for the dangers they encounter in their everyday lives. First and foremost, teach your children not to provide any identifying information to anyone without your knowledge, consent and approval. This is probably the number one rule for dealing with Internet child safety.

Secondly, we encourage you to participate in the chat forum and the rest of the RTM site with your child. It's a wonderful way to spend time with your child engaging in an activity that is of interest to them. You can also actively monitor the content that your child views and make decisions on the appropriateness of that content based on your child's individual age and maturity level.

If you have any suggestions, questions or concerns, please feel free to e-mail us.

Here are a few relevant links about child safety and the Internet:
Back To The Toy Buzz Live!
[Chat Events] [Guidelines] [FAQ] [Chat Info For Parents]