The Ultimate Guide to
Action Figures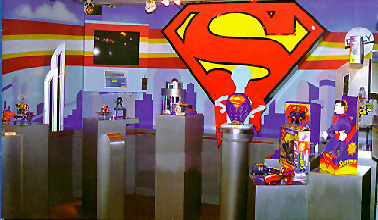 Kenner's showroom for Superman products at the 1996 Toy Fair. Several unreleased pieces are shown including the dress-up kit, wrist communicators, and a plush doll of the Man of Steel himself.
Unreleased Figures and Accessories
As with many lines, the Superman: Man of Steel line came to an abrupt end while more figures were already in the works. What makes SMOS a bit unique is that not only were many of these items shown at Toy Fair, but some were actually advertised on the card backs of some of the last releases from the line (e.g., the Deluxe Steel and Ultra Heat Vision Superman and the Wal-Mart exclusive Cyber-link Superman/Batman two-pack). This bit of teasing certainly added to the confusion and disappointment of kids and collectors alike. Collectors finally got a chance to add many of the figures to their collection. The Eradicator was offered as an exclusive via ToyFare magazine. HasbroCollectors.com (and Diamond Comic Distributors) eventually released the Superboy/King Shark 2 pack, as well as Metallo, who was put in a two pack with a redeco of Full Assualt Superman.

The Kryptonian
The Kryptonian (a.k.a. Eradicator) was one of the contenders for the Superman crown when the real deal died at the hands of Doomsday. Many people were hoping for this figure to round out the set started in the first series of figures. Alas, we were only teased by this one. But at least we got to see it. One can only guess that they had planned a Cyborg Superman (the last of the would-be Supermen) for a future series, but we never got to see that far ahead. A Cyborg Superman seems like such a natural choice given the propensity for "Cyborg This" and "Cyborg That" in other popular figure lines. But we are only left to speculate at this point.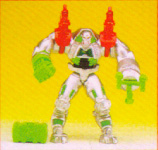 Metallo
Metallo (a.k.a. John Corben) would have been another nice addition to this series. However, many were a bit taken aback by the new look given this longstanding character. Even still, one has to wonder why they chose in favor of a character like Massacre, leaving out poor Metallo. The figure appears to be vac-metallized and comes with what appear to be huge launching weapons (Unlike this photo, the prototype shown at Toy Fair '96 didn't appear to be vac-metallized). Ever cooler is that the teasers said he came with a "glowing Kryptonite heart!" Even if this figure had been a bomb with traditionlist Superman fans, I bet it would have gone over well with the kiddies.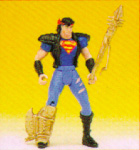 Street Guardian Superboy
Another of the Elseworlds entries planned for this line, Street Guardian Superboy is an obvious pairing with the released Street Guardian Superman (both appeared in the same Elseworld two-part annuals). The figures looks nice enough, but it might not have had that certain something to launch it off the retail shelves. Perhaps they could have redone the VTOL Bike to go with the Street Guardian figures. Now that might have been worth picking up.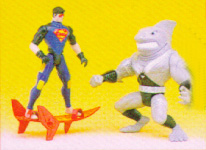 Superboy/King Shark Two-Pack
The Superboy/King Shark two-pack is the unreleased item we know the most about (thanks largely to Joe Leung and his Hong Kong sources within Kenner's factory). Shown below are two photos of a test shot of the unreleased figures in mock-up packaging. Notice that the bubble label is for the Cyber-link Superman/Batman multipack, while the comic is from the Massacre/Full Assault Superman multipack. These types of tests are done to see how the figures will look in the final packaging without the expense of actually making the final card.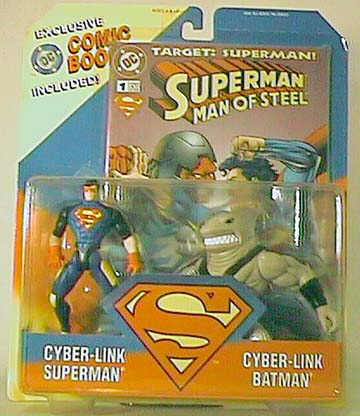 It is unknown if a Superboy/King Shark exclusive comic was in the works. Given the lead time necessary to produce such an item, one has to imagine that there was a comic (if one was planned at all) in some stage of development. At this point, no art work or storyboards have emerged from that project. Alternately, if trading cards were planned, these have not shown up either.
The figures themselves look pretty darn good. King Shark looks suitably menacing (if in a cartoony sort of way) and Superboy looks pretty good on that cool surfboard accessory. But again, it's hard to imagine why King Shark was chosen over any number of other Superman villains except that someone must have been counting on Superboy's recent popularity to pull in the kids and the collectors alike.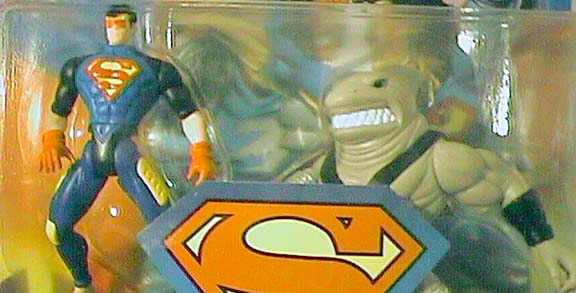 Playsets
Page from Kenner's 1996 Toy Fair catalog

Two playsets were planned for the SMOS line but neither got produced. The first was a Cloning Lab playset with a capture claw and a bubbling water tank. The second was the Metropolis Bank playset with bendable vault bars, a smash action door, and a bendable lamppost for wrapping up the bad guys.
Although these playsets were nothing spectacular, they would have been a welcome addition to this line anyway. There were several other SMOS-related products that were announced at Toy Fair '96 and then promptly never heard of again. Among these were the Superman Dress-up Kit with chest plate and cape, the wrist communicators (walkie-talkies) and the Superman Plush doll. It seems like an inordinate number of products were dropped from this line before release. And unfortunately, some of the items (mainly figures) might have been some of the line's finest releases. It's a shame.




Action Figures | Vehicles & Accessories | Multipacks | Deluxe Figures | Unreleased Items


All characters and likenesses on this page are copyright ©
and/or
. This page is non-profit and no harm is intended. Artwork on these pages by Jurgens, Breeding, Guice, Rodier, Jusko and EGM. Superman created by Jerry Siegel and Joe Shuster. This page is not affiliated with Kenner or DC Comics.