Ertl released the Race Set as part of its Wrangler line
The set is includes the Wrangler T-Bird Stocker, acomplete set of pit-stop accessories, and, according to the 1983 dealer catalog, a "Dale Ernhart" [sic] action figure.
Note that the set includes the same figure used on page 4 of the 1983 catalog for the Fall Guy set.
The released box does not seem to indicate that the figure is Dale Earnhardt, nor does it seem to resemble him
Also, this figure features solid construction, unlike the other figures in the Wrangler line
Click here to view page 8 of the catalog.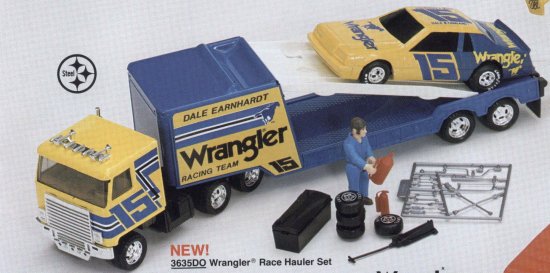 Image credits:
Boxed set provided by the E Garlock Earnhardt Collection
Catalog image provided by Kevin Austin
---
[3 3/4-inch Archives] [Butch & Sundance] [Indiana Jones] [Wrangler]