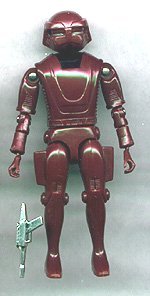 Mego released Sentry Robot in 1980 as part of the scarce second series of Black Hole figures. Unlike S.T.A.R., Humanoid, and Old B.O.B., Sentry was released in the U.S., so it is easier to find than the other three
Rubber-band construction
14 points of articulation: neck, shoulders, elbows, forearms, wrists, waist, hips, and knees
One silver gun - also included with S.T.A.R.
Two holsters, both of which fit the gun
S.T.A.R. and Sentry are identical, except for color - S.T.A.R. is black while Sentry is maroon
Two released versions (shown below) - with painted and unpainted "ears"
Credits:
Canadian carded Sentry provided by "Anonymous U.K. Collector"
---
[3 3/4-inch Archives] [Black Hole] [Buck Rogers] [Tomland]