Galoob released Murdock in 1984 as part of the Soldiers of Fortune 4-pack
Rubber-band construction
10 points of articulation: neck, shoulders, elbows, waist, hips, and knees
Mortar with Stand - also included with Rattler
M-16 Rifle - included with all eight figures
Two different released torsos: with jacket opened and with jacket closed (shown below)
The opened jacket version was carded with the Soldiers of Fortune 4-pack
The closed jacket version was apparently released only with some versions the Combat Headquarters accessory
The opened jacked version also exists molded in blue and green (below), rather than the more common yellow and orange.
The blue Murdock is pictured on the back of the Jet box; and I assume it was included with some versions of the Jet.
The green version is pictured on the back of the Headquarters box; however, I have only confirmed the green version packaged with an example of the Jet.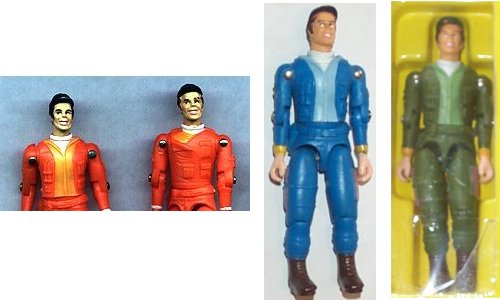 Image credits:
---
[3 3/4-inch Archives] [A-Team (Galoob)] [A-Team (Glasslite)] [Miami Vice]