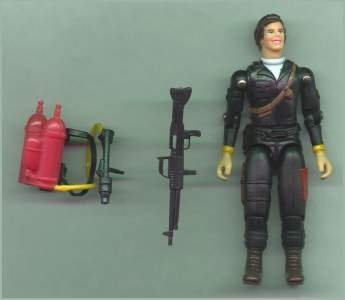 Galoob released Face in 1984
Face was included in the Soldiers of Fortune 4-pack, and with the Corvette, and Headquarters accessories
Rubber-band construction
10 points of articulation: neck, shoulders, waist, hips, elbows, and knees
Flame Thrower - also included with Python
M-16 Rifle - included with all eight figures
Face was played by Dirk Bennet, who also played Battlestar Galactica's Starbuck, of whom Mattel released a 3 3/4-inch figure in 1978
The back of the Headquarters set shows a Face figure in green fatigues; I believe this figure exists, but I have not confirmed it. If you can help (or if you have one for sale!), please email me!
Image credits:
Headquarters packaging picture provided by Alvin Silvrants
---
[3 3/4-inch Archives] [A-Team (Galoob)] [A-Team (Glasslite)] [Miami Vice]