1:4 Boba Fett, Tigra, Robocop at Alter Ego Comics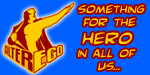 July 18, 2006 - (Sponsor Announcement) - Online retailer Alter Ego Comics has several new items of interest to collectors:

San Diego Comic Con is This Week!
The mother of all comic book conventions is this week in San Diego, and there should be all kinds of new action figure, movie and TV collectible announcements. Visit Alter Ego Comics starting July 20th and watch for new and exciting items available to pre-order from your favorite companies like Sideshow Collectibles, Master Replicas and more.

Exciting New Stuff from Sideshow Collectibles
Sideshow Collectibles treated fans to some exciting new products late last week, including a brand new series of collectibles busts:

Star Wars: Boba Fett Premium Format Figure
The Premium Format 1:4 Scale Boba Fett figure captures the mysterious bounty hunter as he appeared in Return of the Jedi. This is one of the most anticipated Star Wars Premium Format figures and we're already selling through our allocation from Sideshow at a brisk pace. We expect to be pre-sold out by the end of the week - so order ASAP!

Captain America VS. Red Skull Diorama Statue
The Captain America VS Red Skull polystone diorama captures a critical moment in battle between these two sworn enemies, facing one another on a curving stone staircase inside a Nazi stronghold. Previous statues in Sideshow Marvel line have sold out long before their release dates, with the X-Men VS. Sentinel statue one of the most sought after Marvel pieces in recent memory. Once again, if you are interested in this statue, we recommend preordering early.

Legendary Scale Busts
The Legendary Scale format was born out of a desire at Sideshow Collectibles to create large-size busts, busts big enough to allow a significant increase in the detailing and presentation value, yet small enough to be a more conveniently sized alternative to the often gargantuan life-sized busts that Sideshow produces.

Lord of the Rings Morgul Lord Legendary Scale Bust
Standing 22" tall, this impressively large bust is cast in polystone and fiberglass, hand finished and painted to exacting standards.

Terminator 2 T-800 Legendary Scale Bust
The T-800 has been captured as he appeared late in the film, with nearly half of his face damaged and the endoskull beneath exposed. His mechanical red eye glows with bright LED light (batteries required). The T-800 is cast in solid, high-quality polystone, and is mounted on a detailed base, a skull and bone littered environment reminiscent of the blasted future cityscapes.

Now Available to Pre-order:
Now In Stock:
Tigra Mini Bust by Bowen Designs
Darth Maul Force FX Double Bladed Lightsaber
Qui-Gon Jinn Mini Bust
Arriving This Week:
Kit Fisto 12" Figure (partial shipment)
Hulk VS. Spider-Man Diorama (partial shipment)
Marvel Milestones Wolverine Unleashed Statue
Marvel Select Moon Knight Action Figure
Shazam Deluxe Statue
Stargate Series 1 Action Figures (partial shipment)
X-Men 3 Jean Grey Bust
Coming Soon:
Hot Toys Robocop Figure
Star Wars Princess Leia Premium Format Figure
Star Wars Kit Fisto 12" Figure
Hulk VS. Spider-Man Diorama
Captain America Archives Prop Set
Star Wars Greedo Life Sized Bust
Reign of Fire Dragon Bust
Superman Cover to Cover #14 Mini Statue
Green Lantern Hal Jordan Mini Power Battery Prop Replica
Looney Tunes Golden Collection Series 2 Action Figures
Lex Luthor 13" Deluxe Collector Figure
Stargate Previews Exclusive Black Ops O'Neil Figure
Alter Ego Comics